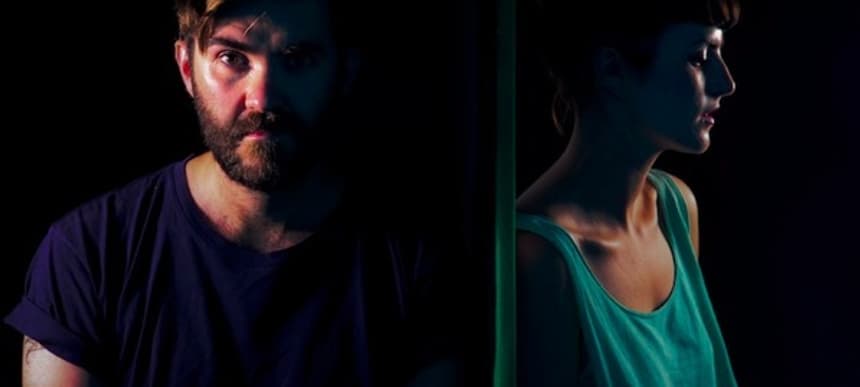 24.09.2013, Words by Aimee Cliff
Premiere: Face + Heel - 'Chipped Tooth' [EP stream]
Three bone-chilling electronic pop songs straight outta Aberystwyth.
Face + Heel are a duo made up of Welsh musicians and wrestling obsessives Luke Taylor and Sinead McMillan. Following a brief moment in the spotlight in 2012 with the stunning No Stars, they're back with a self-released EP named after a nasty injury, wearing their toughness and resilience on their EP sleeve (and possibly sending out warning signals to anyone thinking of discrediting them).
Title track Chipped Tooth is a spacious, eerie pop song while Fog & Night is a haunted piece formed from sketches of piano and dense atmospherics; meanwhile Amp Drop (Martha's Song) completes the puzzle with a quick-footed beat and scattered, distorted vocals, showing a less straightforward and more hypnotic side to their rich sound. Scroll down for our chat with the pair on their favourite wrestlers and other essential topics.
Hi, Face + Heel! How's your day going?
McMillan: "Luke is in bed with man flu and my day is going well, thanks for asking!"
Your band name nods to wrestling and your EP title talks of chipped teeth. Why so violent?
Taylor: "A violent Aberystwyth upbringing. The 'chipped tooth' in question was actually an injury I sustained while wrestling on my 10th birthday."
What are the most significant lessons you feel you learnt between your first and second EPs?
Taylor: "We've learned so much since No Stars, as it was pretty much the first track we wrote together, along with 100 Years Deep. We were, I guess, in our honeymoon period as a band and we were just making music that we liked without much thought about creating our own distinct Face & Heel colour. Most bands have the time to develop their sound for a while before they start playing live or releasing records. We had plans to release with Warm and had joined Elastic Artists all with in the space of a couple of months of deciding to start a band. In a way it was great but after the first release we had to really think about the sound that we wanted to achieve and spend time thinking about our band philosophy and developing as a band when it comes to writing music before we released our second full EP.
"Our philosophy goes: sturm und drang.
"Fog & Night, especially for me, captures what we set out to achieve as a band."
Your tracks are hyper-emotional. How does the writing process happen between the two of you?
McMillan: "Usually we make sketches on our own and if an idea stands out as being good or interesting, we will go with that, who ever has come up with it. Luke very much takes control of lyrics as he is great at this, much better than me. I'll often come up with chord progressions or structure a track with rises and falls. During the writing process we often let our ego's collide but we always agree in the end in keeping a rawness and melancholy to our sound."
What's on the horizon for you now that you're most excited about?
McMillan: "Other than this E.P, we have loads of unreleased material, which I can't wait for people to hear, and we'll be announcing a few live dates soon too. Starting with Oct 3rd supporting Stubborn Heart, Simple Things Festival in Bristol amongst others."
Who do you most admire in the world of music?
McMillan: "Low are a massive inspiration for us, they capture this mad magical energy. We love The Invisible and obviously Mount Kimbie, Holy Other. We also love the raw intensity of acts like The Pop Group and The Birthday Party."
Who do you most admire in the world of wrestling?
Taylor: "This is the question we have been waiting to answer! It's between two people – Brett 'The Hit Man' Hart and Jake the Snake, Sinead goes with Brett Hart who was the best technical wrestler and his fight with Mr Perfect in summer slam of '91 is possibly the most technically perfect wrestling match you could ever hope to see. But I'm going to have to go with Jake 'The Snake' Roberts, he never had the best technique or physique but the man's presence was other worldly, his interviews in particular could chill you to the bone!"
Face + Heel will release their 'Chipped Tooth' EP on the 30th September.