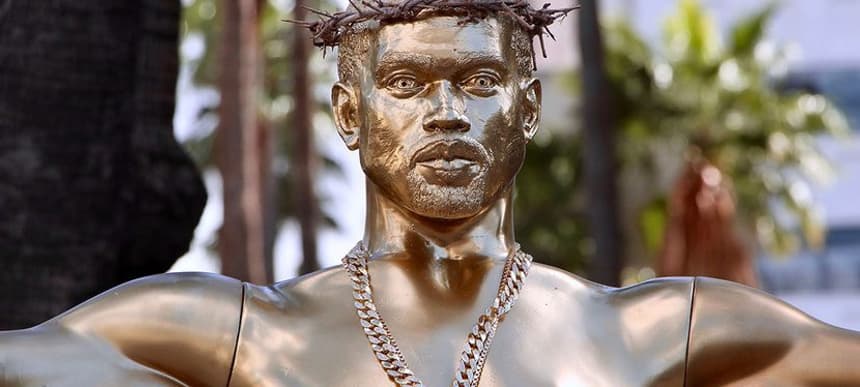 26.01.2021, Words by Billy Ward
An Iceland neighbourhood wants a Kanye West statue built on the grounds of its swimming pool
"Tens of thousands, if not hundreds of thousands of tourists could come here and visit the statue"
Over 700 residents of Vesturbær, a small neighbourhood in Iceland's capital Reykjavík, want a statue of Kanye West erected on the grounds of Vesturbæjarlaug Swimming Pool.
According to Reykjavík Grapevine, hundreds of residents proposed the idea after taking part in the city's My Neighbourhood project, an initiative that invites citizens to suggest ideas which could improve their district. Residents in Laugardalur used the scheme to suggest expanding the local library, whereas Kjalarnes voted in favour of finding new ways to improve the beach and hot tubs.
But in Vesturbær, Reykjavík's western settlement, a statue of Kanye West is what residents want, with over 700 locals backing the idea. If the rapper is to be immortalised in statue form, it's proposed the installation should be on the grounds of Vesturbæjarlaugin Swimming Pool.
The idea came from Aron Kristinn Jónasson, a local Kanye fan who suggests that "tens of thousands, if not hundreds of thousands of tourists could come here and visit the statue," if the proposal was backed.
"For Kanye West, it would be a great honour to have a statue erected," he stated. "I just challenge the city authorities to listen to the young people."
Manager of the My Neighbourhood consultation project, Eiríkur Búi Halldórsson, stated there had been a record-breaking response throughout the city this time round: "1,321 ideas were submitted, which is a considerable increase from the previous year, and the year before".
Discussing the potential of a Kanye West statue being erected, he commented: "I can't rule it out now, but I can't promise anything".
A giant gold Kanye West crucifixion statue was erected on Hollywood Boulevard in 2017, which is where the feature image is taken from.
Read next: Kanye West concedes election defeat, announces 'Kanye 2024'