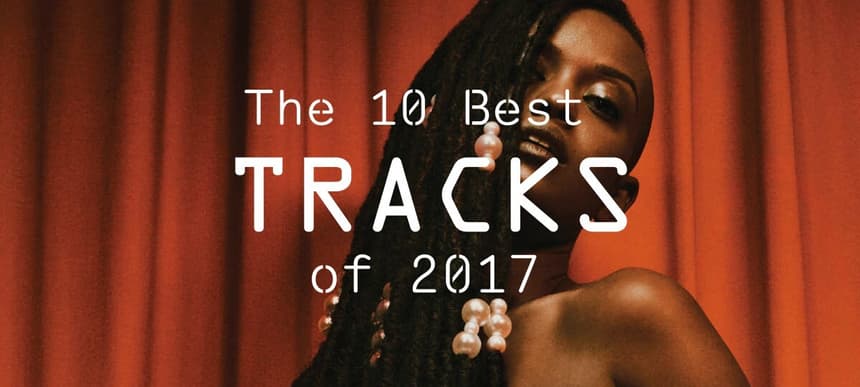 12.12.2017, Words by dummymag
The 10 Best Tracks of 2017
Nowadays, singles are the biggest markers of artist success. If you drop one track that sets the internet on fire, chances are your year is pretty set. This is obviously nothing new, but in a year where Big Shaq, Bhad Bhabie and XXXTentacion became viral stars off one hit, and countless others reached stardom after a debut or follow up track, it's fair to say we live in a singles era now. Not that we're complaining.
Even outside of the mainstream, single tracks have continued to dominate grime raves, house nights and Reddit threads, so you best believe this wasn't an easy process. But the UK has had an undeniable year, and it's wondrous variety and talent is exhibited throughout this list, from irrepressible bangers to trap-flavoured masterpieces. Tracks from the future standard bearers of what the country has to offer, it gives us a confidence that we are going places fast. Be prepared for diversity, colour and absolute vibes.
Check out our favourite tracks of 2017 below.
10. AJ Tracey – False 9
I'm a massive football nerd, you don't even understand. So, I can appreciate a track from one of the most gifted of grime's new generation that pays tribute to a now played out tactic. Ladbroke Grove's very own AJ Tracey goes wild with a bundle of football quotables, naming himself everyone from Carles Puyol to Luis Figo. His switch in flow on the third verse is the stuff of genius, as he displays supreme confidence having found his unique lane in the scene. I haven't started talking about the beat, because I feel I would be here all day. Yemi Abiade
9. GAIKA – BATTALION
Brixton-based artist GAIKA has proven himself to be a restless creative, constantly carving away at his hybrid sound. Drawn from the first of a pair of 10"s on Warp, 'BATTALION' introduces itself with martial horns and a ferociously noisy intro, before pulling the rug out and letting GAIKA's autotuned crooning hang weightless for a moment. The song pivots again, this time into futuristic dancehall with a mournful piano figure. The voice of Israeli MC and frequent Bug collaborator, Miss Red, radiates out from the centre, buried deep beneath the sonic carnage. We can't wait to see where GAIKA takes us next. Cosmo Godfree
8. Stormzy – Cold
To say that Stormzy has had a good year would be something of an understatement. By the time 'Cold' came out in March, his debut album had not only ridden a popular surge to become the first grime album to top the UK charts, but had achieved gold status too. Riding a brassy Swifta Beater production, on 'Cold', Big Mike weaves the story of his first forays into the nation's consciousness – "I just went to the park with my friends and I charted", he spits, referencing his 'Shut Up' freestyle – with his newfound status as the UK's urban music standard bearer. Taken as a statement of intent, the tune would suggest he's more than ready to lead the march into the new year too. Will Pritchard
7. King Krule – Dum Surfer
One of the year's most idiosyncratic artists, Archy Marshall's return from an apparent four-year hiatus from releasing music under his King Krule alias was as welcome as it was surprising. Drenched in reverb and with its stumbling, drawled tale of a drunken night of pissing, puking, and picking up girls while watching rubbish bands play, 'Dum Surfer' packs a familiar millennial nihilism. Whether intentional or not, Marshall's brand of unsettling post-punk-via-jazz has proven a fitting accompaniment to a year in which every new smartphone push notification comes with its own dose of existential dread. And blissfully so, too. Will Pritchard
6. Jorja Smith x Preditah – On My Mind
For many, this Midlands collaboration was the biggest pop smash of the year. Having showcased herself to the world on Drake's More Life, the stage was set for Jorja Smith to have a proper impact. Written before moving to London and while she was at school (Jorja is still only 20), 'On My Mind' confirmed her as one of the UK's brightest stars. BBK producer Preditah's nostalgic garage throwback turned out to be the perfect vehicle for her soulful vocal talents, and the resulting dancefloor heater chronicled the trials and tribulations of young love better than any other song we heard this year. Cosmo Godfree
5. Mabel – Finders Keepers (ft. Kojo Funds)
We already knew that Mabel was one of the most exciting up and coming R&B artists in the UK, but 'Finders Keepers' – the year's finest ode to living in the moment – showed us that she could do uptempo stuff just as well as slow jams. Produced by JD. Reid, the track samples the classic dancehall 'Diwali Riddim' for a light and breezy affair that feels perfectly suited to lazy spring mornings. Kojo Funds' romantic opening verse sets the scene, and Mabel effortlessly bottles that electric feeling of connecting with a potential lover for the first time. Cosmo Godfree
4. Drake – KMT (ft. Giggs)
Admit it, you only love this track for Giggs' verse. Because we do too. This track has seen a fair share of controversy, with XXXTentacion accusing Drake of stealing his flow from his breakout, 'Look At Me', to which the former called the latter a 'bitch'. Wild. But as countless live events have shown throughout the year, this track's greatness cannot be ignored. Drizzy sets up a perfect foundation, albeit with a fairly forgettable verse, before its real star blows everything into smithereens. Giggs is his usual self, but endless quotables and an epic finish have brought 'KMT' to the height of public imagination. Yemi Abiade
3. IAMDDB – Shade
Yet more evidence that Manchester is a city that you ignore at your peril, IAMDDB manages to sound otherworldly without being alienating – and that's what has set her apart so succinctly over the past twelve months. 'Shade' – and it's achingly cool video – is the ideal introduction for the uninitiated. Silky, jazzy songwriting backed with the hard edge of an artist with bags of attitude and raised on a diet of hip-hop and trap: you're almost guaranteed to hear something you like, without quite knowing what it is you're listening to. She's certainly not the first person to rap about "bad bitches", getting money and taking Ubers everywhere, but you've never heard unnecessary opulence extolled in quite this way before. Will Pritchard
2. J Hus – Did You See
J Hus reached new heights in 2017, and you could argue his ascent truly began with this platinum selling single. Infectious and danceable, it was the first slice of a debut album that didn't disappoint. Hus exudes so much confidence over a laid back, melodic instrumental from player partner Jae5, and you can't help but believe what he is saying. Along with having one of the most addictive hooks of the year, the east London rapper has plenty to spare throughout, and this track has set him up for assured greatness in the future. Yemi Abiade
1. Kelela – LMK
With 'LMK', Kelela showcased her propensity to produce pop-accessible songs that are deeply sexy and liberating. Over bass-heavy production that would make club speakers shake, her lyrics speak to enjoying a night without commitment – she is not trying to settle down anytime soon – and this track is a perfect sign of the times. She is forthcoming but not forcing the proposition, and her message is amplified by Jam City's sonically sensual instrumental.
At a time when we have TV shows like She's Gotta Have It, exploring women's polyamorous relations with the opposite sex, and how they are in the driving seat, 'LMK' strengthens the narrative with style and class. Even if you don't agree with the message, you probably bop to the song just off of feel and vibe alone. Quite frankly, Kelela is in her own lane and continues to impose her narrative into her music, and we are more than happy with that if she continues to produce moments of class like this. Yemi Abiade
Check out our curated Best Tracks of 2017 Spotify playlist below.