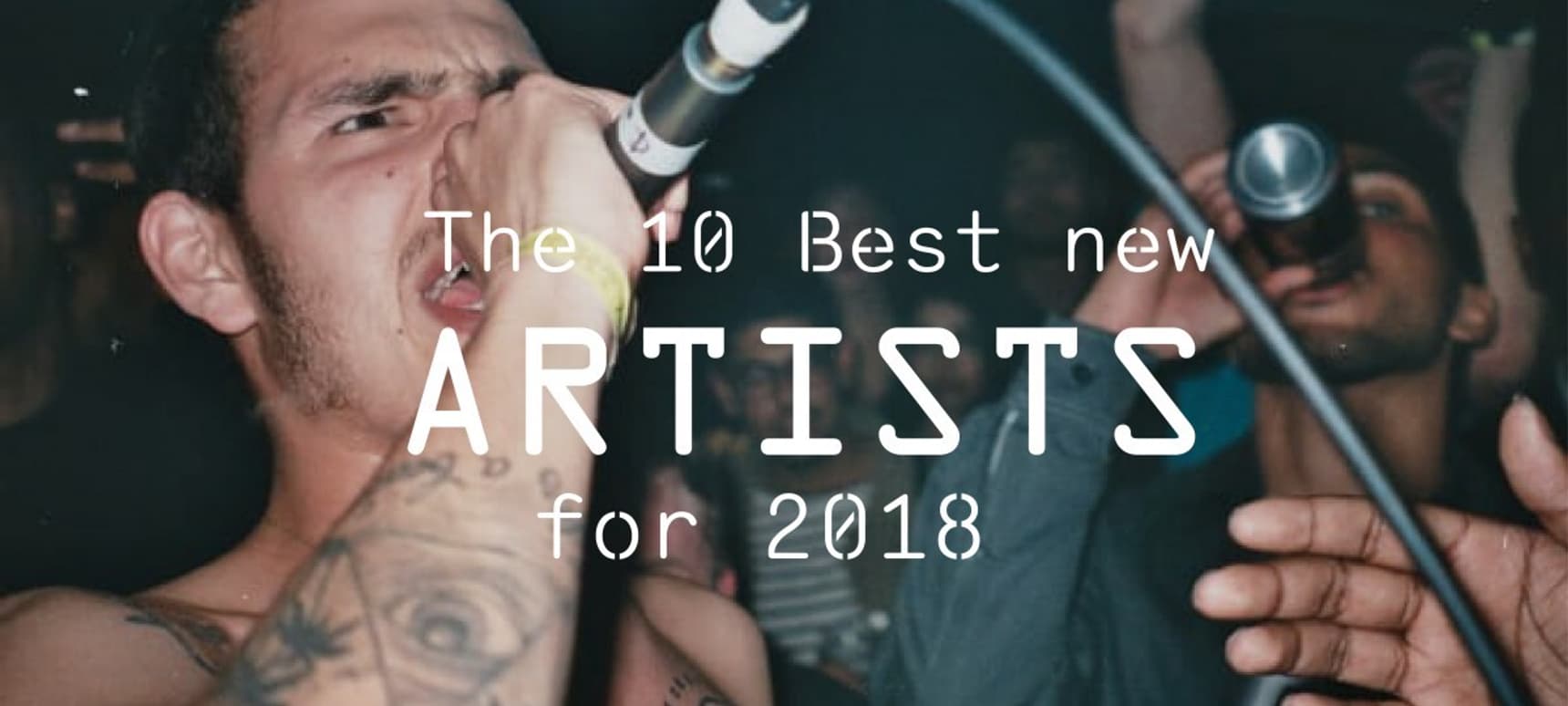 14.12.2017, Words by dummymag
The 10 Most Exciting New Artists for 2018
Music is probably the most cyclical art form, and the definition of an artist's staying power is constantly changing. Today, huge singles and internet popularity appear to be markers of success for musicians both old and new, and new artists are popping out of the woodwork at the blink of an eye. In 2017, we've seen singers, rappers and producers who promised so much deliver in big ways – think Mabel, Not3s, Stefflon Don and a host of others – but, scratching underneath the surface, an undercurrent of brand new talent have emerged with the aim of taking crowns next year.
From rappers merging punk and hip-hop for a potent mix, to sultry singers fusing trap and R&B, listeners are spoilt for choice in what they can look for from their artists. Exciting winds of change continue to blow, especially in the UK, and where they take us will be exciting to discover.
With that said, check out our top new talents to blow in 2018 below.
10. Vera
If you haven't noticed by now, we are big fans of the Danish mastermind known as Vera. The producer has been making baby steps over the last year, but he is now ready to make a splash as an artist in his own right. Recently sharing his Good Job No Conversation EP, he collided hip-hop elements with electronic music for a euphoric mixture of the two, and has sure-fire hits in the Okay Kaya-assisted 'Falling' and 'In And Out of Love'. Not to mention an amazing rework of James Blake's 'Life Round Here'. He has already mastered the art of subtlety and, in 2018, he will continue to carve out a lane for himself. Yemi Abiade
9. Mina Rose
South east Londoner Mina Rose is a product of her environment. With a father and uncle who occasionally produced house, a step-dad who played in local ska bands, and the blood of the 'Queen of Kent Gypsies' Urania Boswell Lee running through her veins, music was her destiny. She proved this with her infectious debut single 'Lemons and Limes', translating her own experiences of London's melting pot into writing songs which are rooted in the paradoxes of present day city-living. Issue 25, her first EP, built on that foundation and outed her as a real talent. Her music is rife with social commentary, exploring relations between communities and the police, to the beauty of a multicultural society, and she channels everyone from Lily Allen and The Specials into something fresh. Expect her to make more noise in 2018. Yemi Abiade
8. Sports Team
West London collective Sports Team's raucous and unpredictable live shows would have been enough to earn the Cambridge alumni a place on our list anyway, but, as luck would have it, they also released their hotly anticipated debut single the other week. 'Stanton' calls to mind bits and pieces from all sorts of bands – Pavement's slacker charm, Orange Juice's naive melodicism, Protomartyr's tightly coiled post-punk assault – but ultimately ends up finding a niche for itself, no mean feat for an indie band these days. This is helped somewhat by frontman Alex Rice's growling, theatrical vocals which remind me of Nick Cave at his most playful, and his knack for coming up with offbeat, memorable lines such as "I wanna buy you a flipscreen Motorola". With their debut EP Winter Nets out next month via Nice Swan Records, we're predicting exciting things for Sports Team in 2018. Better watch this space. Cosmo Godfree
7. Nemi
Arriving from south London, NEMI is the latest genre-defying talent to emerge from south of the River Thames. Her artistic medium has stemmed from major influences ranging from Kurt Cobain, Blondie, Otis Redding to Azealia Banks and The Beatles, and she is a breath of fresh air to the current climate of music, with soft, high octane, experimental production over angelic, heavenly vocals. Though only one track deep into her career, 'What You Gonna Do', which we
premiered
earlier in the year, was an exciting opening salvo, abandoning all notions of genre and creating an artistic experience. With a distinct voice and fashion style, NEMI will undoubtedly be back on our radar.
Yemi Abiade
6. Mez
Nottingham has always punched above its weight when it comes to turning out grime MCs, and over the past couple of years, Mez has been emerging as one of the Midlands' leading lights. He brings the kind of unashamedly skippy flow and larger than life character to his bars that can be traced back to the grime scene's origins and mic controllers like D Double E, Flirta D and Devilman. A sad fact of the UK's siloed grime scene, however, is that all too often such talents can go unnoticed in the capital, and don't receive the wider attention they deserve as a result. Mez though, with his cheeky persona and high-energy flows, is conducting a shift in the tides. He boasts a tireless work ethic – clocking up practice hours on flagship radio shows, recording freestyles, and shooting videos – that's mapped to a laser focus on honing his craft and breaking out from the confines of his home town. Twelve months from now, we'd wager that Uncle Mez will be making the world seem a much smaller place. Will Pritchard
5. Benny Mails
Benny Mails is part of a slew of UK rappers with different stories to tell. Brought up in the midst of London's grime scene whilst also listening to heroes like Nas on the one hand, and the discovery of his family's funk and jazz records on the other, the London MC's early experiences weren't that of a typical MC. In fact, he break-danced and performed contemporary dance from a young age, a journey that, one way or another, led to rapping. Since the beginning of the year, solid track releases have built a fervent following, and then he surprised us with his stellar debut mixtape, Aware, an adventure through his London, as he sees it. With introspective, fluid storytelling and a raw talent that can't be denied, Benny is going places quick. Yemi Abiade
4. Denzel Himself
From the creation of his visuals and his instrumentals, to his unorthodox flows and bars, Denzel Himself is one of the most exciting DIY talents emerging from the UK in recent memory. The 22-year-old rapper, producer and director's visceral approach to constructing his art has led to the birthing of a vision that takes as much from the intense New York hardcore punk scene as it does hip-hop heroes such as J. Dilla and Tyler, The Creator, but with a unique London edge. Making himself known after a period of silence following his Thrasher EP, Denzel has brought forth his brand of jarring, distorted but ultimately bumping tracks. Take 'BANGIN' and 'Chevi' and you will want to take a sledgehammer to a car window and do bits. His rowdy live presence harkens back to his punk idols, and, with it, Denzel has all the tools to make an even grander entrance in the next 365. Yemi Abiade
3. Puma Blue
South East London singer Jacob Allen aka Puma Blue has been writing his own music since age 13, and it shows – his dark, jazz-infused compositions are saturated with an energy that belies his young years. Even his artist name was chosen as a tribute to the "reject-superhero names [of] old blues guys like Muddy Waters and Howlin Wolf". Fans of King Krule, Mac DeMarco and Jeff Buckley will surely be drawn in by Allen's hypnotic crooning, and a voice that sounds like crackling fireplace embers on a cold winter's night. Debut EP Swung Baby, which came out back in June, is the place to start. Having been invited to Montreal Jazz Festival and sold out Corsica Studios, Puma Blue is no stranger to the stage, and his live performances bring out the heavier, more punk side of his otherwise tender music. Oh yeah, he's playing the Jazz Cafe this Saturday – go and catch him now before he blows up. Cosmo Godfree
2. IAMDDB
Like a gust of wind blowing the leaves off trees on an autumn's day, IAMDDB has burst through the door of the UK music scene with similar ease. Armed with a seductive, alluring and rebellious demeanour, the 21-year-old croons over laid-back, hypnotic, trap-flavoured production—the kind of music you'd blare out the car speakers riding through the streets on a hot summer's night. Referring to her sound as 'urban jazz', IAMDDB interpolates the revered genre and influences such as Nat King Cole, adding exotic, synth-driven soundscapes that modernise her music and align it with 2017.
Although she recently made her breakthrough with the insanely addictive "Shade", she has been a workhorse over the last year, releasing three EPs, and she is now seeing the fruits of her labour and work ethic. Now touring the world, the rapping singer-songwriter is taking her cool, poised brand global, but she remains the young lady from Manchester who is not about to change for anyone. Yemi Abiade
1. Slowthai
The town of Northampton isn't exactly known for its musical innovation, but slowthai is a breath of fresh air in UK rap. In 2017 he began his ascent, dropping two mixtapes and stealing the show on tracks with his peers – 808INK, JD. Reid, Oscar #Worldpeace to name a few – projecting his worldview to the masses.
Sonically, he treads lines between hip-hop, garage, dubstep and grime, moulding each sound to self-produce a sound that is all his own. It's claustrophobic at times, much like his screeching vocal delivery, and they come together to create a world of chaos surrounding the emcee. But he has energy and tongue-twisters aplenty in his arsenal.
Releasing the I Wish I Knew EP in the latter half of the year was a masterstroke, a reminder of his powers that showed vocal and lyrical range in his game – even taking to singing in one of the EP's tracks – and his debut headline show in London evoked feelings of what Nirvana's 'Smells Like Teen Spirit' must have been like – visceral and potent, but you could sense the beginning of a counterculture movement, with the MC leading the way. He can cite the likes of Skepta and Boy Better Know as fans, and performed at BBK's o2 Takeover back in August, just to let you know that he means business. 2018 will hopefully promise more material and awareness, because his is a voice unlike any in the game.
Check out Dummy's curated playlists on Spotify.