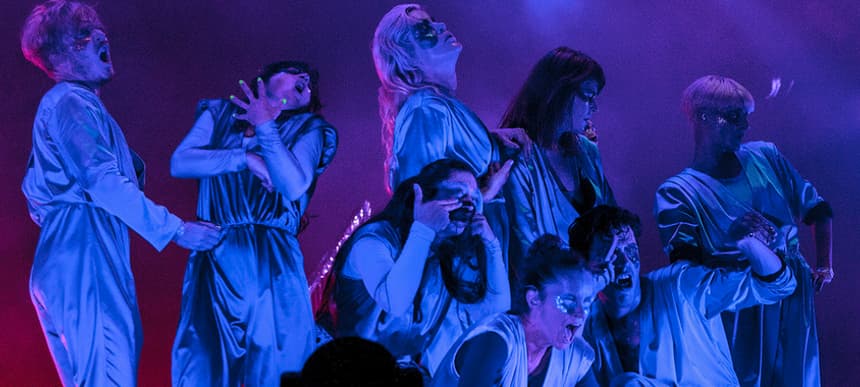 15.01.2014, Words by dummymag
The Knife will bring a new live show to North America in the spring
An updated and revised version of the 'Shaking The Habitual' tour will hit North American shores.
The Knife will tour North America in the spring with an updated live show.
While still based on their really excellent 2013 album 'Shaking The Habitual', the US tour will be a slightly different proposition to the performance art-styled shows that accompanied it last year. Though the shows are still rooted in questioning the nature of live performance and includes elements of dance, a statement from The Knife explains that elements of the show have been reworked: "Some songs are the same, some songs are new. Moves are added and changed. Some instruments are electrified and more voices are heard. Things glow and along the way we have elevated ourselves."
"This time, we, The Knife, are a group of people with diverse approaches to dance, moves and music. Some of us are musicians, some of us are vocalists, some of us are choreographers, some of us are experienced performers and some of us are not."
Happily, they add that they'll be joined by Light Asylum's Shannon Funchess (who previously appeared as a vocalist on 'Shaking The Habitual'), on this tour.
You can read Dummy's interview with the band's Karin and Olof Dreijer here. Given that it's probably what The Knife would want, we've included the full team behind the tour, as well as the dates, below. Tickets go on sale January 18th.
'Shaking The Habitual' team, spring 2014:
Adena Asovic (Perfomer), Aja Svensson (Performer), Halla Ólafsdóttir (Performer), Jesper Strömbäck Eklund (Project Manager), Josefin Hinders (Set Designer), Julia Brighly (FOH Engineer), Karin Dreijer (Performer), Kim Einarsson (Artistic Coordinator), Laura Davis (Monitor Engineer), Lotje Horvers (Tour Manager), Marcus Baldemar (Performer), Maryam Nikandish, (Performer), Mickey Hurcombe (Backline Tech), Miguel Gutierrez (Performer, Deep Aerobics), Olof Dreijer (Performer), Peter Hamilton (Production Manager), Rami Jawhari Jansson (Performer), Sarah Landau (Light Designer), Shannon Funchess (Performer), Stina Nyberg (Performer), Tarek Halaby (Performer, Deep Aerobics), and Zoë Poluch (Performer)
Live dates:
Apr 11th: Coachella CA
Apr 15th: Oakland CA, Fox Theater
Apr 18th: Coachella CA
Apr 21st: Denver CO, Fillmore
Apr 23rd: Chicago IL, Aragon
Apr 25th: Toronto ON, Kool Haus
Apr 26th: Montreal QC, Metropolis
Apr 28th: Boston MA, House of Blues
Apr 30th: New York NY, Terminal 5