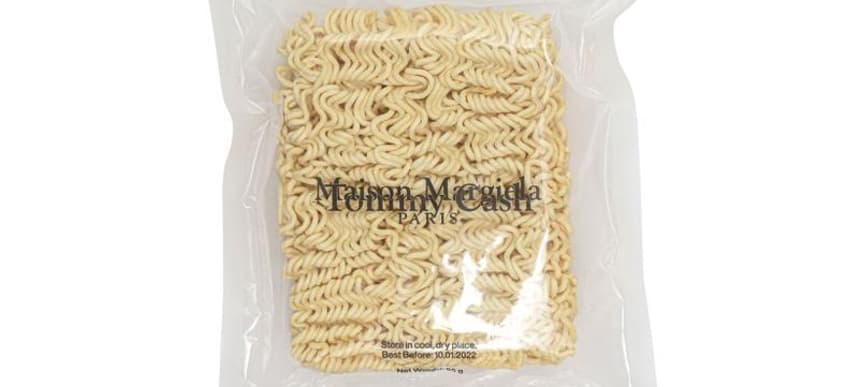 22.03.2021, Words by Felicity Martin
Tommy Cash's Margiela collab line includes a packet of noodles
Plus a pair of slippers shaped like loaves of bread
Estonian rapper Tommy Cash has teamed up with Parisian fashion house Maison Margiela for a co-branded merchandise line.
For $12, you can buy "a pack of luxury ramen" that "delivers the Haute Couture savour to quick meals with no need to leave the house." While the label on the vacuum-sealed chicken flavour noodles states that it's a collectible item and to 'Eat only at your own risk'.
Elsewhere, the Danny L Harle collaborator has created a pair of slippers shaped like loaves of bread ("loafers"), plus a Cash-and-Margiela branded T-shirt and sweatshirt.
He also released a track to accompany the drop ('Mute – By Maison Margiela'), which is three minutes and 30 seconds of pure silence. Speaking of the track, Tommy said: "For most of us, being awake means being bombarded by sound, specifically organised for consumption. The everyday noises of streets, nature and homes are constantly muted by whatever the algorithms bring. Instead of birds, we are listening to podcasts or anything recorded in the last 144 years.
"Instead of information about the actual surroundings, our ears are receiving an endless flood of escapist fare. Or 24/7 supply of news that keeps us attached to a steady source of anxiety. During the pandemic situation, it's become even more so, as consumption of some content is replacing what is left of the "real life" more and more."
Cash also recently teamed up with adidas earlier this month on a pair of metre-long trainers, and has produced a merch line with Rick Owens.
Read our interview with Tommy Cash, where he discusses lockdown and not needing to be productive during a pandemic.