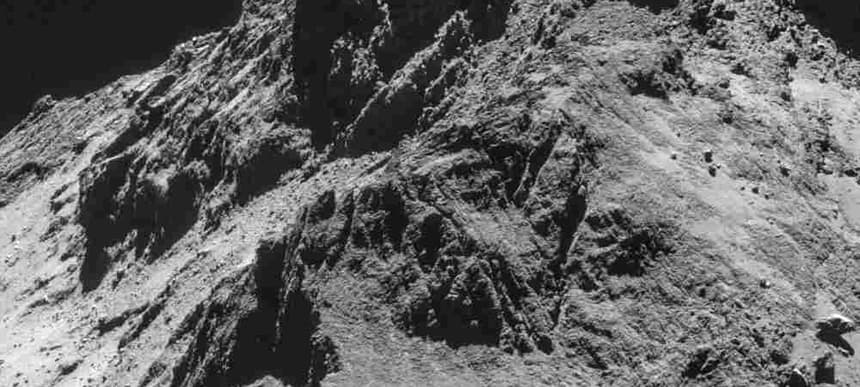 14.11.2014, Words by dummymag
This week... singing comets, Miguel meets the Pauls, and new age for the now age
A roundup of this week's music news: the unexplainable sound coming from a comet, the continued existence of Jai Paul, and soothing sounds from Yamaneko.
A new feature for Dummy: every Friday we'll be rounding up five things from around the 'net that made us smile, made us think, or made us tap our feet. Here, we look at a singing comet, the Paul dynasty, and new age for the now age.
In space, no one can hear you sing
NASA recently opened up a Soundcloud account, capturing the sounds of space – or at least the sounds that humans put in space. The drab playlist titles – 'Rocket Engine Sounds', 'Mercury Sounds', 'Space Shuttle Mission Sounds' – disguise just how ridiculous it is that the modern world has brought us to the point where you can literally listen to things that happened in outer space from anywhere you want.
Not wanting to be outdone by the Americans, the European Space Agency created their own account and uploaded the curious sound coming from Comet 67P/Churyumov-Gerasimenko. They call it a "song", and scientists don't known its point of origin. Which is interesting. As explained by the ESA on Soundcloud, the sounds are at 40-50 millihertz, which is below the range of human hearing, so those boffins had to boost the frequencies by a factor of 10,000 to make it audible.
"This is exciting because it is completely new to us," Karl-Heinz Glaßmeier, head of Space Physics and Space Sensorics at Germany's Technische Universität Braunschweig, wrote in a blog, "We did not expect this and we are still working to understand the physics of what is happening."
Currently the recording has over three-and-a-half million plays, so add to that number by listening to the unexplainable clip below.
Miguel meets the Pauls
Jai Paul has been missing in action since his 'album' ended up on Bandcamp last year, but he's still around: Miguel put a picture of himself hanging out with Jai on Instagram last night. But who's that other guy? Why, it's A.K. Paul, Jai's brother and an up-and-coming pop producer and songwriter in his own right. For a while we had a theory that A.K. was a secret alias of Jai, created to test how interested audiences would be if something had even the faintest whiff of Jai Paul about it, but this picture seems to have quashed that. Or maybe that's what he wants us to think? Anyway, A.K. Paul is starting to build up a discography that'll soon outnumber his brother's, working with Nao and Jones, so fingers crossed for a Miguel x Jai x A.K. collab in the future.
Bandcamp gets better
Bandcamp is rad as heck, and since launching in 2008 they've been one of the best platforms out there for DIY music communities to support themselves online. Artists run their own stores and put up their music catalogues for streaming and for download, setting their own prices when they do it. They can also sell merch, physical records, and all sorts of other things, with the power really in the hands of the artists.
They've now created a subscription service, where any artist can set a fee that allows paying fans to get all of that artist or label's music sent to them automatically with each new release. They'll also be able to give away any number of freebies from their back catalogue to new subscribers, give discounts on merch to subscribers, and send out exclusives.
It's all very good, but to be honest there's a far more simple reason to feature this news today: we love this quote from Bandcamp chief executive Ethan Diamond: "It's kinda like what U2 and Apple did, except that it's music that you actually want!"
With the general distrust among musicians towards Soundcloud's recent new developments (including banner ads, major label royalty deals, and a subscription model – all highlighted in an interesting article on The FADER), expect to see more even artists embracing Bandcamp in the future.
Grime falls down the stairs
"i know i'm a bit late to the party but i'm kinda digging some of this stuff that sounds like grime falling down the stairs", says Objekt. 'Grime falling down the stairs' is a way of saying that instrumental grime – or rather, a particularly weird strain of instrumental grime – remains in good health after its initial explosion last year: Boxed has become a staple and is throwing events at Peckham record shop Rye Wax, while the Boomkat bestsellers chart this week is basically a who's who of the genre. Adding to that Mumdance and Logos's new label Weightless, it's clear that more people are locking in, opening up the sound to an audience that maybe wouldn't be that bothered by grime in its original incarnation. Objekt's asked for tips on artists to check out, so if you have any, send them his way.
Rancho Relaxo with Yamaneko
Lots of love for Yamaneko's digital-ambient-that's-a-bit-like-instrumental-grime-but-also-not-really around these parts. With his 'Pixel Wave Embrace' cassette forthcoming on Local Action, Yamaneko has shared a new mix, originally made for Mumdance's Rinse FM show, called 'Pixel Healing Spa'. It's basically as its name suggests: drifting, soothing, relaxing music, with a digital sheen. New age for the now age, basically.