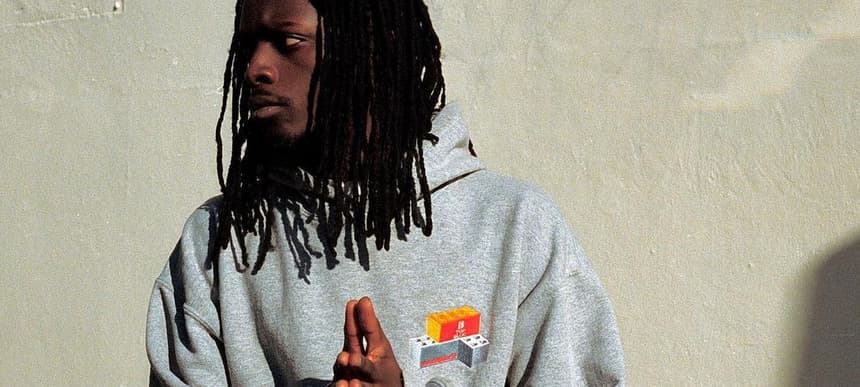 21.02.2023, Words by Billy Ward
Sam Akpro, POiSON ANNA, Léa Sen and more front our BRAND NEW playlist
Listen to the hottest tracks from our carefully crafted playlist showcasing a number of under-the-radar artists
Incorporating talent from across the globe, check out five tracks from our meticulously-created BRAND NEW playlist showcasing some of the most exciting up-and-coming talents around.
South Londoner Sam Akpro has steadily been staking his claim as one of the capital's most exciting up-and-comers. Lacing anecdotal tales of life in the city with kaleidoscopic nods to jazz, soul, rock and post-punk, his first entry of 2023, 'Trace', is a true multi-media spectacle. Using 3D scans of notable Peckham hotspots centring around the famous Rye Lane, Akpro delivers one of the most unique visuals we've seen this year. 
2. POiSON ANNA - '96 HEAT' ft. Jwles
POiSON ANNA's association with Dean Blunt has catalysed a cult level of interest around the rising figure. What's even more exciting is that she's only just getting started. Her darkly hypnotic new single '96 HEAT' reflects the dystopian tones of her debut project, 2021's 'EXCELSiA', splicing eery basslines and irresistible 808s with a verse from the ever-mysterious French rapper Jwles. 
According to Léa Sen, the London-based songstress' latest single 'Dragonfly' is a byproduct of being fed up with her indecisions and stuck in endless internal quarrels. Showcasing her extensive sonic palette as a guitarist, singer-songwriter, producer and mixer, it's the first offering from her newly announced EP 'You Of Now, Pt. 2' and has been on repeat in the office since it's release. 
4. Kosaya Gora - 'Tell Me Dove'
Like spring after a long winter, Kosaya Gora's spell-binding track 'Tell Me Dove' casts a warming feeling of hope across an otherwise gloomy landscape of guitar-based folk, haunting dream pop, and moody synths. Made up of Russian producer/singer Kedr Livanskiy and producer/visual artist Flaty, the two recorded the new track in a mobile studio which they took through the remote villages of their homeland.
5. urfriendgrace - 'GLOSSY'
'GLOSSY' is the latest offering from New York-based singer/songwriter urfriendgrace. Experimenting with acoustic/folk style vocals and an alt-R&B sound, it's an undisputed anthem. 
Like our BRAND NEW playlist here and follow Dummy on Spotify to stay ahead of the game on the freshest new music. [Other entries include: Nightbus, ZOUBIDA, Gallowayyys, henri, Paris Williams, Jouska, Donovan Bogney, Mietze Conte, 1tbsp, 16a89, Aáyanna, Binta, bib sama, Alyx Bell and more.]