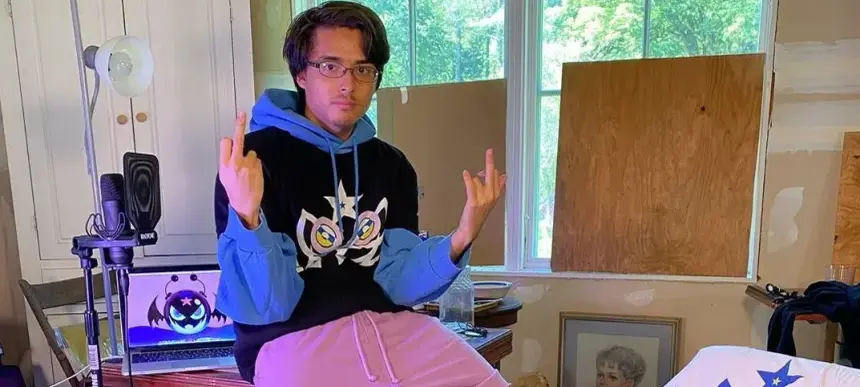 06.04.2023, Words by Payton Dunn
SEBii, Jay Kim, Zac Greer, and more front our ULTRA HYPER playlist
Here's the best of what the hyperpop scene had to offer this week
Hyperpop is such a niche scene that it's hard to find enough bangers each week to keep you satisfied. That's why we set out to sift through all the noise. Check out the five best hyperpop tracks of the week below.
1. SEBii - 'CHESS>CHECKrr'
SEBii's songs just keep getting even more abstract. Just within the past year, he's written songs about tikka masala, the video game Fruit Ninja, and now, he's written one about the board games chess and checkers of all things. The song pairs the signature 8-bit production of his collaborators vvspipes and youngkimj with SEBii's silly bars and delivery. SEBii may not be leaning into the Pokémon visual aesthetic as prevalently as in his early records, but that feeling still lingers in his tracks to this day. If Nintendo ever needs a rapper for one of their games, they know who to call up.
2. Jay Kim - 'growth'
Hyperpop has gone fully rock, and Jay Kim is the epitome of that. The song opens with a rapid-fire guitar lick that pulls on the midwest emo influences that have fed into hyperpop since the start of the 2020s. It's all somewhat reminiscent of the guitar-focused tracks that glaive helped usher into the hyperpop mainstream, and that similarity makes even more sense the more you look into it. Both artists grew up in North Carolina. It's almost as if by sheer coincidence, North Carolina is getting its own sound in the hyperpop community. Jay Kim is bursting through those glaive similarities at the same time, bringing his own flair to the hip-hop and pop songwriting fusion that has dominated the scene these past few years.
3. Zac Greer - 'buttons'
Zac Greer is back and better than ever. It'd been relatively silent for the artist since the release of his when things were fine EP in 2021. He'd only released two songs over the course of 2022, and there was a reason why things went so quiet. He'd moved from his hometown in Arizona to Los Angeles and was working through a bout of depression.
'buttons' sees him opening up about that time period, singing about being homesick and the thoughts that swirled around his head during the move. It showcases the isolation he felt as he retreated away from his friends and dealt with addiction to social media. Now, he's moved back to Arizona, and even more great things are on the way for him. It's all up from here!
4. blackwinterwells and 8485 - 'sweet dreams'
Ok, we'll say it. 8485 might possibly be the single best addition to a song that a hyperpop artist could ever pick. The singer has an extremely lengthy list of collaborations, with heights including the emo heartbreak banger 'this might be our last december' with poptropicaslutz!, the innovative glitch pop track 'apartmnt' with aldrch, the hyperpunk classic 'Your favorite sidekick' with underscores, and the 8-bit heart throbbing ballad 'All New Edition' with Reserv. The highlight reel of her feature verses just keeps going on and on into infinity.
One of her most frequent collaborators over the years has been blackwinterwells, who's appeared alongside her on songs like 'Walk' by nomu. and 'sour' by grandee. That chemistry has just gotten stronger and stronger over the years, and 'sweet dreams' is just the latest installment.
5. jiafeng - 'Baby Monster'
Hyperpop may have started in the United Kingdom before quickly proliferating itself throughout the United States, but its influence isn't confined to the two countries. It's now gone nationwide, with jiafeng having heard the tracks of A.G. Cook all the way from China. He decided to incorporate it into his own work, and it even took him all the way to China's talent show Strawberry Man. The judges of the show were absolutely floored by his performance in the worst way possible, with one even saying, "You're an alien here. You shouldn't be on this stage." Even though his explosion into the Chinese scene was met with initial pushback, he's found adoration in the hyperpop scene worldwide. He's not an alien here, and as far as we're concerned, he belongs on this stage.