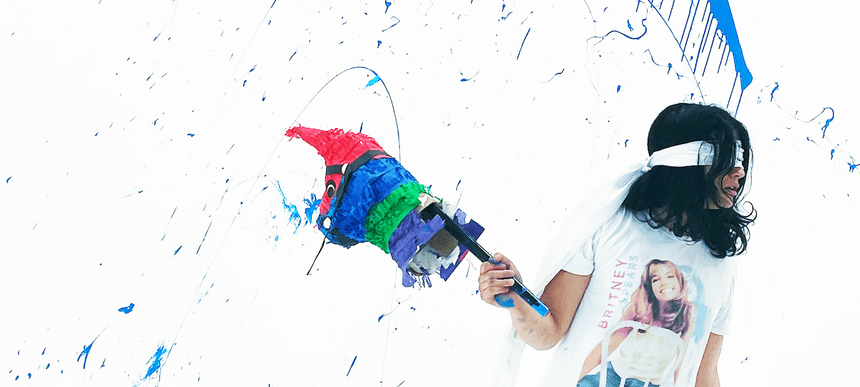 07.02.2023, Words by Payton Dunn, Photos by Ayodeji
underscores, SEBii, poptropicaslutz! and more front our ULTRA HYPER playlist this week
Here's the best of what the hyperpop scene had to offer this week
2020 and 2021 were the years that hyperpop fully exploded into the mainstream music scene, but 2022 was the year that it finally reached a place of legitimacy.
It seemed that the music industry finally started paying attention to the burgeoning musical movement, and we're still feeling the ripples of that today. It crafted a new dynamic for the hyperpop movement, now having the eyes of the business pointed their way while still staying true to the scene's DIY roots. We explored that dynamic in the first installation of our ULTRA HYPER playlist this year, seeing what all of that meant for the artists themselves as 2022 turned into 2023.
1. underscores - 'Count of three (You can eat $#@!)'
The hyperpop community's been betting on underscores for years. This artist in particular has been releasing music since 2017, but they officially exploded onto the scene in 2021 with the release of their album 'fishmonger', which was such a breath of fresh air that it would lay the blueprint for a new scene just starting to splinter off from the main hyperpop scene: hyperpunk.
That means that it's no surprise that underscores would eventually become embraced by the wider music industry. Their latest song, 'Count of three (You can eat $#@!)', was released on Dog Show Records via Atlantic, and it saw the artist collaborating with benny blanco, Cashmere Cat, and 100 gecs's Dylan Brady. If that list of massive names is any indication, then 2023 is sure to be the year of underscores.
2. Kim Petras - 'brrr'
It would've been impossible for us to leave Kim Petras off the list this week. She just became the first publicly out transgender woman to win a Grammy, with her and Sam Smith winning the award for Pop Duo/Group Performance for their viral record 'Unholy,' which made Smith the first non-binary artist and Petras the first transgender woman to go #1 on the Billboard Hot 100 late last year.
'brrr' came at the perfect time, released just ahead of the Grammys on January 20. The critical momentum of the upcoming awards show supercharged the release of the song, making it just shy of three million streams currently.
3. SEBii - FruitNinja.ipa
If this song were by any other artist besides SEBii, it would've instantly been critically panned even harder than a Machine Gun Kelly or Justin Bieber record.
The song opens with the line, "We super lit, we took a hit of that ganja," before going on to sing, "Diamonds on me da-da, they don't want the drama / diamonds on me bling-bling, they wanna see me sing-sing." Somehow, SEBii sells it, and he sells it hard. He makes the track's charm undeniable and, by the end of the it, even infectious. He brings a seemingly impossible amount of charisma to the microphone. That's made him into a critical darling, so much so that music reviewer Anthony Fantano proudly proclaimed SEBii to be one of his "favourite little internet rappers" at the end of 2022.
He's become one of our favourites too, and we can't wait to hear what he has coming next.
4. poptropicaslutz! - 'Sierra Echo X-Ray'
poptropicaslutz! exists perfectly in the middle of the hyperpunk spectrum. The same way that Daft Punk acted as a gateway drug for rock fans to get into dance and dance fans to get into rock in the early 2000s, poptropicaslutz! acts as a way for people in both the pop punk and hyperpop worlds to get into the other scene.
That's made them the punk industry's favourite hyperpop act, earning them a record deal with legendary punk label Epitaph and a management contract with alternative music business icon Will Tenney.
'Sierra Echo X-Ray' came out of a songwriting experiment for the duo, saying, "We wanted to come up with a song that matched up to [our] band name." What came out of it is possibly the nerdiest song about love-making to ever hit the face of the planet, but that's why it's so much fun to listen to.
5. Skrillex, Bladee - 'Real Spring'
Neither of these people are actually hyperpop artists, but bizarrely, Skrillex has somehow developed a knack for making hyperpop tunes. 'Real Spring' sees him teaming up with cloud rap artist Bladee, who was one of the primary inspirations for digicore artists as they splintered off from the main hyperpop scene between 2017 and 2019. That's made Bladee into a staple of the hyperpop community, frequently being featured on hyperpop playlists alongside other members of his collective, Drain Gang.
This new song comes after Skrillex was featured on 100 gecs' new EP with his remix of their song 'Torture Me'. Skrillex now seems to have a fervent dedication to the hyperpop community, and the scene is all here for it.
Like our ULTRA HYPER playlist here and follow DMY on Spotify to stay ahead of the game on the best new hyperpop tracks of the week.