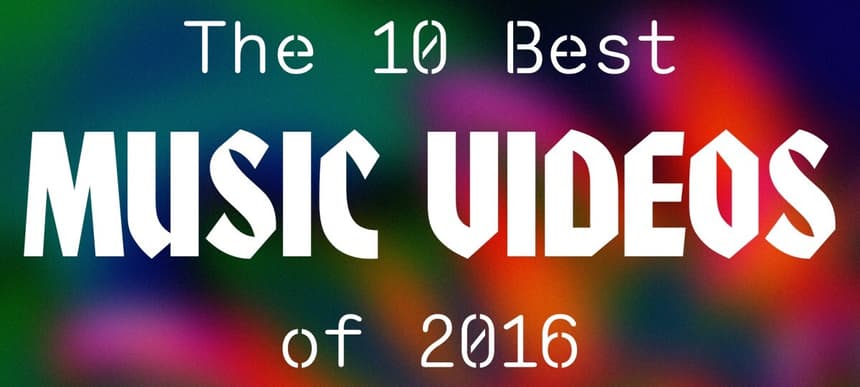 15.12.2016, Words by dummymag
The 10 best music videos of 2016
It's been an exciting year for music videos as the medium took a tighter grip on its synchronicity with releases, as seen in the surprise visual albums from Frank Ocean and Beyonce. Of course, most underground and independent artists are quashed by budgets, but when the money is made available for these artists, we're seeing a rise in storytelling and news ways to convey messages.
We won't beat around the bush too much, as the beauty is in the eye of the beholder, but it in our selections you'll find some great cameos, a couple of council estates, and a lot of passion.
Special mentions must go out to a few of those that didn't make the cut – including the NTS filmed video for rapping dirtbag Lee Scott's track PPL PERSON on Astral Black, Famous Eno's bat at police corruption for Gangsters, the Father directed creepy cut for Gaika's Glad We Found It, and the ridiculously filmic intro to Nas and DJ Khaled's collaborative effort, Album Done.
Read through our entries below, and check them all out on the YouTube playlist.
10. Mura Masa feat. A$AP Rocky Lovesick [Dir. Yoni Lappin]
Love$ick is a four-minute story that explores the concepts of first love and brotherhood through a series of fly-on-the-wall shots of teenage shenanigans on a council estate, and seems to be part of a larger trend that capitalises on the stories around the communities living in the capital's sprawling housing complexes. Yoni Lappin's direction is sleek, and paired with a sure-fire track, is a no-brainer contender for this year's 10 best list. Undine Markus
09. NAO Girlfriend [Dir. Yoni Lappin]
It has been a fruitful year for Yoni Lappin – landing videos for A$AP Rocky, Mura Masa and NAO. Girlfriend is a poetic piece for NAO's chart-topping single from 'For All We Know', explores multiple couple dynamics on an inner city council estate through a series of candid and hard-hitting close-ups. With a variety of scenarios threaded through Lappin's intimate approach, it is hard to see the video fail to leave a lasting impact. Undine Markus
08. Beyoncé Formation [Dir. Melina Matsoukas]
Were there many music videos more loaded with symbolism this year than Formation? With its release in February this year, Beyoncé let us know exactly where she stood on post-Katrina New Orleans, racism and police brutality whilst making her love of Louisiana Creole culture and black pride explicitly clear. Martyn Pepperell
07. Twenty88 Out Of Love [Dir. Lawrence Lamont]
The perfect visual compendium for Big Sean and Jhene Aiko's self-titled debut, Out Of Love is a mythical cornucopia of the duo as a fictional film star couple. Darting to an award ceremony for Deja Vu to arguing incessantly about their extra-curricular activities onTalk Show – it's a much-watch accompaniment to the much disputed are-they-aren't-they coupling. Natalie Davies
06. Jamie xx Gosh [Dir. Romain Gavras]
Gosh, this Romain Gavras helmed video was remarkable wasn't it? Disregarding large-scale special effects, Romain travelled to China to film in the nearly uninhabited city of Tianducheng with a cast of hundreds. Constructed as a replica of Paris (complete with its own Eiffel Tower), the city served as the perfect backdrop for an impressionistic story set within a virtual reality-addled society. In sweeping style, Parisian albino Hassan Kone leads hundreds of tracksuited Chinese youth to the replica tower. Martyn Pepperell
05. Steven Julien Fallen [Dir. Shane Connolly]
It's 2016 and visual albums are in. Following the success of the likes of Vince Staple's 'Primadonna' and Schoolboy's 'Blank Face', a seven-minute piece for Steven Julien's (f.k.a. FunkinEven) debut album 'Fallen' surfaced shortly after its release, shedding light on the concepts behind his project.
The Shane Connolly-directed piece is infused with a sense of DIY ethos and personality. Straying away from singularity, its underlying themes explore the inherent duality to each person and work of art, succeeding to appeal to a vast audience in a profoundly personal manner. The barren landscape of the English seaside paired with nighttime shots of the inner city highlight the dichotomy in a visually stunning manner, one that is hard to forget. Undine Markus
04. Frank Ocean Nikes [Dir. Tyrone Lebon]
When looking back at the year in terms of photography, two names seem to have had a true momentum: Petra Collins and Tyrone Lebon. The latter – taking a break from shooting for Supreme, Calvin Klein, and Celine – outdid himself once again, by conjuring up a project that was to become the most timely (and timeless) visual piece of the year.
Continuing to question the definition of beauty, Lebon teamed up with Ocean himself to create five minutes of magic that blended documentary and fiction, as well as a few unmissable cameos. The sensual and saturated universe lures us in from the opening shot and leaves us wishing we were part of the extras. Undine Markus
03. Solange Don't Touch My Hair [Dir. Alan Ferguson & Solange Knowles]
The constant comparison between the Knowles siblings was an inevitable affair. However, it seemed to wear out rather quickly following Solange's release of a gallery-worthy video diptych, Cranes In The Sky and Don't Touch My Hair. Caught in a delightful dilemma, it might or might not have been Sampha's cameo that swayed us towards Don't Touch My Hair, a painterly piece shot in New Orleans.
Bringing dozens of picturesque tableaux of to life, the video aligns forces with the concept for 'A Seat At The Table', sharing its expressive, empowering, unapologetic, and multifaceted nature. And it was worth every minute of the four-year wait. As opposed to her sister's visual diaries, Solange kept the circle small this time around, co-directing, or rather co-curating, the visual doublet alongside music video director Alan Ferguson. Apart from blessing us with visuals what might become the benchmark for 2017, the project also introduced a new power couple to the game that will prove hard to ignore in the years to come. Undine Markus
02. Klein Marks Of Worship [Dir. Akinola Davies Jr.]
Breakout London vocalist and producer Klein hit the jackpot with a fine cross between an enigmatic short and insanely attentive music video for her 'ONLY' track, Marks Of Worship.
Filmed in East London and featuring quite a few familiar faces, the visuals follow Klein as she tries to find her place at a suffocating family function. Nonplussed and out of place in the traditions, she contends over-eager relatives, before gaining her momentum on the dancefloor as the rest of the party are held in a surreal freeze-frame suspense. After truly pulling us in with the mystery of Klein's situation, it ends with a whitewashed baptism, which is sure to send shivers down your spine. Natalie Davies
01. Lone Backtail Was Heavy [Dir. Hugo Jenkins]
Something huge was in order to visualise Backtail Was Heavy – the hefty rave number taken from Lone's sixth album, 'Levitate'. Stepping up to the challenge was director Hugo Jenkins, who recreated a day-in-the-life snapshot of working class life tinged with a bit of old-fashioned East End gangsterism in Newham.
In a nutshell, the perfectly cast, cigarette wielding, shaved headed protagonist breaks out of detention and finds himself in the midst of a family feud in the boozer, before smashing up a motor in the car park with a fire extinguisher and finding himself in a strip club getting a dance from Chloe Mafia to wind down. It's like Long Good Friday with a bout of bed bugs, and reminds me of simpler times in my life, when all I needed was two pints of Guinness and a 20 bag to get by. Now I lift weights and drink hemp protein smoothies. Natalie Davies
Watch all of the best music videos from 2016 on our YouTube playlist.