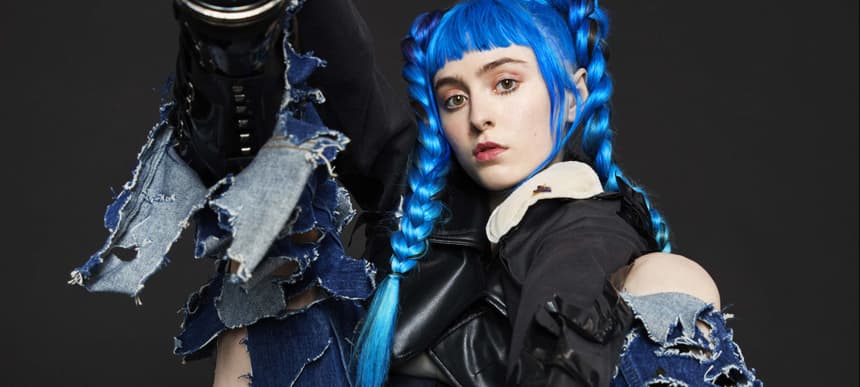 12.07.2019, Words by Felicity Martin
The 10 Best Songs To Empower Womxn, according to Ashnikko
"I have a picture of Loretta Lynn holding a guitar in a ball gown on my bedroom wall, smiling down at me and my sexually liberated self."
Up until the age of 17, Ashnikko listened exclusively to women musicians, developing a love affair with the likes of Nicki Minaj, Björk, Janis Joplin and M.I.A in the process. With messages of female empowerment, sexual liberation and confronting gender norms at the forefront of her music, the North Carolina born-and-raised rapper has become known for dropping videos that flip traditional gender norms and straight-firing lyrics designed to embolden womxn.
Today she drops her EP, 'Hi, It's Me' – a 'fuck you' antidote to the commercial, glossy pop industry, and to coincide with the record that finds her unafraid to speak her mind, below Ashnikko has laid out her ten favourite songs that stick a middle finger up to the patriarchy, from Dolly Parton to Rihanna.
1. Rico Nasty – 'Rage'
"Being a woman is a fucking trip, and listening to Rico Nasty is a good anger release for me. Makes me feel like I could flip a car and WWE suplex the patriarchy."
2. Kelis – 'Bossy'
"'You don't have to love me. You don't even have to like me. But you will respect me. You know why? Cuz I'm a boss.' THESE LYRICS SHAPED ME INTO THE WOMAN I AM."
3. SOPHIE – 'Immaterial'
"I saw SOPHIE live a few months ago and this song blew my little brain. SOPHIE's production is unbelievable. The beat alone evokes such a strong reaction out of me. I literally feel like the cyborg goddess of my dreams when I listen to this."
4. Janis Joplin – 'Women is Losers'
"This is a song about the exasperation a woman feels in a world where men always seem to win. What a fucking joy. Janis was a fucking icon."
5. Rihanna – 'Sex With Me'
"Sex positivity to the fucking maximum!!!! She's in control. She's owning her sexuality in the most powerful way. And it's Rihanna!!!!!"
6. Doja Cat ft. Rico Nasty – 'Tia Tamera'
"It's a song about tits!!!! Doja Cat is a fucking genius. I frequently sing along to this song naked in my room and dedicate the whole performance to my own boobs. POWER."
7. Dolly Parton – 'Just Because I'm A Woman'
"TELL EM DOLLY!!!!! A song about sexist double standards by a true legend."
8. Loretta Lynn – 'The Pill'
"Loretta Lynn is singing about how fucking excited she is to be on the pill and have control over her own reproductive health. I have a picture of Loretta Lynn holding a guitar in a ball gown on my bedroom wall, smiling down at me and my sexually liberated self."
9. M.I.A. – 'Bad Girls'
"I couldn't make a list of anthems without including M.I.A. She is so unapologetically herself, everything I strive to be as an artist. Listening to her as a kid is a huge reason why I make music now."
10. Junglepussy – 'Bling Bling'
""Bling bling, bitch. Do my own thing, bitch. Fuck a wedding ring, that ding-a-ling was just a fling, bitch." A timeless classic by our lord and saviour, Junglepussy."
Watch Ashnikko's new video, 'Hi, It's Me':
Listen to the EP in full via your preferred streaming service.