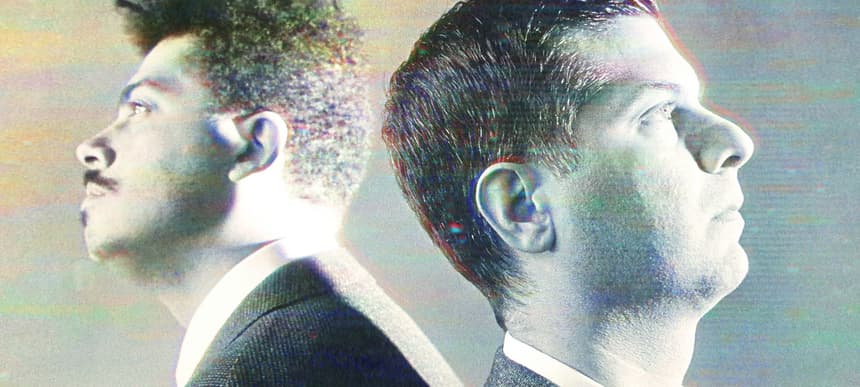 03.07.2019, Words by Felicity Martin
The 10 Best Tracks To Perform A Ritual To, according to Lost Souls of Saturn
Seth Troxler and Phil Moffa put together a list of the best cuts to summon spirits to...
If you weren't already familiar with the name Lost Souls Of Saturn, they're Seth Troxler and Phil Moffa – a duo crafting spiritual, psychoactive sounds through the joint multidisciplinary project. Just released via R&S, their newest, self-titled full-length pulls together sounds including old sci-fi soundtracks, acid, free jazz, avant garde, musique concrete, world music and more.
"We have been sent synchronistic signs from a metaphysical plane," they say elusively about the record. "We are the glitch-seekers, exposing the Holes In The Holoverse. We are Lost Souls Of Saturn." Since their own work touches on mystical sounds that wouldn't feel out of place during some form of ceremony, the pair have picked out some of the best tracks to summon spirits or contact otherworldly beings to.
1. Ozo – 'Anambra'
"This was first heard at The Loft in NYC and is the spirit of our Opening Rites. The drums, the the flute and the chant are hypnotising."
2. Carl Matthews – 'As Above, So Below'
"A wonderful bit of synth wizardry by the electronic music veteran from the UK, a major zone-out and meditation jam. This one should be played on repeat throughout sleep cycles; it is about seven hours and 56 minutes too short."
3. Alice Coltrane Turiyasangitananda – 'Rama Guru'
"I was profoundly moved by the 2017 event at Knockdown Center in Queens when the Sai Anantan Ashram Singers performed Coltrane's sacred works and also deeply saddened by the news that the Ashram burned in the 2018 California fires. Her daughter, Sita Michelle Coltrane, was quoted: "Sunday services were filled with music, chanting, meditation and my mother's discourses. The fellowship, families, children who grew up on the land, celebration of holy days, marriages that took place on the grounds, all of these things will last forever." Fortunately for all of us, so will her powerful recordings."
4. Units And Measurements – 'Twin Stars Twin Planets'
"Mathew Jonson, Christopher Hreno and Colin de la Plante created the perfect soundtrack for contacting or channeling interstellar friends with their insane synth improvisation on this 2 x LP release. This particular selection is a 13-minute wormhole in audio form."
5. Don Cherry and Latif Khan – 'Sangam'
"World music fusion pioneer and master jazz trumpeter Don Cherry collaborated with tabla legend Latif Khan on the album 'Music/Sangam'. This b-side title track is an absolute workout of the soul, comprised of the heaviest rhythms from Khan and a hypnotising organ part by Cherry. This whole album is highly recommended to those in search."
6. The KLF – 'Madrugada Eterna'
"This was originally a b-side of 'Kylie Said To Jason' and then ended up on The Chillout. Australian steel guitar player Graham Lee of The Triffids makes a notable contribution here. And of course the unforgettable radio chatter: "Through the light / Come get your mojo hey / Come back fat as a rat / All the way down the east coast, Get ready, Get ready…" And finally "A reading from Matthew 9 according to verse 22: God! Be of good courage, and be of good comfort! My faith has made thee whole."
7. Yoruba Drums From Benin, West Africa
"From the liner notes: 'Featured here are the complex rhythms of the bata and dundun drum ensembles used in Yoruba religious cult worship and divination. These Yoruban roots of urban Africa and Afro-Caribbean music call the divine ancestors (orisha) to Earth to possess their mediums.'"
8. Gamelan Barong Dance
"The Barong is traditionally a masked storytelling dance from Bali, a battle between good and evil. The good is represented by the lion-like Barong and his rival is the black magic-practicing Rangda, the queen summoner of evil spirits."
9. Talaboman – 'Midnattssol'
"Our R&S Records labelmates assemble a lovely stew of percussion, drone, rain stick, synths, nature sounds and even a little 808 cowbell for this ritual."
10. The Joubert Sisters – 'Stand On The Word'
"Another Loft (and Garage) anthem, this time a Christian ritual. This song has gained popularity in recent years and it's no mystery why – when that first chorus drops, the Holy Spirit arrives."
Listen to Lost Souls of Saturn's self-titled release: