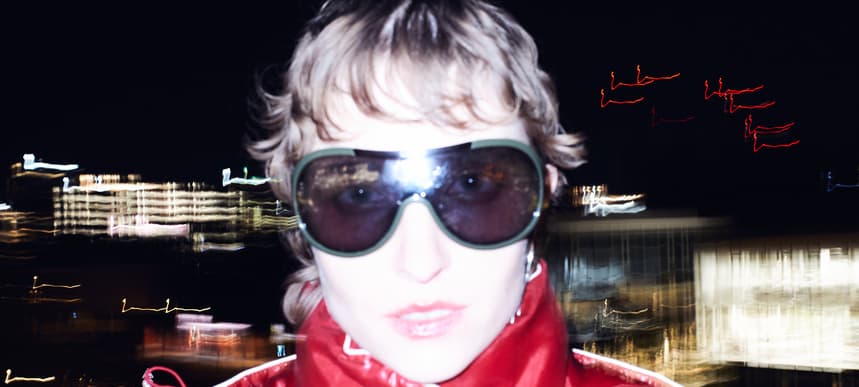 31.07.2023, Words by Billy Ward
The 10 Best Acts In Amsterdam's Experimental Creative Scene, according to Luna Morgenstern
"I am always surprised when I come across an Amsterdam-based artist that I am not yet familiar with..."
Amsterdam-based, Cologne-born creative Luna Morgenstern is quickly cultivating a reputation for herself across Europe's gigging circuit. Combining club-leaning sonic touch-points with her love of some of pop music's brightest shining lights Charli XCX, Shygirl and Caroline Polachek, the rising producer, artist and innovator made her London debut earlier this month with a rapturous live show at The Social. Having sprouted up through the cracks of Amsterdam's bustling creative scene herself, we sat down with Luna to get a panoramic view of the artists making the Netherlands capital one of the most exciting places in Europe for music. 
"From a tourists' perspective, Amsterdam is a sort of Lala Land, where a 100€ Ryanair return is a license to get fucked up in public, and its glistening Red Light District promising easy adventure through the looking glass of a window display," she says. "To me, Amsterdam is a village disguised as a metropolis. Influences from all over the world fuse into this always windy, bike-dominated capital, but in the end it's actually kind of cosy with its population of barely 1 million.
"Despite, or maybe because of what it lacks in scale - you can get from Noord to Zuid within 45 minutes by bike - it is the breeding ground for a rich creative scene, inspired by local club culture, thin-walled bedroom beat making, and the shadows of colonialism clashing in its overpopulated and overpriced streets."

1. Cero Ismael - 'Temper'
That's why I am always surprised when I come across an Amsterdam-based artist that I am not yet familiar with, because technically we all move within the same microcosm. Cero Ismael is one of these artists that didn't come up on my radar until late 2022, when I first discovered his music during a night-out at Kanaal40. 'Temper' is one of my favourites by Joshua (aka Cero), musing about a couple existing alongside each other while ever missing each other… 'Why can't we never meet up in the middle? Why can't we never meet up?'. The real question being: how could I have missed Cero?

2. Raven Artson - 'Twist My World'
"Raven is one of these people that embodies his artistry with every fibre of his being and that's why you simply have to admire him. With every new project he transforms into a different character, highlighting another facet of his artistic kaleidoscope. Was I totally intimidated by him at first? Yeah! But that's okay, because it's nice to have a little artistic crush from time to time and get lost in their universe. You should definitely try that now and take a peek into his sensual 'Twist My World'."
3. Van Common - 'Eclipser'
"Sebastiaan makes the type of music that hits right in the heart. Maybe it's because he wrote and produced the entirety of his debut album 'Sunstruck' on a boat, or maybe it's because his voice carries the pureness of his lyrics so candidly. But he always manages to capture an emotion in its pure form with his music. To me 'Eclipser' transmits a feeling of yearning, the need to always be in motion, always keep on going, so there's no time left to catch up with your thoughts."
4. Ineffekt - 'Two Of Us'
"I met Rick at a writing camp two years ago and we immediately (even though a little awkwardly) hit it off. His playful yet powerful approach to production is a constant inspiration to me and I always learn something new when we're in the room together. We have collaborated in several forms, but 'Two Of Us' is our first actual shared release. To me it's an emotionally loaded club-ballad, talking feelings of disconnection in a long-term relationship and putting them to the test."

"Naaz is a symbol of female empowerment to me - speaking her truth right from the heart, ignoring conventional norms. She is a role model to so many women in the music industry and beyond… It is so inspiring to watch her pave her way in a predominantly white and male-driven industry, using her stage to be a spokesperson for minorities in Dutch society, while also casually making you cry with her crystalline voice."

6. BEA1991 - 'Submit To Love'

"BEA1991's 'Brand New Adult' hit me at a time when I had to fast-forward my own coming of age. Since then I have been fascinated with her unique, all-round artistry. What she puts her mind to, she embodies. Submit to the goddess, submit to Bea."
7. Bby Ecco - 'Chrysalis'
"Bby Ecco's glacial soundscapes and ethereal voice never fail to make me miss my ferry to the city (and that's definitely a compliment). I get so easily sucked into his universe, that I forget my surroundings, my appointments, my day-to-day. The elements never sounded this good."
8. Himera - 'Sharing Secrets'
"Himera creates a plastic audio experience in his productions, with their soundscapes feeling almost tangible in the room. I close my eyes and I let them dance around me, entangling me in their artificial, ethereal push-and-pull-like universe."
9. Sim Fane - 'like you' (feat. Meyy)

"Sam is an insanely talented producer and DJ and his playful yet incredibly layered productions always put a smile on my face. His most recent release with Meyy has had me hitting that replay button for quite a while, not gonna lie."
"To be honest, I don't listen to much music with Dutch lyrics, but Jim combines all my softspots; 140 BPM, club-induced breakbeats, combined with catch AF, autotuned hooks and clever lyrics. What's not to love?"
Stream Luna's most recent single 'Two Of Us' below: 
Stream Luna's most recent single 'Two Of Us' below: