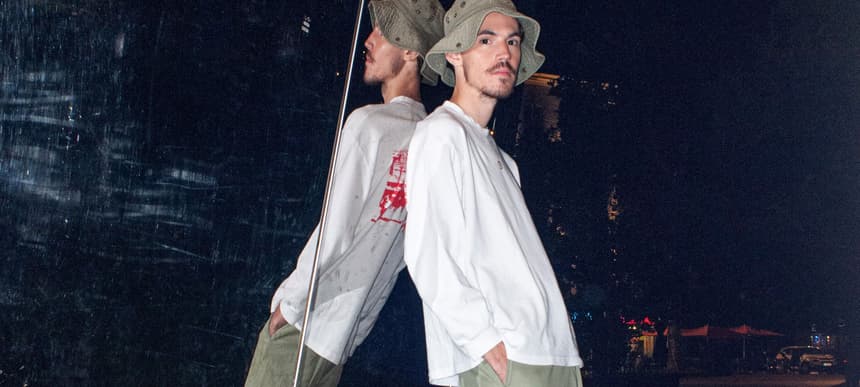 16.10.2023, Words by Billy Ward
The 10 Best DJ Deeon Hidden Gems, according to Simo Cell
"Had to upload this one 'cause I couldn't find it..."
DJ Deeon, the dance music pioneer whose exuberant productions helped popularise Chicago's "ghetto house" style, sadly died earlier this year. Established himself in Chicago's storied house scene in the mid-1990s, the DJ and producer went on to inspire a new generation of budding bedroom producers. 
One of them was Simon Aussel - better known by his stage name Simo Cell. The French producer  DJ and TEMƎT Music label founder released his debut album 'Cuspide des Sirènes' in September, splicing his love for nature, video games and mythology across 12 mind-bending, mystical tracks. Aiming to give the late house icon some of the recognition he deserves, Simo Cell sat down with us to uncover some of Deeon's best tracks.
"DJ Deeon passed away this year. It's time to give the legend a tribute because his music had a such big impact on my DJ sets and productions. He made obviously a lot of classics but today we're diving into the less-known tracks and I've got 10 real hidden gems from Deeon to share with you. Deeon had a bunch of aliases too that I thought I'd introduce you to. But I'll be real with you, picking just 10 tracks from DJ Deeon was tough. The guy dropped over 150 releases, so you can imagine the struggle!"
1. Debo - 'Getting Lifted'
"Debo, one my favourite Deeon aliases. Had to upload this one 'cause I couldn't find it. Happy to add my little contribution to the internet ahah. This track's got a magical, enchanting melody. Deeon's genius was always in keeping things super simple and here he's taken that classic Chicago melody and transformed it into this understated lead – it's just oozing with groove and that classic house vibe. I mean, Deeon might be famous for those banging ghetto tech tracks, but he's got this whole treasure trove of deeper tunes too."
2. Low End Theory - 'Wicked'
"This time as Low End Theory. Here's another lesser-known aspect of DJ Deeon's legacy – a truly sensational Chicago Acid Track. Sad to see that he didn't get recognition for his take of acid music because he did exceptional release in the mid-'90s."
"Dj Deeon mainly dropped his tunes on Dance Mania at first, but he also had ties to the Parisian Juke/Ghetto Tech scene, particularly with the Boot Call Crew, which was buzzing from around 2010 to 2015. They threw epic parties at Nouveau Casino, featuring legends like Dj Funk and Dj Godfather. This had a major impact on many French electronic artists of my generation. In 2013, he released a gem on Booty Call Records, diving into the faster 160bpm realm with this Juke record."
4. Dj Deeon - '2 Be Free'
"This is one of Dj Deeon's most sultry and groovy tracks. The track was reissued by Number in 2015, so it's likely not one of Deeon's more low-key tunes. However, it's also a side of his work that we might have overlooked. In this tune, he borrows a sample from Loose Joints. A classic thing to do for a chicago producer. At the beginning, you can catch a snippet that also appeared in Bjarki's popular track, "I Wanna Go Bang." It's quite amusing that a song built on the concept of sampling itself gets sampled by another artist."
5. Low End Theory - 'Shake It'
"I came across this track thanks to Dj Feadz. Originally, it was released as "Low End Theory" on Dance Mania, but it had a second release under Dj Deeon on Dj Godfather's label. It's the epitome of minimalism. We could label it as a "Deep Deeon" track. It features a subtle kick drum, a pitched tom, a shaker, and a lead. And it's enough for a masterpiece!"
6. Dj Deeon - 'Groove Mode 2K1'
"Here's another fantastic Juke track. I absolutely adore it when Deeon incorporates drum elements to create a melodic vibe. It's a technique he's used extensively with tom drums, and in this case, he's using a xylophone-like sound to achieve that musical effect."
7. Dj Deeon as 'Me & My 9' - 'Barcodez'
"This classic track from Dj Deeon is a real hard-hitting banger, and it's released on a different US label this time: Underground Construction. It's like a more intense, boundary-pushing version of the Dance Mania sound, almost venturing into what's been dubbed as Hard House.

The label, originally from Chicago but with offices in Los Angeles and Miami, had strong ties to Mexico and the Latin diaspora, which added a unique flavor to the Ghetto Tech scene. This track is unmistakably tailored for Underground Construction, and that's why I have such an affection for it. You can truly sense that Deeon produced it with UC in mind."
8. Debo - 'Whip, Shake, Ride'
"A proper roller.. Not many DJ Deeon tracks boast percussion samples quite like these. It appears that for this particular occasion, he incorporated samples on top of the the classic 808 or 909 drum sounds. And that widely-used rolling 909 open hi-hat is delicious. The structure of the track is incredibly fun and intuitive in a club setting, thanks to those clever little half-tempo breaks in the middle. It's got a definite Paul Johnson vibe, I'd say."

9. Playground Production Z - 'The Box'
"Let's dive right into the PPZ alias. Remember when I mentioned that Deeon was behind some of the most immense acid tracks from the mid-90s?"
10. DJ Deeon - 'Everyday (Remix) Big Freek'
"The timeless R&B hit 'Freek'N You' by Jodeci has seen its fair share of reinterpretations, but this one feels like an exclusive VIP edit from the boss. Only for the Gs."
Stream 'Cuspide des Sirènes' below: