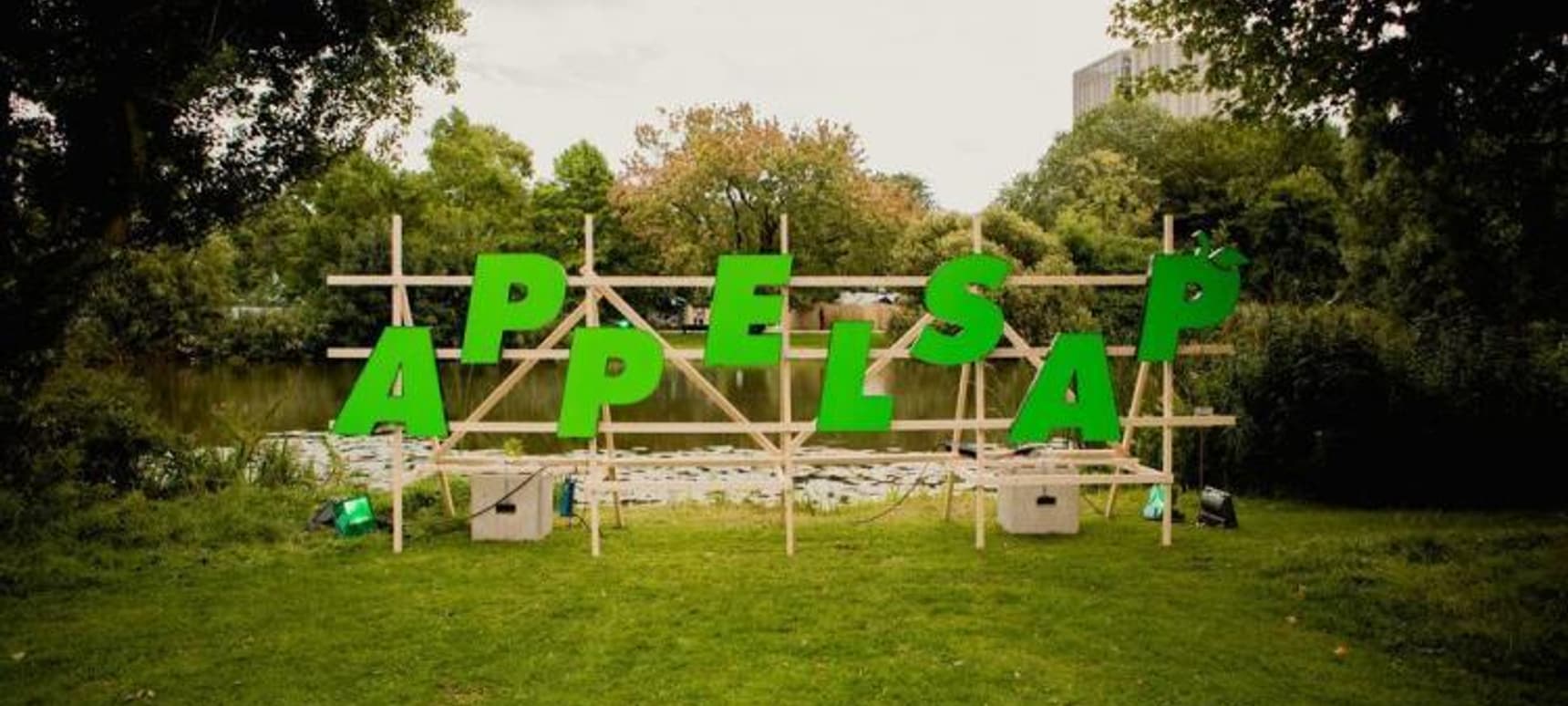 06.08.2018, Words by dummymag
The 10 Best Dutch Hip Hop Tracks according to Appelsap
After 18 years at the frontline of Dutch hip hop Appelsap know their stuff
After 18 years as Amsterdam's leading hip-hop festival, Appelsap are still pushing harder than ever for creative street culture. Discovery, development and presentation of new talent is always prioritised, highlighting new creatives from the city and beyond. This year Appelsap celebrates it's 'coming of age', where a new gen of artists pays tribute to hip-hop heroes throughout the years. With this in mind it sounded like the perfect time for Appelsap to choose the ten best hip-hop tracks.
Extince 'Spraakwater'

Appelsap: "If Dutch hip-hop is a religion, Extince is the prophet. Even though we have to give credit to Osdorp Posse and MC Brainpower (among many others), for our generation the official start of Dutch hip-hop is represented by Extince and his first and number one hit single 'Spraakwater'. With his Southern Dutch accent he shaped the sound of early Dutch hip-hop, lyrically unprecedented until this day."
Opgezwolle 'Verre Oosten'

"The second coming. The new testament came from the East, where the sun rose in the form of Opgezwolle and the whole Buitenwesten posse. This whole movement including legendary acts like Duvel Duvel, Kubus, Jawat and Typhoon was pivotal for the first decade of the 21st century."
De Jeugd Van Tegenwoordig 'Watskeburt'

"In 2005 came the big bang, with De Jeugd van Tegenwoordig blazing some straight up evolution theory onto the Dutch scene. Forever changing the sound of Dutch Hiphop or to put it even better, creating a complete new genre on its own, DJVT scored hit after hit, completely creating their own language."
The Opposites 'Sukkel voor de Liefde'

"Meanwhile in the rural area of Heiloo two friends were creating a buzz with their unique sound self-proclaimed farm-rap with a touch of hardcore, strangely mixed with a pure sort of sensitivity that would soon erupt in a massive national hit machine, the two opposites Twan & Willem always remained brutally honest about the dark side of their success. Sukkel voor de Liefde (Sucker for Love) is the ultimate showcase of the duo's tremendous rise and at the same time the downside of turning into the Netherlands' most famous rappers."
Hef, Crooks en Adje '101 Barz'

"Oh brothers, where art thou? The realest in the game. Often imitated but never surpassed are the brothers Adje, Hef and Crooks. There are many tracks we could pick (Puur, Hele Meneer, Fock Wachten!) but this beautiful '101 Barz' session hosted by Appelsap MC Rotjoch resulted in a magical moment in time for Dutch hip-hop. Their contribution to the scene is immeasurable."
Hydroboyz 'Hindabuilding'

"Rotjoch has been known to turn water into wine for years but when he introduced Hydroboyz to the scene it marked yet another milestone. When Hydroboyz played Appelsap Festival in 2012, even French Montana, who was on next, was gettin' nervous…"
Murda 'Dat Doen We Niet Meer'

"Of course we can't forget the chapter of Noah's Ark in this story. It's difficult to pick a favourite but this track may sum up this label's rush on the scene, becoming a fast competitor to Top Notch, Holland's number one label that has put out the complete first half of this top 10, besides hundreds of other classics."
Sevn Alias ft. Frenna & D-Double 'Ma3lish'

"Sevn Alias is responsible for bringing Dutch street rap to a mature level. A new culmination of cultures and street slang makes for a unique and typical Dutch street sound, powered by Esko's beats."
Ray Fuego 'Kut'

"The last supper (before hip-hop will evolve into something we can't yet predict) will be hosted by SMIB. Frontman Ray Fuego and his apostles coming straight from high rise blocks of Bijlmer or Bimre, Bims or.. Smib, is leading the underground cult that everybody can be a part of. Smib is music, fashion, culture and just about being yourself, a philosophy that leads us back to the early days of hip-hop in the boroughs of NY and how it all started way back when…"
Jacin Trill 'Spray Op Je Bitch'

"Some people think the apocalypse of hip-hop has already made its entrance some time ago, when cloud rap came up, but Appelsap has always supported the progress of the genre. Jacin Trill aka the founder of Happyland is Holland's latest hype and even though he still has to prove his longevity, thing are looking up for the future."
Bonus Track
For those who can't wait for the future of Dutch Hiphop, here's a glimpse (this track literally is called Toekomst (Future):

Watch the Appelsap 2018 campaign video below:

Full line-up:


Appelsap is on Saturday August 11th at Flevopark, Amsterdam.
Tickets: http://appelsap.net/