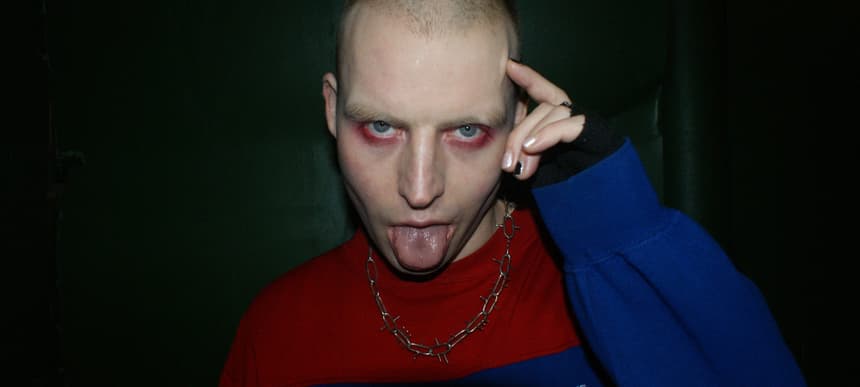 16.06.2021, Words by Ben Jolley
The 10 Best Emerging UK Hyperpop Artists
From Manchester to Glasgow via London, meet the teenagers and twenty-somethings who are putting U.K. hyperpop on the global map.
If there's one positive to come out of the pandemic it's that a seemingly endless cohort of teens and twenty-somethings have managed to find each other via the internet. Despite hailing from entirely different corners of the world, and only able to interact via screens due to the global Covid-19 lockdown, this next generation of music-makers have formed their own community.
Whether it's being on the same line-up at virtual shows, making beats on Discord, or gaming together on Minecraft, there's a whole lot of collaboration going on. Unsurprisingly, then, major labels are starting to take notice of everything that's going on in this post-PC-Music and 100 gecs universe. Put simply, the IRL world is waking up to the fact that hyperpop – which continues to blow up on TikTok – is one of the most exciting genres in music right now.
It's particularly the case for the artists who make up the tight-knit U.K. hyperpop scene – many of whom are in a group chat together and have teamed up for their own upcoming cypher track; some of them will also be playing our DMY Live show (rescheduled to July 28th).
While followers of the scene will likely already be big fans of kurtains, wido and Kid Trash (who each have millions of streams to their name), there are plenty of artists from cities across the U.K. who are just starting out and equally worthy of your attention.
Below, we introduce you to 10 artists from the fast-rising U.K. hyperpop scene who you may not have heard of but are twisting hyperpop in many exciting directions.
forevrboy
Splicing together distorted guitars, glitchy production and raw auto-tuned lyrics, this London-based artist is taking hyperpop in a punkier direction. Like 2077 meeting 2008, his riff-heavy sound lands somewhere between alt-pop, trap, rock and nu metal. It's no surprise his moshpit-ready singles 'Without U' and 'Lights Out!' are already attracting major label attention.
Voidie
Kent-based 20-year-old Lloyd Garrett's cloudy and melodic future-pop bangers wear their heart on their sleeve ('every lil' thing') while packing an anthemic glitchy punch ('Impressed'). "If you mash emotion, fashion, glitch and melodies into a ball, you will get my sound," says Voidie, whose aim is to be seen as "a normal dude who makes heartfelt music and has handfuls of swag!"
TAAHLIAH
The Scottish artist's emotive trap-techno-hyperpop hybrid channels the spirit of her friend SOPHIE while telling her own personal story. Since making a name for herself in the Berlin club scene, the Glasgow-born London-based artist has DJ'd at virtual parties like Club Quarantine and Minecraft festival Lavapalooza. Her Debut EP, 'Angelica', offsets beautifully twinkling electronics ('Brave', 'Freefalling') against sweat-drenched techno-leaning hedonism ('FMH').
Roma Radz
Suffolk-born London-based Roma first made music for a university project, when she decided to turn herself into a popstar. She's since toured the U.K. and Europe with Hannah Diamond (including supporting Carly Rae Jepsen) and collaborated with Spanish hyperpop artist Rakky Ripper. Now, with a debut EP full of chart-destined hyperactive bops just around the corner, Roma's ready to take the crown as the princess of U.K. hyperpop.
hidingthehurt
Nottingham-based 18-year-old Ollie Greenhalgh's emo-leaning hyperpop balances stadium-sized production (the drop on 'Guess I Meant Nothing To You Now' will blow your head off) with soul-bearing honest lyricism ('Tell Me'). "I want to help people who are going through the same motions I am," he says, adding that upcoming releases include collaborations with U.S. hyperpop sceneleaders including blackwinterwells.
phonewifey
It's hard to pin London-based artist and producer phonewifey down in terms of any one particular musical style. Their 2021 releases alone (particularly 'want u' and 'OUCH') have straddled the worlds of rave, pop, cloud-rap and ambient. While his influences are broad, their vocal and production styles are distinctive: often fusing heavy 808s and percussion with glittering synths and gorgeous harmonies.
Sickface
Twenty-five-year-old Manchester producer and vocalist whose experimental pop and cloud-rap combination creates songs that are both energetic and dreamy. The snapping snares of 'Designer' call to mind umru's production while the video-game bounce of 'Poison' takes things in a more kaleidoscopic and trippy direction; both are great tracks to have on repeat ahead of his debut EP which arrives later this year.
FINLINCE!
Despite being just 16-years-old and still at school, Yorkshire-based Finley Lince's tracks have found a huge audience online and he's already (thanks to the power of Discord and some Instagram DMs) collaborating with some of the biggest names in the U.S. hyperpop scene: with Warner-signed CMTEN on the instantly-infectious glitchy anthem 'do you see me', and alongside rapper midwxst and producer blackwinterwells ('every time i see you').
Sleepa
This 24-year-old Manchester-based producer and vocalist, who has been experimenting within the new wave of alt-pop/hyperpop, has come up with a sound that contrasts emo-inspired vocal layering and melancholy lyrics with upbeat bass-driven instrumentals. 'Black Ice' and 'Time Waster', which boast catchy choruses and glitchy trap-esque beats, provide a fitting introduction ahead of his debut album later this year.
AVA AKIRA
Hyperemo vocalist and DJ from London making instantly infectious bops that fans of Charli XCX will love; 'Locket' and 'Incomplete' are the type of PC Music-adjacent singalong bangers that won't leave your head once you've heard them. The brightly-coloured Y2K aesthetic of her self-produced music videos prove she's got the visual side of things locked down too.
Buy tickets for our DMY LIVE show with phonewifey, Ava Akira, Roma Radz and Ersatz on July 28th at The Waiting Room, London here: Buy Tickets
Listen to our 'UK hyperpop' playlist: