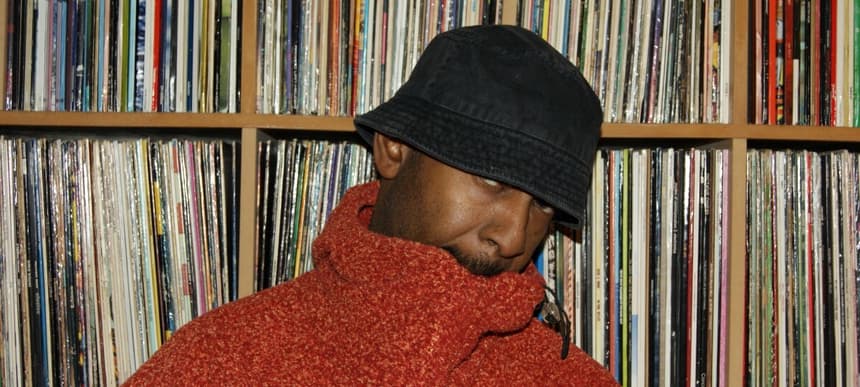 17.05.2016, Words by dummymag
The 10 best flashback hard funk tracks, according to Mr. G
Working in dance music for over two decades now, Mr. G is probably your favourite DJs favourite DJ, garnering much deserved support and appreciation from the 'heads' for his vast and committed contribution to the scene.
Originally cutting his teeth at the now legendary Confusion parties as part of the KCC DJ trio, Mr. G eventually started recording as one half of The Advent, where he knocked out a stream of groundbreaking releases, remixes, and albums. At the turn of the millenium, Mr. G decided to go it alone and founded his own imprint, Phoenix G, in order to create his uninterrupted and unique brand of analogue and bass-heavy tech-funk.
With a handful of critically acclaimed albums under his belt, and appearances on Defected, Running Back, Bass Culture, Don't Be Afraid, and Dungeon Meat, and more – McBean's fit-to-burst discography concretes his undeniable prowess in production. Returning this year with a three-tracker on Midnight Shift, the 'Temasek' EP is a personal release for both Mr. G and the label, inspired by a trip to one of Singapore's earliest named settlements. From the deep-reaching and moody swathes of ('28' Zombie Version) and through to the delectable pads of Black Pepper Crab, this is one for those a late night summer sessions.
To mark the release, Mr. G celebrates a sound close to his heart, hard funk. Rounding up his 10 personal favourites, he shares some of the tracks from the genre that drive him "wild". Read Mr. G's flashback selections below, and listen seamlessly via our YouTube playlist.
DJ Shufflemaster Play Back Pt 3
Mr. G: "Japanese tech and bang on the money, Shufflemaster is a big part of the story well ahead of time. His legacy is rich and funky, yet very forward thinking. Funnily enough, the track which I wanted I couldn't remember the title of, but this one is still dope."
Gaetano Pariso Dub Pistol
Mr. G: "Marco C's great label when their driving tech sound was king. What a match these two Naples giants had, showing all they had the funk…and they really did for the golden era when Zenit/Art were on fire."
DJ Slip Snapshot
Mr. G: "This was my curve ball, Slip coming with some futuristic bass twisted hard funk, which still does it for me today in a big way. Just goes to show how strong his music was and still is, the low-end and the futuristic waves are ridiculous."
Woody McBride Rattlesnake
Mr. G: "This is really like the snakes biting at your ankles whilst hopping from foot to foot. This still drives me wild. Nasty hard funk of the highest order. Even though it sounds fast now, I'd defo get down hard to this gem each and every play. Acieeeeeed!"
Planetary Assault Systems Booster
Mr. G: "Luke is tech royalty for me. His journey from a record shop to one of the tech masters is truly great. This one always stuck out for me as it had a real, almost soulful vibe within. Timeless!"
Joey Beltram Verbs
Mr. G: "Same goes for Mr Beltram. The first one on his own label came like a lightning bolt, I was influenced very much by this one in particular, funky and very driving, just the way I love 'em. Surely I have at least two copies of this, as I knew I'd fling it down hard. Joey is without doubt tech royalty, as most are in this list."
Jeff Mills If (We)
Mr. G: "Another curve ball, Mr Mills via Cisco changed my world when I first heard early Jeff, but it was a good few years later that I realised the soul was hidden within all he did. He is one of the masters and responsible for much and what Mr G is about. I really rate Jeff's endless energy and ever-changing vision."
Robert Hood Sleep Cycles
Mr. G: "Man, what can you say about Mr Hood with his ever changing evolving sound? He was Mr. Minimal before the term became over-used. This just rolls and rolls, still sounds hot now. His trademark is still very much in effect today. Giving thanx Robert!"
Mad Mike The Illuminator
Mr. G: "Yet another legend with a stone cold classic, UR is a hot bed for things Detroit young and old. Mr Banks' vision is/was so special here on this timeless gem. Stocked full of soul and still sounding so very now, as much of his back catalogue does. I went to see him with Matt, the last time I was in the D. I remember hunting hard for the (SID) 12"s [laughs]."
Dopplereffekt Porno Actress
Mr. G: "I love all them ole sex beatz tracks, so for sure. This was right up my street as it has the sleazy vibe that I love. When I bought this album, it blew my mind with its next level funk thang. I met Gerald…now that's a whole other story [laughs]. Timeless futuristic hard funk."
Mr. G releases his 'Temasek' EP on June 6th via Midnight Shift.