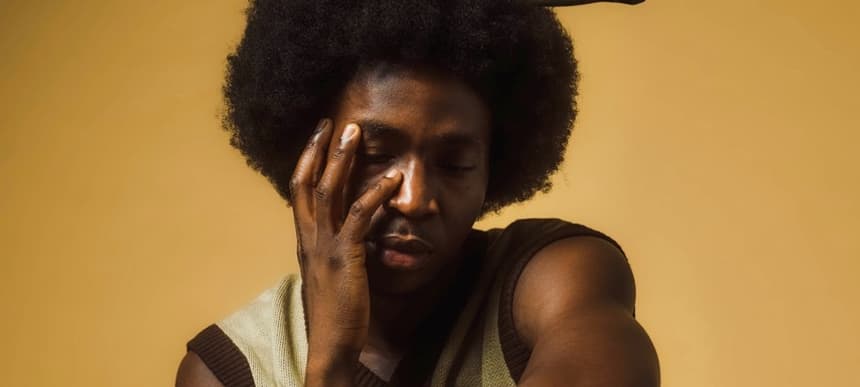 06.03.2023, Words by Payton Dunn
The 10 Best Low Vibration Tracks, according to SamRecks
A playlist to chill out to...
SamRecks has a knack for curating aesthetics. The Nigerian-born artist had a hand in every part of the creative process on his new song 'BACK PACK', working on everything from the music production to the music video colour-grading.
That means that it's no surprise that he also has an obsession with the energies that the aesthetics of a full creative work give off. He's especially drawn to low vibration songs, and he's outlined his ten favourite tracks in the category to celebrate the release of 'BACK PACK', below.
1. SiR - 'Hair Down'
"The vibe on this song is just different, it is defo a smooth one to have in the background as you are having a convo or vibing."

2. J. Cole - 'In The Morning'
"This is one of my favourite songs of all time, I feel like J Cole and Drake constructed this one perfectly, this is also one of my favourite Drake verses of all time. 'In The Morning' is a whole mood, literally."
3. Strandz - 'us against the world'
"I had to put this song on here, it's a big one, this is one of those ones from the first listen you know it's going to be a timeless classic and it just captures the essence of what a relationship should be like, us against the world!"
4. Drake - 'Dreams Money Can Buy'
"When I was younger I use to play this song all the time, this is the Drake I grew up listening to, hard bars bringing the vibe and mood that would inspire a lot of rappers from young."
5. Twyce - 'Attention'
"The flow and chilled vibe on this is too smooth, Twyce is mad talented and this track shows it. When I heard this I was just like yeah, this is going straight on the playlist!"
6. Zino Vinci - 'Namaste'
"Saw Zino rapping in a cypher and was like nah he's too cold. Went to check out his songs and this one was an instant add to the playlist - the flow, chorus, everything just seems so effortless and it is."
6. TE dness - 'Feel Some Way'
"TE dness is one of them hidden gems. Been listening to him for a while and heard a lot of his songs. Whenever I'd play it around people they'd always ask who's that, this song just captures some of his vibes and story telling capabilities, cold track."

7. J Cole - 'Land Of The Snakes'
"J Cole has always been a favourite of mine from early, he's another story teller. This song here is just a fine example of that, if you want to delve into a vibey realm that you might just relate too, listen to this one."
8. Kendrick Lamar - 'Sing About Me, I'm Dying Of Thirst'
"Good kid mad city is one of the albums that really inspired me to rap more. The stories, production and overall vibe is unmatched and timeless, this song here is just a smooth vibe that you can listen to and learn something from."
10. Sonder - 'One Night Only'
"I love the way this song starts instantly and straight away has that relaxed vibe. It's like your sipping wine talking to a leng babe, those are the kind of feels I get when listening to this song, definitely one of my favourites, Sonder is too cold."
Stream SamRecks new single 'BACK PACK' below: