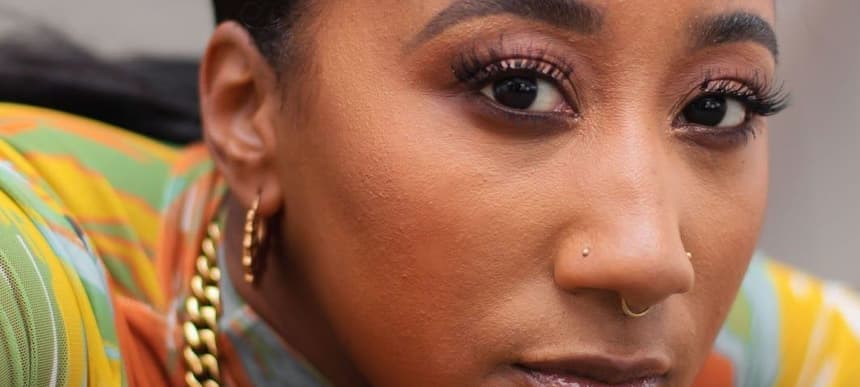 04.08.2021, Words by Maisie Goulsbra
The 10 Best Music Podcasts, according to Jamz Supernova
"This podcast is a literal movie in your ears."
Jamz Supernova has not only become an influential champion of UK underground music but has taken on issues including Windrush, Black-British identity, and global music scenes via panel talks, radio shows and self-penned written features. She did a BBC Essential Mix earlier this year, and has joined BBC 6 Music as a new Saturday host alongside her regular BBC 1Xtra slot all while running her own label Future Bounce.
Having recently celebrated her ten year radio anniversary, she has announced her debut baby and the birth of her new podcast – 'DIY Handbook' – which, over eight episodes, will explore the decisions she has made in her career, and the things she has learnt along the way. Guests on the show will include Katarina Johnson-Thompson, Toddla T, Ciara Madden, Zubin Irani, Georgia Lewis Anderson, Keturah Cummings, Lauren Mahon, and June Sarpong.
In her own words, Jamz describes the podcast as; "A collection of conversations and real-life anecdotes with a range of brilliant business & creative minds, I take the lessons I've learned and dissect that experience with people I admire. In a world that praises perfection and overnight success, we'll aim to be painfully honest, personal & practical! Welcome to my DIY Handbook."
Sharing her deep understanding of the music industry, Jamz has selected ten of her favourite music podcasts for you to listen to below.
1. 'Jamz Supernova's – DIY Handbook'
"This podcast has been two years in the making so it's an amazing feeling to finally have it out in the world. Every episode is a lesson I've learnt in business and as a creative over the last 10 years! It's personal and honest and sees me talking to guests who have either been on a similar journey to me or embodied the lessons I was trying to learn. I can't pick a favourite episode as they are all close to me but I would start with an episode that feels close to what you're experiencing in your professional life right now."
2. 'Dissect'
"This, for me is my favourite podcast of all time. I'm dying to meet Cole Kushna – the way he processes, and can break down music is phenomenal. He takes albums and literally dissects them track by track, layer by layer. My favourite season has to be the Frank Ocean one, as a fan of the music but also for how thorough it was. For an artist so elusive, something like this makes you believe you understand him that little more. Fave episodes are the two about Pyramids from Channel Orange, S3, EP 4."
3. 'The Fader Uncovered'
"This is a very wholesome and nerdy podcast. Mark Ronson (whom I'm normally indifferent about, but like him a lot more after listening to this) interviews big artists who have graced the covers of the Fader Magazine. He talks through their career peaks and where they are at now and how they have been dealing with the pandemic. Favourite episode is with Questlove, what a guy. So many gems around creativity and being brave enough to stay pure to the music, no matter how successful you get."
4. 'Mogul: The Life & Death of Chris Lighty'
"Start at Season 1, Episode 1. This podcast is a literal movie in your ears. It follows the life, death & conspiracies surrounding Hip Hop mogul Chris Lighty. This was the first time I'd heard audio production on this level via a podcast, this was a few years ago now and I was in the gym on the cross trainer literally exported into this world. No favourite episode: just like a film or book, start to finish on this one!"
5. 'Decode'
"The UK's answer to Dissect. As mentioned, being a massive fan of Cole Kushna I was dubious. However, Kayo Chingonyi is fabulous, so poetic with the way he talks. The first season is the breakdown of Dave's album Psychodrama which is just pure genius. I knew Dave was special but hearing the album in this way makes me think of him as a professor when it comes to art imitating life and social commentary. My fave episode is Black, such a powerful record in itself and this episode just reinforces its importance."
6. 'Have You Heard George's Podcast'
"Another genius brain and a podcast that sounds like a movie in your ear. Hats off to George The Poet and his producer Benbrick on this masterpiece. This podcast covers everything from politics through to music. A new season is out on the 15th of July and George explores a theory of building infrastructure around monetising Black culture for Black people around the world to financially benefit, using the Black American entertainment industry as a blueprint. It's extremely thought-provoking. I've been lucky enough to have a sneak listen, my fave episode is about a rapper from New York who goes from crack dealer to one of the richest rappers in the world."
7. 'Lorenzo BITW Presents: The Pantea Podcast'
"Italian producer Lorenzo BITW put this really cool podcast together around the release of his album 'Pantea'. The podcast explores the Italian music scene with a series of conversations with artists and industry experts. I thought it was a really nice way to continue the conversation from the themes of the album. My favourite episode is with Nu Al Habash from Italian Music Export. She speaks so passionately and it really sets the tone of the podcast."
8. 'RA Exchange'
"This has been a great podcast for many years now, produced by the wonderful Martha Pazienti Caidan who is one of my favourite audio producers and music journalists. Every week is a series of topical conversations in music with names big and small. I like the vulnerability they bring out in the guests. An old episode I loved and really resonated with me was with Andy Peyton, the man behind clubs such as XOYO, Phonox & formally The Nest. It came at a time when I was deep in throwing Future Bounce parties and I took a lot from his journey around promoting!"
9. 'About Race with Reni Eddo Lodge'
"From the author of "Why I'm No Longer Talking To White People About Race", Black Lives Matter isn't a new conversation, especially in the Black Community. This podcast is now 3 years old, but its concepts and episodes are poignant at any time. It takes theories around race and breaks them down in a very understandable way. I had been feeling frustrated about racism around the time of listening to this podcast and these episodes gave me the words and encouragement to articulate how I was feeling. I found it educational and inspiring. Fave episode is 'Political Blackness'."
10. 'The Road Less Travelled'
"Hosted by Reggie Yates. This podcast speaks to inspiring creatives about their craft & journeys. The main thing I loved about this podcast was Reggie, I think he's a fantastic interviewer and he makes me want to be a better broadcaster. The way he phrases and asks questions is to the point and personal, but he makes the guests feel so comfortable they open up and share all. I really enjoyed the episode with Raleigh Ritchie, again someone who is quite elusive but it was a rare insight into his life."
All episodes of 'Jamz Supernova's DIY Handbook' are available on Apple Music and Spotify now. Click here to listen.
Read next: The 10 Best Emerging Women, Trans and Non-Binary Producers, according to Jaguar.