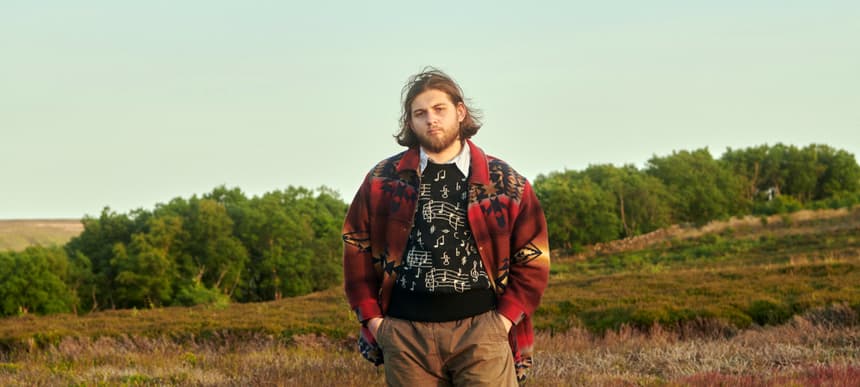 15.08.2023, Words by Billy Ward
The 10 Best Story-Telling Tracks, according to Ethan P Flynn
"It basically crams what could've been an entire book into a relatively short song..."
London-based singer-songwriter and label head Ethan P Flynn is finally stepping into the spotlight he deserves with his new debut album, out in October. 
'Abandon All Hope' is the culmination of an intensely fruitful period of personal creativity that has seen the young artist collaborate with a host of familiar names including David Byrne, FKA Twigs, Jockstrap, and Vegyn. 44 minutes long, 22 minutes on each side, the album is bound together by a unifying theme - doing it the old-fashioned way. 
Recalling 70s greats like Randy Newman and Harry Nilsson while navigating anxiety and the coming of age in the 21st century, Flynn's new record is woven with story-telling qualities from start to finish. To mark the upcoming release of the album, which releases October 6 via Young, DMY sat down with Ethan to discuss his favourite tracks defined by a sense of narrative. 

1. Joni Mitchell - 'The Last Time I Saw Richard'
"A perfect song that covers a whole lifetime and the contradictions of growing older. A conversation between the narrator and Richard cuts to a future that proves him right and shows how he's moved on to a different kind of life while our narrator now wears his shoes in the dark cafe."
2. Bruce Springsteen - 'Highway Patrolman'
"A highlight on an album almost exclusively built from narrative songs. 'I pulled over on the side of the highway and watched his taillights disappear' the narrator sings of his no-good brother Frankie making his final getaway, never to be seen again."
3. Sufjan Stevens - 'John Wayne Gacy Jr.'
"It's crazy how Sufjan wrote a song this beautiful about one of the most evil people of all time. He comes to the conclusion in the final verse that "in my best behaviour, I am really just like him" and I think he's trying to get at how everyone is only so far away from their worst impulses and anyone is capable of evil. I wish he'd do a couple more albums in the 'states' series but the two he did are so good that it's kind of enough."
4. Lou Reed - 'Street Hassle'
"The middle verse of this song has been haunting me for years, it just leaves you so cold."
5. Bob Dylan - 'Lily, Rosemary and the Jack of Hearts'
"Widely regarded as the greatest narrative song of all time with its multifaceted characters and winding plot. It basically crams what could've been an entire book into a relatively short song considering."
6. Mother Country - 'John Stewart'
"This one tells two separate stories linked by similar themes. One about the Johnstown flood and one about a man named E. A Stuart riding a horse for the last time. I get a strong sense of parody and cynicism from this one but that might just be my own shit, something feels slightly too good to be true about the hopefulness on display here but its impact is truly something to behold. One of the greatest recordings of all time, it was brought on the Apollo missions to the moon."
7. Johnny Cash - 'A Boy Named Sue'
"No words needed, I need to look more into the catalogue of Shel Silverstein who wrote this this song. I could've included loads more country songs in the list as narrative story telling is a lot more common in the genre but I wanted to stick to more classic singer songwriter stuff."
8. Randy Newman - 'Wandering Boy'
"This is a newer one from the list, but it is by a very old man (no offence). Possibly the most heartbreaking song from my selections, this one tells the story of a man at a party reflecting on past experiences at this particular house throughout his life. "Where is my wondering boy tonight?" The narrator reminisces on his son's life and wondering where everything went wrong in their relationship and hoping he's somewhere safe."
9. The Band - 'The Weight'
"I don't fully understand what's happening here but it definitely tells a story. It feels kind of like the nativity in a universe where everyone has a good time all the time."
10. Suicide - 'Frankie Teardrop'
"This one is too scary, but it does definitely qualify for the list with a narrator no one has been able to forget since they first heard his quivering moans on his literal trip to hell. No one has ever screamed on record like Alan Vega, rest in peace."