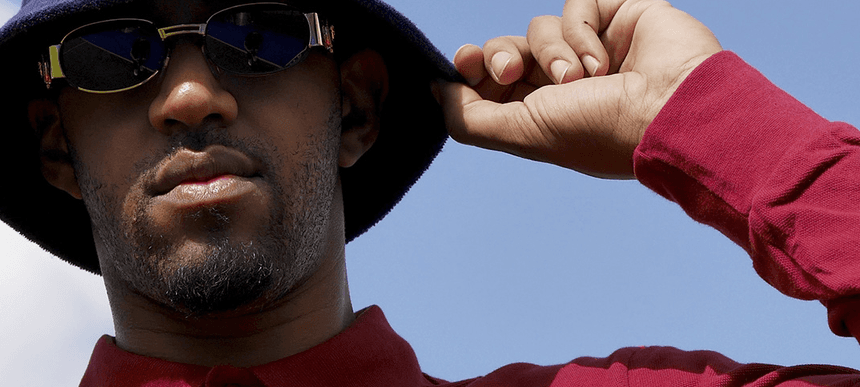 05.10.2015, Words by Natalie /
The 10 best UK hip hop songs of the moment, according to Nick Bam
Born and raised in North London, License 2 Trill founder and Piff Gang member Nick Bam (or Prince Nick to you) is a champion of the cities hip hop scene. You've probably see him rolling around in some Prada sunnies regardless of the weather and if you find yourself in a decadent party with corks flying and none of the bait shit, you're probably at London's trillest party aka one of Nick's License 2 Trill nights. Pushing the scene in all the right directions, the crew consists of additional members Motive, CWD, Astral Black's JD. Reid and Jets. Between themselves they rep the best in new hip hop, beats, trap, grime and everything in between via their monthly NTS show, clubnight and takeovers. They are "London's truest and realest, accept no imitation", so consider yourself told.
Nick Bam is currently involved in the #ellesseexplores screening and exhibition which focuses on four hand-picked and distinct characters from the London landscape; including Wavey Garms founder Andres Branco, sneakerhead Juice Gee and artist Jimi Crayon. Ahead of the event on Thursday 8th October, Nick shares his 10 best UK hip hop songs of the moment, which consists of a bunch of tracks he's actually listening to right now plus a bonus track from a road rapper who looks like "a bank manager or an estate agent".
Here are a few words from Nick to introduce his selections:
"This is not the best UK hip hop songs of all time, these are just my favourite songs at the moment. It may seem like I'm including a lot of my friends in here but a lot of my friends happen to be making good music at the moment. I don't know all of these people. There's so much amazing music coming out of London and everyone is a rapper or making music but these are songs that I actually enjoy listening to."
01. Milkavelli feat. Jesse James L.I.L.Y
Nick Bam: "My brudda, Milk, from Piff Gang, dropped this song as an ode to London, where I was born and raised. L.I.L.Y stands for London I Love You. This song touches a personal note as I grew up with Milk in the same part of North West London and can relate directly to everything he's talking about. For me, this is like the 2015 version of Light of The World's London Town, which is also a beautiful song."
02. Nate & JD Reid WG1KLG
Nick Bam: "This JD Reid beat is absolutely bananas and Nate is talking some real London slocal slang on here and beasting on the track. I really fuck with this song and what makes it even better is these man are like family to me. Hold tight Astral Black, who just put out their new EP."
03. Jesse James The Ride Home
Nick Bam: "Jesse from South East London brings the melody on this one. It's great to see young artists emerging from this bleak megalopolis. Sometimes he reminds me a bit of Kano but he's got more of a underground hip-hop influence and can sing. His new EP is out on Bandcamp at the moment."
04. Nines Can't Blame Me
Nick Bam: "I grew up in North West London so I feel really proud to see someone like Nines doing well and making big budget looking rap videos where the song is just as good. I love this video, it's one of the slickest UK rap videos I've seen since So Solid, as big budget videos are a lot more rare nowadays. I love that he has a big iced out Arsenal chain and can actually rap well. The drone shots and shots of the estate are also very well done."
05. Phaze What Say My Name
Nick Bam: "This is like a future grime song with Phaze spazzing over some futuristic up-tempo production. This is off his tape 'The Sweet Chin Movie'. The video was directed by The Rest and features some great shots of London Town and an aesthetic that isn't normally associated with the genre."
06. Henry WU Croydon Depot
Nick Bam: "My homey Plazma put me on to this the other day, although I did see him DJ at an Eglo records party earlier this year. This sounds like some early Detroit house-ish and my homey Budgie calls it "P-Troit", as in Peckham by way of Detroit. This isn't technically a normal rap song but it's a crazy beat and got a guy rhyming on it if you want to be pernickety."
07. Lee Scott Butter Tits
Nick Bam: "This sounds like a Pharcyde song. Hats off to Lee Scott, who knew the grimey, Liverpool battle rapping wordsmith could sing with such buttery smoothness? One of the catchiest songs of the year…and it's about sandwich spread."
08. CasIsDead 6PM
Nick Bam: "Tottenham's Cas goes in on this beat and talking about being on DMT in a BM, that was enough for me. The beat is very, very good. Cas is quite an interesting character – he wears a mask like MF Doom. He talks a lot about drugs and has a very nihilistic attitude."
09. Section Boyz Lock Arff
Nick Bam: "Section are up next after Stormzy and Skepta – this song is due to shut down dances and arenas very soon. Even if it doesn't, it should do. Their new tape is a great representation of South London life. I like how they are using American sounding trap beats but talking with such London greez over them. They have very good production."
10. Drae Da Skimask Coogi Sweater VIP
Nick Bam: "Drae Da Skimask is one of my favourite UK producers. He's so young but already very prolific. I feel like he's one of the only UK producers who can really achieve that US sound quality in his beats. His latest project with Astral Black is very dope."
(Bonus) Potter Payper Bandoe
Nick Bam: "This video came out almost a year ago. Potter Payper is such a good grimey, London road rapper. I feel like he's the most lyrical out of that kind of genre. I love his early freestyles he talks very real stuff about prison and selling drugs. I like how he doesn't look like a what you'd expect him to look like. He looks like a bank manager or an estate agent, not a roadman/trapper/freestyle king."
Nick Bam is involved in the #ellesseexplores event taking place at Number Six, Brick Lane on Thursday October 8th (RSVP).