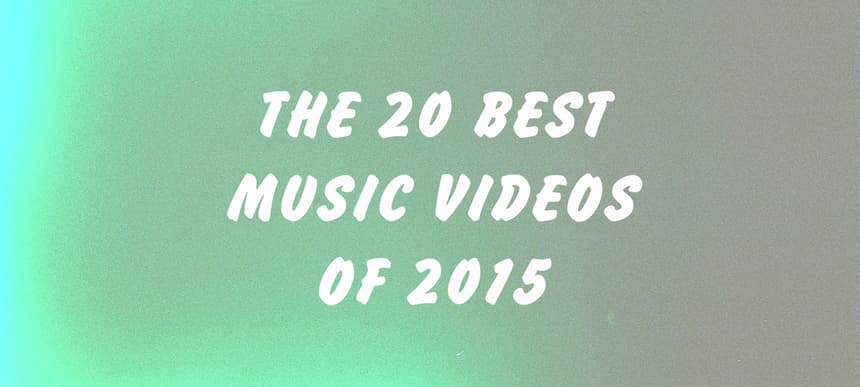 21.12.2015, Words by dummymag
The 20 best music videos of 2015
It's time to wrap up the end of year lists. They went on long enough. The final cherry on our end of year list cake is the 20 best videos of 2015. Some people love 'em, some people don't but 2015 has seen some pretty varied videos doing the rounds – from Rihanna's filmic exploits in BBHMM through to the neolithic VHS journey of Thool's The Dome.
So, from MacDemarco thrusting a giant cactus masquerading as a phallus in Matt Mondanille's face through to drinking Arizona Iced Tea on the stoop, let's get into it…
Clarence Clarity Will To Believe
After wrapping up a tour with Jungle and bringing his internet world to life via playing various festivals this summer, Clarence Clarity has had a busy year. An avid fan of videographer Vinyl Williams, Clarity was wary of ripping him off with this project, so kindly got him on board. The result is a kaleidoscopic assault for Will To Believe, taken from his album 'NO NOW'. It is a 3D world straight out of the depths of a broken video game; rushing through subway trains and Egyptian insignia created around Clarence's thoughts on isolation in space and joy, rather than fear of the unknown. You're bound to get lost in it. Natalie Davies
Crystal Rendez-Vous
I've got a funny relationship with cats. Whenever I see a cat skulking, there is without any doubt, a deathly awkward atmosphere between us. We stare at each other icily, because I don't think cats like me either, and quite frankly…I don't blame them. Cyber cats, I can deal with…apart from Nyan Cat, who shits a trail of rainbows and just needs spaying. However, Japanese trio CRYSTAL – consisting of members Ryota Miyake (aka Sparrows), Keita Onishi and Sunao Maruyama – have softened my utmost cynical side with their newest video. Taken from debut album 'Crystal Station 64', the visuals for Rendez-Vous are pure kitty heaven. Hand in hand with the miaowing tones of the track, it's primed to the hearts of the most staunch cat skeptic. Natalie Davies
Darkstar Pin Secure
Darkstar went undercover at the late-night Koala Mart for the surreal but precise visual accompaniment to 'Foam Island' track Pin Secure, a deep reflection of life toiling away under the Tories. Scanning pickled onions, mopping speckled tile floors, cleaning shitty toilets with toothbrushes (and the rest, as you see as the video draws to a close) whilst some suited, masked creepy bastard watches your every move. Accompanied by the draining sound of David Cameron's voice, the video was directed by Matthew Halsall as a reflection of the bleak reality of a society manipulated by hated of migrants and 'benefit cheats' rather than companies brazenly tricking us out of millions in tax payments. Natalie Davies
Dean Blunt The Ether
Full to the brim with a certain melodic melancholy, Blunt's the ether progresses alongside dramatic visuals, climaxing with a brawl in the sea before dropping off into a film score-esque end complete with mournful strings. A more than apt soundtrack to an overcast Monday morning. Natalie Davies
Drake Hotline Bling
Drake doesn't respond to the memes. You wouldn't see Drake wearing a 'KALE' t-shirt or commenting on whether or not he's ever indulged in a 'Netflix and Chill' – Drake is the meme. He's the genesis, the alpha. The Hotline Bling video was a masterclass in his superhuman capability to singlehandedly seize your newsfeed and give you an aesthetic and patina that you never knew you wanted. If you've gone this far without watching it then grow up and press play. Duncan Harrison
Ducktails Surreal Exposure
As a person generally drawn to dark and aggressive music, what made me love the track Surreal Exposure and its accompanying video so much? The fact that main man Matt Mondanile is accompanied by Mac DeMarco in this video? Matt Mondanile's surreal face? Mac DeMarco's surreal face? The fact they get in a boat together? The fact they get in the shower together? Or maybe the part when Mac shoves Matt's face into a cactus then pretends it's a giant, spiky phallus? Visual banter for the broken iPod Classic generation. Natalie Davies
FKA twigs M3LL155X
Four of the tracks from the EP – Figure 8, I'm Your Doll, in time and Glass & Patron – are seamlessly and beautifully binded together in a continuous FKA twigs directed film. This sees Michèle Lamy cast as a strange ant-like fortune teller, FKA twigs pregnant in silk pyjamas and even becoming a blow-up doll. At one point it feels like you're in a 2015 version of the video for Michael Jackson's Scream, with FKA twigs' slick and jolted dancing unfolding in a dark and moody room, brightly lit from the floor. The video ends with a vogue and ballroom inspired seance, inspired by her time studying the scene in New York. It's perfectly poised pop music, heightened by FKA twigs' lightening sharp sense of creativity. Natalie Davies
Gwilym Gold A Greener World
Fresh of the back of his album 'A Paradise' on Brille Records, Gwilym Gold shared a video for his newest release A Greener World. Surprisingly mind-bending for such a placid track; Gwilym's face falls away like sand and he duplicates at times, his face separating from his body before the camera zooms out, leaving him looking like a pensive waxwork in Madame Tussauds (complete with a very nice haircut). The frame then shatters off into shards that are intricately mashed up with the 'A Paradise' artwork. Natalie Davies
Kali Uchis Loner
Kali Uchis' video for Loner is the sort of stuff dreams are made of: gliding through four and a bit minutes of neon lights, diners, floor length pink babydolls, milkshakes and pink drop-top whips. Wearing a t-shirt emblazoned with the words 'beat it creep', Colombian born Kali effortlessly croons about her desire to be a loner, maybe because she's fully grown and useless boys ain't shit to her. There's no point comparing Kali to other female vocalists, she's pretty unique, and not that easy to stuff into basic genre compartments. There's no bouncy flouncy hair, bad boob jobs or faux energetic lyrics over plastique deep house here. Kali is like Ariel from The Little Mermaid after five years living as a regular human in Downtown LA. Stating her influence as "mermaids, call-girls, the actress Mia Farrow, the film Scarface and the director Quentin Tarantino", it kind of all makes sense. Natalie Davies
Kendrick Lamar For Free?
All the visuals that came with 'To Pimp A Butterfly' were exceptional. The cream of the crop was this two-minute accompaniment to For Free? – the record's most bewildering and intense interlude. Everything about this clip lines up perfectly with the ambition and honesty of the album. In one frame he's a satin shirt donning man of the house, the next he's shovelling coal dressed as Uncle Sam. Directed by Joe Weil & The Little Homies, this video a perfect companion to the rapid-fire jazz whirlpool of the song. Duncan Harrison
LA PRIEST Oino
There was a grainy, earthly quality to LA PRIEST's debut album 'Inji' that extended to its visual universe. Directed by his brother, filmmaker Isaac Eastgate, the video for Oino balances a sense of mystery with a sense of humour. It's a joy to look at too, shot entirely on film and taking place in the Moroccan desert, with an almost Herzogian urge to capture new and previously undiscovered images. Selim Bulut
Mac DeMarco Another One
Mac DeMarco's in the sea, pretending he's Michael Jackson. His MJ mask is terrifying and he's wearing a t-shirt with the sort of design that's dipping it's big toe into a Bootleg Bart realm of MJ merchandise. Mac's playing the keyboard with a tasteful corgi ornament and a Maggie Simpson doll. Mac is playing keyboard in the sea. Mac is basically, everything you wanna be. Natalie Davies
Oneohtrix Point Never Sticky Drama
Oneohtrix Point Never teams up with frequent visual collaborator Jon Rafman for a wildly imaginative, narrative-driven music video that perfectly matches the chaos (or should that be 'kaoss'?) of the 'Garden of Delete' cut. From costume to set design to editing, Rafman's vision is astounding: it makes you wonder a feature film directed by him might look like. Selim Bulut
Penthouse Penthouse ft. Bobby Saint 69 Camaro
The Penthouse Penthouse tagline "smooth tunes for bby grl" reached peak climax when they released their 69 Camaro video. Shot pre-VHS iPhone app on an actual camcorder, the video follows Bobby Saint and his sexually frustrated mistress in their unsuccessful attempts to get freaky in the back of his camaro. Highlights include a cameo from Athletixx producer Promnite, a zero chill encounter involving Goodnight Cody and a popsicle and the uncomfortably erotic visual of Penthouse Penthouse's Mike Parvizi and Preston Walker hip-thrusting in unison. Mia Besorio
Rihanna Bitch Better Have My Money
The promotional campaign around 'ANTI' – Rihanna's eighth studio record – has been hugely muddled. For all we know, it could have been sitting on Tidal for the last four weeks and nobody has spotted it yet. Fortunately, we have the epic operatic gore saga of the BBHMM video to tidy us over. The only way this could have been bigger was if she'd hired out actual cinemas and made it feature-length. Like a bloodstained Barbadian Bateman, this instantly-iconic visual cemented Rihanna's status as one of the the true pop outsiders of our time. Duncan Harrison
Tory Lanez Say It
2015 was definitely the year of 'the 6' and the Toronto based singer / rapper Tory Lanez has been instrumental in the rise of this. His Soundcloud kept it lit in the early half of the year and his 'Cruel Intentionz' mixtape he gave away mid way through solidified that statement. If you aren't familiar with his name now, then you soon will be. Joe King
SertOne ft. Maribelle Lost + Found
The visual accompaniment for SertOne's track Lost + Found employs a voyeuristic approach as it follows him on an average day in his hometown of Liverpool. Shot by Brendan Canty of FeelGoodLost (who were responsible for the viral video for Hozier's Grammy-nominated song Take Me To Church) and soundtracked by the enamoured vocals of Maribelle, the clip is reminiscent to home movies of the French new wave and assumes the footage is directed by a lover infatuated with her partner. Plot twist: one might suspect that the protagonist does not know he is being filmed, or perhaps more perverse, that he is unaware of his so-called "lover". A haunting theory, thankfully counteracted and ultimately diffused by erratic and electrifying pink squiggles courtesy of multi-skilled wunderkind IGLOOGHOST. Mia Besorio
Silicon Burning Sugar
A multi-talented musician with a distaste for dreary linear traditions, the video for Silicon's Burning Sugar holds the same ethos as the New Zealand based producer. We take a vacation into the surreal; witnessing a man painted in gold smoking and burning a spoonful of sugar with a very aesethically pleasing baby pink lighter, an array of instruments including said gold man's foot on a drum pedal and some randomly selected objects to throw viewers off any sort of routine trajectory. Even Silicon's press shot is other-worldly – a dreamlike view through the Bauhaus Museum windows onto a landscape that resembles a mixture of hotel swimming pools and airport runways. Natalie Davies
Thool The Dome
After landing on Bullion's DEEK Recordings with Tepeu earlier this year, Thool returned with the second track from their recently released self-titled EP. The Dome continues Thool's burgeoning signature obsession with clay heads and is an ambient jam accompanied by visuals that promise to take you down to the jungle to meet your maker. Neon and neolitihic – it's packed to the rafters with runes, forest lurkers and grabby hands. Natalie Davies
Young Thug Best Friend
While Young Thug might have grown in popularity in 2015, he refused to become any more orthodox in his modes of entertainment. The Best Friend video proved that categorically. Whether he's serving his friends his own head for dinner, catching himself making out with a female version of himself, driving himself around the woodlands like some dystopian Miss Daisy or just hanging out with himself in the downstairs loo – this is Young Thug unchained, and he's only just getting started. Duncan Harrison
You can watch the best videos of 2015 seamlessly via our YouTube playlist.