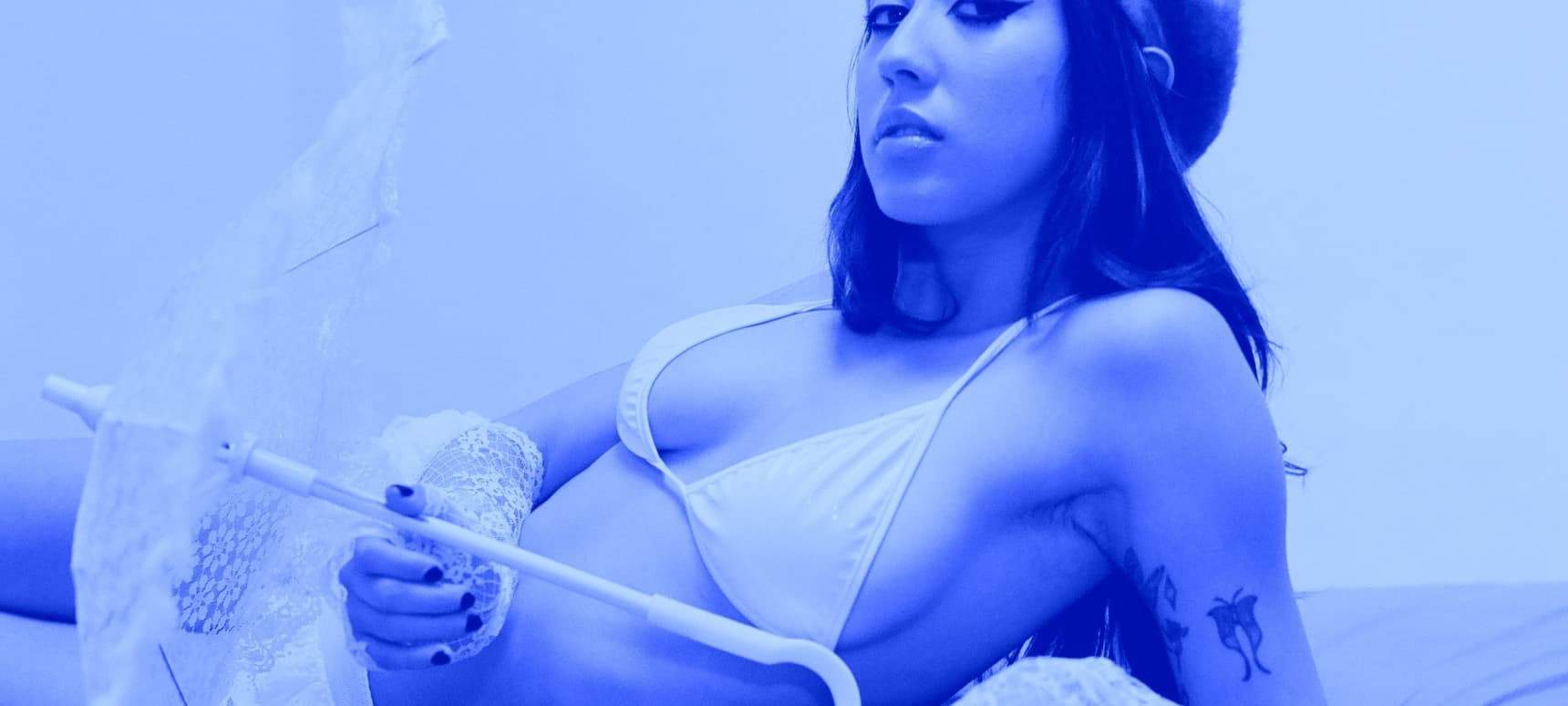 11.01.2021, Words by Felicity Martin
The 15 Most Exciting Artists For 2021
Here's who we're tipping for the year ahead...
You could argue that, due to the ongoing public health crisis, it's easier than ever for a new artist to blow. With our music consumption almost entirely limited to what's on our screens, there's something to be said about the playing field being levelled. Although the music industry is in crisis right now, with live shows still seeming miles away, there's still a ton of new artists delivering boundary-pushing new work.
Last year, we picked out Arlo Parks, Pa Salieu, 100 gecs and more as people we thought would make waves, and this year we've done the same, selecting 15 acts who we expect to do exciting things this year. We've deliberately excluded the artists we're working with via our DMY Artists from the list, but look out for another selection of our DMY artists-to-watch dropping soon.
Backroad Gee
While the rap conveyer belt ceased to a stop during a year that brought many to a standstill, 24-year-old BackRoad Gee catapulted himself to new heights. His notorious collaborations with Pa Salieu on the gritty 'My Family' and 'Party Popper' have cemented the pair as a formidable UK partnership, however, the Londoner also made great individual strides with his captivating 'Mukta vs Mukta' EP. Drawing on his Congolese heritage as well as his lived experiences on the roads, BackRoad is poised to take 2021 by the scruff of the neck as one of the most unique voices in the game. BW
Bellah
Sounding something like a UK version of Summer Walker or SZA, Bellah crafts immaculately polished R&B. Her 'The Art of Conversation' EP arrived late last year, a slept-on record that should've put the independently-signed artist at the top of the charts. Put simply (according to her Twitter bio), she's a 'Black girl making music I think is cool'. Press play on her tracks and it's a bit like overhearing a conversation between her and a best friend, with honest, confessional lyricism. She's also socially conscious – latest video 'Cause U Can' raises awareness of Sickle Cell, an inherited blood disease particularly common in people with an African or Caribbean family background. FM
Blanco
There's been a huge buzz around Harlem Spartans rapper Blanco lately. After a small hiatus, the Kennington artist's solo output swerves the drill vibe, though, with tracks like 'Pull Up' and 'Shippūden' delving into the more thoughtful, conscious corners of UK rap. Blanco's 'Anakin' featured in our 50 Best Tracks of 2020 list, and there's no doubt he's cooking up more heat for the coming year. FM
Casey MQ
Casey MQ is dreaming up pop for the next gen. Last year he co-founded Club Quarantine that saw Lady Gaga, Charli XCX and Diplo pass through its virtual doors, worked on Oklou's incredible 'Galore' mixtape, and put out his own 'babycasey' project that reached for new, thrilling pop heights. And he also put together this incredible mix for us, for fans of Vivaldi and Pitbull. FM
Cecile Believe
Caila Thompson-Hannant is no newcomer to the music industry, having previously recorded under the name Mozart's Sister. As Cecile Believe, though, she fashions twisted, nostalgic, sleek bangers with themes of vulnerability, sex and desire. You'll know LA-based Cecile Believe's vocals from SOPHIE's Grammy-nominated album, plus she's worked with A.G Cook, Kero Kero Bonito, Homeshake and more. As one of a hyper-talented crop of acts looking to revolutionise pop in 2021, we're keeping a close eye on her. FM
Chi Virgo
2019's 'Thinking' was a powerful debut single from the Lagos-born, London-based Chi Virgo. Since then, she's kept a steady stream of singles – including the above 'Trip' which was produced by kadiata. One of a growing group of new artists looking to retain their independence, her creativity knows no bounds, self-directing visuals and modelling as well as concentrating on the music game. FM
daine
Hailing from Melbourne, Filipino-Australian artist daine taps into the worlds of emo and futuristic pop with her disillusioned, nostalgic sound, gaining a nod of approval from Charli XCX in the process. Channeling teen angst through a dark, glacial prism, tracks like 'Ascension' and 'Angel Numbers' (produced by Danny L Harle and Lonelyspeck) came backed by grunge-leaning guitars, while newer effort 'Bloody Knees' eyes more glossy production – and check out its nitecore remix too. FM
ENNY
There's few artists that could make the kind of splash ENNY has in such a short space of time. Following a couple of soul and jazz-inflected tracks, the South East London singer and rapper's third-ever single, the anthemic and empowering 'Peng Black Girls', gained a remix from Jorja Smith, and has gone basically everywhere since it dropped. With a trajectory like this, it's not hard to see big things happening for ENNY in 2021. FM
Isabella Lovestory
Doing perreo-but-make-it-pop, Honduras-born, Montreal-based Isabella Lovestory was one of our BRAND NEW playlist finds. Billed as '2020's 'Gasolina", 'Mariposa' takes a traditional reggaeton blueprint, shaping it with pop sensibilities and her own (often horny) female energy. Isabella Lovestory's world – all tiny shoes, butterfly tattoos and whisky & coke – is one we want to dive into further this year. FM
INFAMOUSIZAK
We're not the only ones tipping South London's INFAMOUSIZAK as one to watch and it's not hard to see why. The singer-songwriter and producer straddles Afrobeats, hip-hop, grime and UK rap to land at an eclectic and melodic fusion the rising talent can rightly call his own. With more releases lined up for this year, the future seems bright for Izak and we at Dummy are looking forward to whatever 2021 brings from him. BW
Mustafa
Previously known as Mustafa The Poet, the Toronto singer-songwriter channels pain directly into his music. With a number of friends and neighbours lost to murder, incarceration and mental health issues, Mustafa's fragile vocal delivery with Sampha-like flair broaches a number of vital, urgent topics. Despite very minimal output so far – with just two singles to his name – Mustafa has earned a Drake co-sign, a James Blake feature and a COLORS show. Big things are no doubt to come. FM
Namasenda
Influenced by Eurodance and all things club, Swedish singer-songwriter Namasenda is a recent addition to the PC Music fold, gaining heat for her hi-NRG bops and hyperpop-adjacent cuts. Above track – the warpspeed 'Wanted' – was produced by Himera and takes speedcore and strobing trance to new heights, with Namasenda's own pitched-up vocal throwing back to an era we're more than happy to revisit. FM
TeeZandos
For some, their first experience of teenage drill rapper TeeZandos may have come back in 2019 when a self-recorded freestyle of hers was doing the rounds on social media. It went on to become her breakout debut single 'Need Focus' which turned heads in the scene with its Satanic references and unrivalled, razor-sharp flows. Since then, the 18-year-old has continued her rise while maturing as an artist and honing her dark and polarising style. If her trajectory last year is anything to go by, TeeZandos is onto even bigger things this time around. BW
Tohji
Fusing booming trap with crystalline electronics, Japanese hip-hop artist Tohji is a lightning bolt of energy. Tracks like his ode to the juicy sweet, 'HI-CHEW', immediately grabbed our attention, and his music has gained global acclaim, finding him playing shows with the likes of Evian Christ, GAIKA and Bladee, and 'Oreo', the single you can hear above, was recently remixed by Mura Masa. With an enviable sense of personal style straight out the high-fashion districts of Tokyo, Tohji has described himself as "the new visual Beatles". Hopefully 2021 will see him follow up his 2019 mixtape 'angel'. FM
Yas VW
An echo of golden age R&B from the '80s and '90s (with shades of Jhene Aiko, Brandy, Mya and Janet Jackson), Yas VW matches intelligent songwriting with a pillow-soft voice. It might be early days for the London singer-songwriter still, but we're excited to see her follow up tracks like the self-penned 'Weakness'. FM
Listen to our '15 Most Exciting Artists for 2021′ playlist on Spotify: