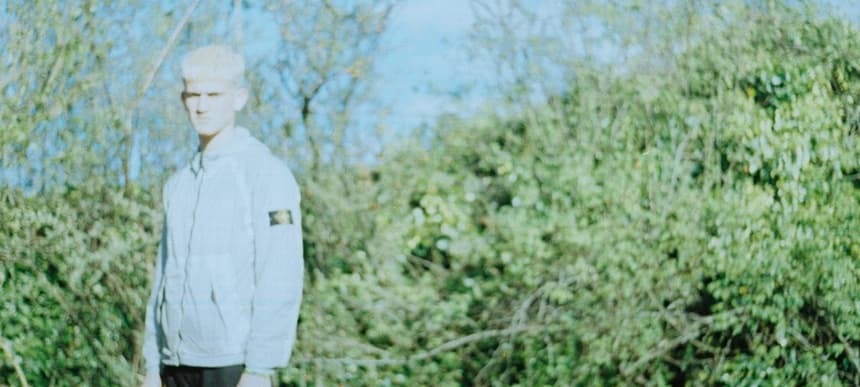 06.04.2016, Words by dummymag
Happa's guide to livin' good in Leeds
Emerging in the early '10s as techno's teen prodigy, Happa returned last month with a swarming cut Blackberreh!, taken from his forthcoming EP 'PT2'.
Already gleaning an output that equals the calibre of a producer 15-20 years his senior, Happa's tastes have undeniably matured. His more recent output casually skirts the edges of acid and industrial, with a nod to the experimental club feels of say, Purple Tape Pedigree. (Yes, we definitely second FACT's comparisons with PTP's DJ NJ Drone).
The flavour of past or future productions aside, Leeds local Happa is definitely a man about town. Casting the net out further than a run of the mill inspirations piece or interview on his motivations, we caught up with the (still) enviably young producer for an insight into his home city, and how he spends day-to-day life in the White Rose county. Compiled as a tribute to his nearest and dearest, it covers varied ground including Roundhay Park lurking through to rowdy nights in Wire, or channelling inner '70s disco don feels whilst sipping economical pints in't 'Spoons – Happa delivers the ultimate guide for livin' good in Leeds.
Wire
[Pictured: Me and Cam in Wire, doing some rockin' poses].
Well for me, the most obvious starting point is Wire. It's one of my favourite venues in the whole of the entire, full, complete universe…never mind little old Leeds. It ticks every box for my kind of club. Not too big, not too flashy with great sound, friendly staff, and just all round wicked vibes. I am also very fond of the speaker positioning (one in each corner) as people actually tend to move around, instead of gawking at the DJ for six hours straight.
Roundhay Park
[Pictured: Cailtyn sat on Theo / The Lake]
I proper love parks me m8, and my favourite probably has to be Roundhay Park. I went there a lot as a young child for bonfire night, wicked-awesome sledging, and just general chilling with my family. It can be quite surreal there sometimes as it is so big and so green, yet so close to the centre of Leeds. I had the pleasure of living on the doorstep of the park for a few years, and as a blossoming teenager I found it the perfect chill spot, falling completely in love with it. I'd recommend going there in autumn or winter when no-one is around, it looks beautiful.
Belgrave
[Pictured: Cam and Beth on the roof terrace]
It's a sunny day, fancy some boozin'? "Let's go Belgrave".
What a fine establishment the Belgrave Music Hall is. Spread over three glorious looking floors you will find some very wonderful beer, delicious scran, a live room, a roof terrace, and some toilets. I have spent many a times on the roof terrace when I should have been at college, finding it impossible to leave. Go there on a sunny day, get the Dirty Burger and a pint, and just smile.
Brudenell
[Pictured: I don't have any good photos of the Brudenell so instead here is me looking a right chaaaava / Theo and Cam in Hyde Park].
It's a sunny day. Fancy some boozin'? A bit skint? "Let's go Brudes".
The Brudenell Social Club is a very modest, very great pub/venue based in the centre of student land: Hyde Park. I bloody love it there. The mixture of students and old men creates this really lovely and really genuine experience. It's almost surprising how "unpretentious" it is when you look at some of the musicians that have performed there: Tim Hecker, Lee "Scratch" Perry, Oneohtrix Point Never and Caribou…just to name a few.
North
[Pictured: Me and Cam at my house / Part of my family at Alfred's (the nearest North Bar to home)]
The North Bars are a real triumph of Northern beer culture. All of them. Well, I've been to five out of seven and each one delivered a fantastic, slightly different experience. They're all just so cosy and sweet, perfect for a late night winter pint. You know, when the all the windows have frosted up, and you can literally see the orangey vibes oozing around the room… Okay that sounds kinda gross, but I mean it in the best possible way. I'd have to say Preston in Oakwood is my personal favourite of them all. If you go, make sure you play Shut The Box.
Whites
[Pictured; Handsome man Al / Katie, Caitlyn, and Sophie having a whale of a time in Whites]
Just down the road from where I am currently calling home, is Whites – my new favourite cafe/deli/place, with coffee and sandwiches. It is on a similar vibe to the North bars but with a limited beer selection, and a wonderful food menu in its place. The food is of a very high quality, as are the people who work there. I'm getting hungry just writing about the place. They've also started putting on DJ's there… I'm yet to witness a techno/halloumi crossover experience, but I can't wait to.
Wetherspoons
[Pictured: Me looking like a '70s disco front man in Beckett's Bank 'Spoons]
FUUUUCKIN SPPPOOOOOOOONSSS MAAAYYTTEE!!!
Wharf Chambers
[Pictured: Phoebe in a tent (non-related to Wharf Chambers) / Some of the pals in Wharf Chambers]
Now to prove that I don't just drink beer and eat sandwiches all year round (honest), I'm gonna tell you about another wicked little venue. Wharf Chambers is quite unique in a few ways, the first being it is a members club. Don't be put off though, it's not for exclusivity, but more so to "offer a space where culture and entertainment are more than just purely consumer or customer experiences." Its also very cheap, and the layout is quite bizarre, but quite refreshing. It's all a bit punky, which is great!
KMAH
[Pictured: KMAH's Studio]
Lil' shout out to the KMAH boydem. I was so excited when they first got in touch, and it has been so much fun having a show, but more importantly it's good to see a station in Leeds aiming outside of the world of 'just house and techno'.
Friends and family
[Pictured: Nearly all of my dearest m7's]
The last and most important attraction to Leeds (for me) isn't a bar or a club, or even a place with coffee and sandwiches. To put it simply, it's my friends and family. I'm not saying, if you come to Leeds, make sure you meet my mates… what I mean is that every memory of Leeds I hold dearly is shared with them, and they are what make Leeds so special to me. Leeds is more than just a city to me – it's my home, and my family, and I love it.
Happa's 'PT2' EP is out April 8th on PT/5 Records.