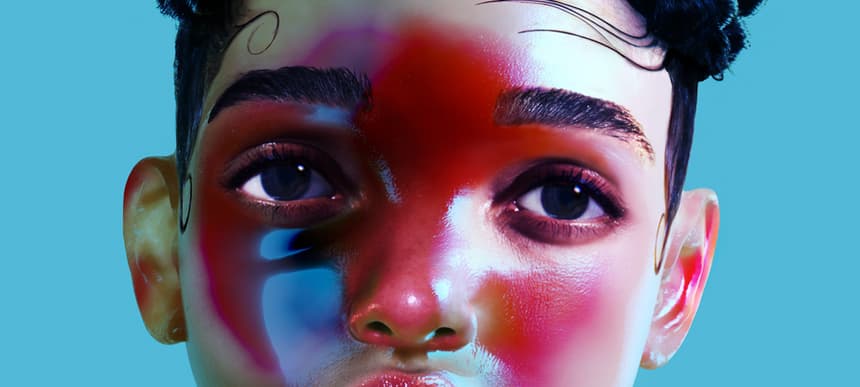 11.08.2014, Words by dummymag
Album of the Week: FKA twigs - 'LP1'
It should have been obvious from the aura that flickered off the danger and sorrow of 2013's Papi Pacify and Water Me, but with her Young Turks debut album, 'LP1', the whiffs of stardom appear inches from FKA twigs. If last year's 'EP2' moved away from the scattered trip hop that had come before, and was the first point in which her sounds stood alone from those consistently brain-muddling visuals, 'LP1' is in a league entirely of its own making: as great as the Nabil-directed video for Two Weeks is and all, it'll still be one of the most seductive singles that 2014 will offer, without any neo-Cleopatra attire or replicated wriggling background twigses in tow.
Getting intimate with 'LP1' took time: early on, many of its whispered calls felt so weak as to dissipate before they'd taken hold. It felt easy enough to play the educated doubter and crave more of Arca's presence on 'LP1', as his fleshy, nimble backing clearly elevated much of 'EP2'. Arca's hand does linger even when liner notes suggest otherwise – take Pendulum's clunking opening – and it's not hard seeing how his lolloping take on steady boom-clap production has made so much sense growing alongside twigs' fluid intimacy. 'LP1' would have turned out very differently had the Venezuelan-American producer again been the only other name alongside FKA twigs on the production credits. It's no surprise that Lights On, Arca's only sole turn, is also one of the album's weirdest moments. Musically, Lights On develops into a carnivalesque curio, beats slapped on top of each other like piles of purple plasticine. It's worth getting lost in, but what twigs does over the top is, too: not for the first time on 'LP1' a relatively clichéd sexual motif is taken deeper into innermost midnight-hour reveals, deep secrets, and unearthed truths – emotions with a little more depth than whether to hit on or off on the light switch.
Would more Arca necessarily have made the songs on 'LP1' any better, though? Having recognised producers like Emile Haynie (Eminem) and Paul Epworth (Adele) involved clarifies that this is a Young Turks record looking to the big leagues, in whatever skewed form that takes for any album in 2014. They may well be there to polish up some of Give Up or Pendulum's quirks, but what they don't do is throw a fire blanket over the force of twigs' songwriting. Throughout, twigs plays on that idea indicated by her adolescent nickname that she's ever remotely close to breaking. It's not ever clearer than her siren-like murmurs of Two Weeks: case closed, nobodies' going to do it better. There's plenty of sex on 'LP1', but it's rarely there without layers or deeper meanings. Numbers snarls at the loosening of a belt buckle to mark her out as another sexual escapade, but while twigs' falsetto aches, look close at the lyrics to see the power and intent that also lurks in it: Tonight, do you want to live or die? By the time we come round to Kicks, it feels as much an updated ode to self-pleasure a la Tweet's Oops (Oh My) as it does a song about releasing inner force, shaking off the locked grasp of the hand you're holding and going it alone.
As was required for the dance routines twigs delivered back when she was a backing dancer for the likes of Jessie J – put forward with such personal insight on Video Girl – 'LP1' barely puts a foot wrong. That regimentation can risk veering into stiffness, and it's the only time that the automaton-like images of twigs in the vein of the Water Me video comes to mind: occasionally, 'LP1' can feel so well executed it's in danger of losing some of its dynamism. But there's a genuine power in the sexuality of Two Weeks and the indignant flames of Numbers: it's not often an album comes along with songs with such a consistently daring, intimate potency, and that has to be celebrated.
8/10
Young Turks release 'LP1' on August 11th 2014 (buy).