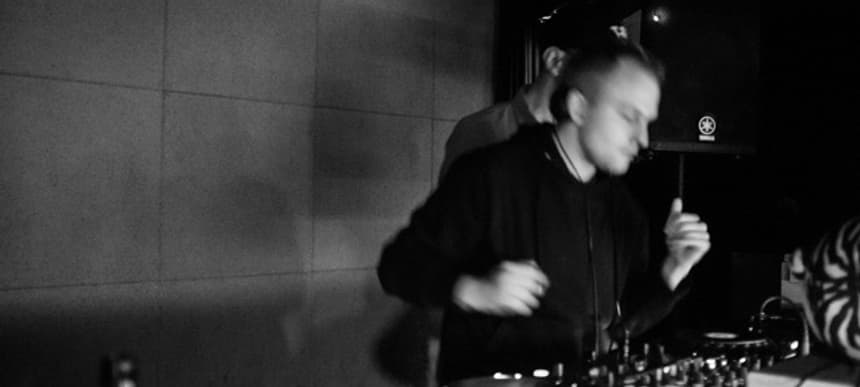 15.07.2016, Words by dummymag
DJ Pitch: "It's my drive to make sure we put out records that might not be heard otherwise."
A forward thinking record label and occasional function with a Watford stronghold (with close ties to London and Paris), Tobago Tracks is run by 23 year old musical mastermind, DJ Pitch. Celebrating its inception just over two years ago, the label has so far played host to the likes of club-ready sounds from Slyvere, Organ Tapes, Plesk Parallel (FKA GROVESTREET), and 8ulentina's 'DISMISS U' compilation. Next up, the label treads a different territory – with an ambient tape from recent Precious Metals guest, AF85.
After bonding in Berlin with the producer over the summer (and weirdly discovering they went to the same school), the chance meeting inspired DJ Pitch to add AF85 to this year's Tobago Tracks release schedule. The result is AF85's new age, ambient soaked tape 'Plazamayor', which is full to the brim with cinematic nuances, deep-reaching samples, and haunting FX. Released today on the label, it'll also be marked with an intimate launch party this evening at Stoke Newington music outpost, HUB16.
Listen to the full release below and read an interview with founder DJ Pitch, who chats juggling an independent label with a day job, championing music in ways that other label's don't, and his favourite Watford hangouts.
So, DJ Pitch, you grew up in Watford – where did you used to hang out?
DJ Pitch: "Watford skate park and Watford Tesco. There were a few fields and parks that backed onto each other near the town centre. I sat around in those a lot."
What were the sounds you listened to which made you start making music yourself?
DJ Pitch: "When my Grandad first got a satellite TV and I had access to rock channels like Kerrang and Scuzz, I listened to the sort of stuff that used to do heavy rotation on those kinda channels. From that I quickly bought a guitar and started veering towards the sort of bands that we're being championed by the Kerrang and NME in 2005/6, soon discovering Test Icicles. Seeing a band like that was a complete watershed moment for me as being a kid from the suburbs the attitude and style that Test Icicles had was really refreshing. It was the first time I really thought of making music and being an "artist" as something I wanted to pursue."
How did you first discover and consume club music?
DJ Pitch: "Until the age of 18 I thought dance music was a novelty that you just consumed when you took drugs or went on the pull in the town centre. It was only once I moved up north and started taking part in the age old ritual of going to parties on the edge of town, where you walked in and felt like you were entering something totally unknown, that I began to want to know more and actively consume music that was made with the main intention of existing in clubs."
What influenced you to describe Tobago Tracks a Watford based label instead of a London based label?
DJ Pitch: "TT was a party in Watford before it was anything that it is now, and all the people that sat at the core of the group were from Watford, so the location just stuck."
Your radio shows, line-ups and releases are all extremely diverse – spanning UK funky, ambient, lofi, pop remixes, and more – which is different to a lot of other bass centric collectives. What's your take on the Tobago Tracks sound?
DJ Pitch: "When Tobago Tracks started up, I was really into labels like Night Slugs and Dance Mania, label's that had a very clear distinct sound. It became my main objective to something very similar on my own terms. This is really clear on the first three volumes of the 'International' EP series, in both how the music sounds and also the rigid geographical constraints used in the artist selection process. Over time, I've realised that this wasn't the best way to approach the label. Focusing on working with artists – where the music is just one part of who they are and runs through everything they do – is the best way to approach the label. So in this respect, the Tobago sound isn't something that I think about at all these days. The music that comes out on the label will always have gone through my filter before it reaches the listener. If there is a Tobago Tracks sound, it would really just be my taste."
Your latest release 'Kastiga' by DJ Tourture is described as "lo-fi techno infused with soca percussion", and has a remix from ballroom legend Vjuan Allure. How did that musical pairing come about?
DJ Pitch: "The two have known each other for a long time, so when it came to working out who DJ Torture wanted to do the remixes for Kastiga, Vjuan Allure was one of the early suggestions. A huge fan of Vjuan Allure myself, I eagerly encouraged the idea and though I've had the track in my sets for months now, it still feels bizarre to say that we've been fortunate enough to put out one of his records on TT."
What's your process for selecting music to release? Do you build relationships with the artists before it makes sense to sign their work?
DJ Pitch: "For the best part, we're always looking to release music from people that we already have a relationship with, or that we've known and have been sharing music with for a while. A majority of the time, the music will already be there before we make an approach and it's a case of us just getting it out there. That's not to say that i've never had those "Eureka! moments where I feel like we've got to sign someone immediately. I feel like I have them a lot less these days."
Has there been any personal highlights over the past three years whilst growing the label?
DJ Pitch: "The whole thing is kind of a highlight. I'm constantly shocked that people are into the music that we release and turn up to the parties we put on. For the sake of answering the question though, I've got to say putting out the Organ Tapes album last year. I still listen to the record all the time (despite the fact that most of my listening involves digging for tracks) and he's starting to make proper movements now, including a feature on Endgame's record out on Hyperdub next week. It's nice to know that we've played a part in that."
Like most independent label owners you have another job. What are you up to during the day, and how do you fit running a label into your life?
DJ Pitch: "I work in Corporate Development for a youth homelessness charity, but I'm low down in the pecking order, so it's a lot of admin and research as opposed to full blown champagne socialism. Early mornings and late nights are the best way to fit it all in. I'm starting to sway towards the early mornings for the sake of my health, but unfortunately both are inevitable."
In this internet age, what drives you to keep pushing releases and investing in a label?
DJ Pitch: "To keep giving me, my friends, and the artists I believe in a voice that might otherwise not be there. There's a lot of shit music made with the sole intention of increasing the artist's profile and a lot of self serving labels that exist largely to stroke the owner's ego. We've managed to blag our way into a position where there is an audience that's listening to what we do, so it's my drive to make sure that we put out the records that might not be heard otherwise."
"There's a lot of shit music made with the sole intention of increasing the artist's profile and a lot of self serving labels that exist largely to stroke the owner's ego. We've managed to blag our way into a position where there is an audience that's listening to what we do, so it's my drive to make sure that we put out the records that might not be heard otherwise." – DJ Pitch on Tobago Tracks
Do you have any advice for someone considering starting one themselves?
DJ Pitch: "It's a lot of work so make sure you're doing it for the right reasons."
Your next release 'Plazamayor' is from AF85 is out July 15th and you're celebrating with a launch party on the same day. How did you link up with AF85 originally?
DJ Pitch: "Rupert (AF85) has been running in the same circle as the guys behind Disc magazine for a while and we all ended up together in Berlin at the end of last year. Whilst we were out there, we connected properly and realised we went to the same school (he was a few years above me), as well as talking about music a lot. Around the same time he self-released his "ハイパーオリンピック" EP and I was moved by it. After that there was no question that he'd feature on our 2016 release schedule."
Tell us more about Bianca Scout and Brood Ma who are also on the launch party line up:
DJ Pitch: "Brood Ma has been a supporter from early on and someone that I have wanted to book for a really long time. He dropped a killer record on Tri-Angle this year and had another sensational re-release on Hemlock in 2015 (and his label Quantum Natives is incredible). Actions are really going to speak louder than words with this guy on Friday night, so make sure you're there!
When AF85 and I first discussed the lineup for Friday, Bianca Scout was top of both our lists, as we we're really into her 'Voyager' album that came out earlier this year, plus never had a chance to see her live. I've also been banging her Hotline Bling remix since god knows when, and she's a great dancer too."
Are there any other artists you're keeping an eye on which we should look into?
DJ Pitch: "Too many to mention but I would go with Terribilis and Intentionally Cold as the ones to watch. ALSO WHO IS DJ FATIGADO. GET AT ME BRUH BRUH???"
'Plazamayor' is out now (download). The launch party takes place at HUB16, Stoke Newington on July 15th (info).