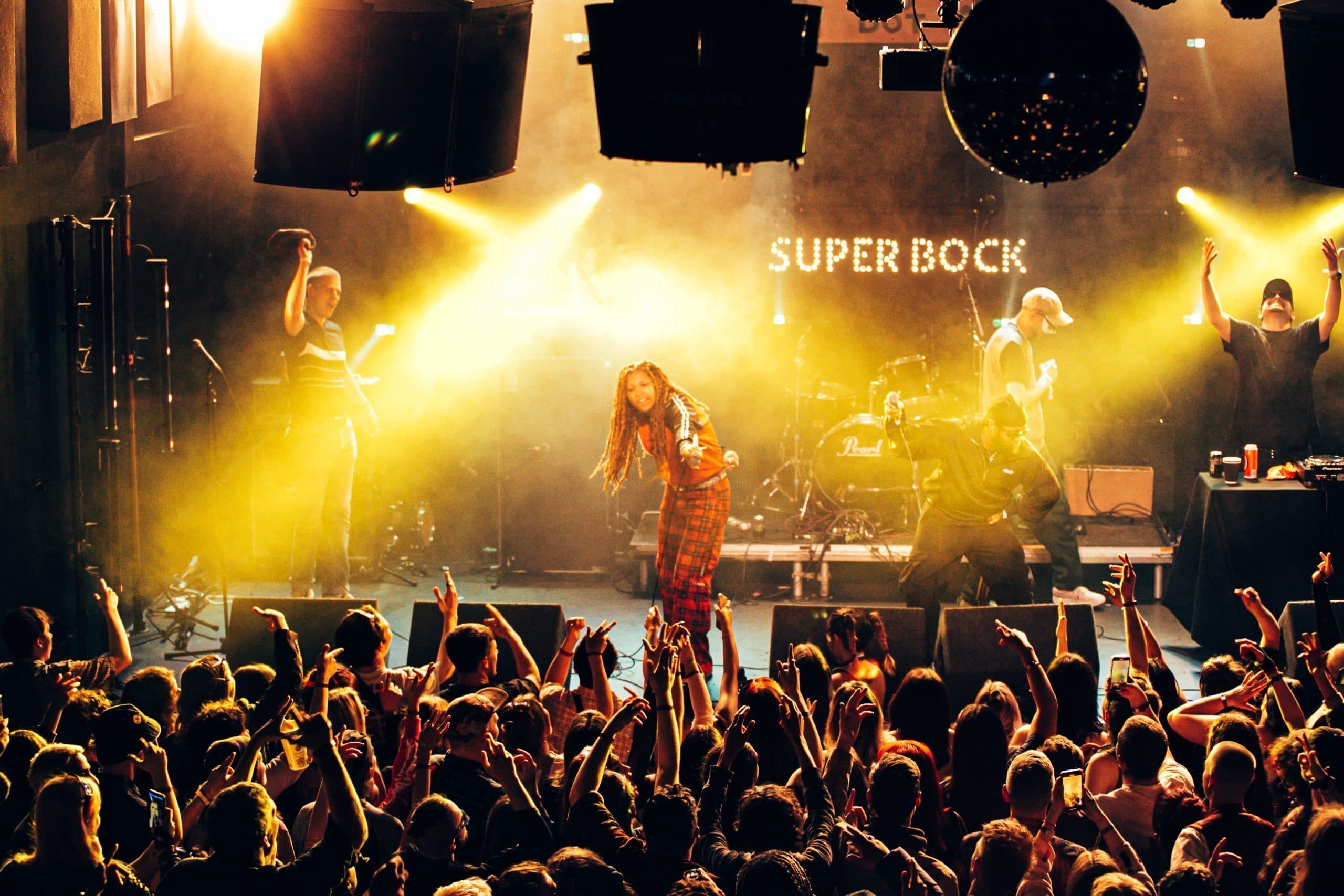 07.06.2022, Words by Ben Jolley, Photos by Declan Lloyd, Sophie Bateman, Louisa Tomson
Dot To Dot festival was a showcase for the next generation of UK music
Piri & Tommy, mustbejohn, Baby Queen, Sipho, NiNE8 Collective and Mandy, Indiana all proved themselves as ones-to-watch
After a Covid-caused two-year hiatus, Dot To Dot festival's return over the final weekend of May brought more than 100 of the most exciting upcoming artists and bands to Bristol (on Saturday) and then Nottingham (on Sunday). And, with tickets costing less than £30, the city-hopping one-dayer is arguably the best value for money festival on the circuit. Launched in 2005, what started life as a Nottingham-only event across just three venues has since expanded to become an essential ones-to-watch showcase.
Here are Dummy's six most exciting new music discoveries at the 2022 edition:
Piri & Tommy
Viral TikTok duo Piri & Tommy are a bundle of energy – and way more than just the next social media sensation. Kicking a giant beach ball into the crowd at a busy Rescue Rooms at 2.30pm, the pair launch into their Nottingham debut with their instant party-starter 'Beachin'. Their breakbeat-d'n'b-rave-with-added-guitar-solos comes to vibrant life on stage, demonstrating a natural chemistry that can't be bought or learnt. The IRL couple egg each other on and allow space to shine under flashing strobes. Bouncing around and encouraging the audience to jump with them as they weave through garage and house tracks, including a few covers and several unreleased songs ('Silver Lining' and 'Loser' are catchy hits-in-waiting), they get everyone singing along and look like they're having a really great time. At one point, Piri splits the crowd down the middle, making it a real interactive performance; their biggest hit, 'Soft Spot', causes a frenzy, and ends with a heavy rock riff outro. In the space of just 30 minutes, Piri & Tommy justify the hype and then some – delivering a massive house party rave, complete with sunglasses indoors, before heading off to play a stage ten times the size of this at Radio 1's Big Weekend later in the evening.
Mandy, Indiana
There's something transfixing, if slightly scary, about Manchester trio Mandy, Indiana, whose late-afternoon show at 220-capacity venue The Bodega is hands-down the oddest performance of this year's festival. Their experimental fusion of distorted noise, guitars and the sheer presence of erratic vocalist Valentine Caulfield, who rages in French, is something to behold. At times laughing maniacally like The Joker, and re-appearing at the back of the crowd halfway through the set, there's a frightening danger to their sonically-challenging concoction. You simply can't take your eyes off of them.
mustbejohn
Performing in the downstairs BETA basement of iconic Nottingham gig venue Rock City, mustbejohn wastes no time in making the most of the intimate setting. With his DJ and two hypemen mates amping up the crowd with him onstage, the party vibe is pretty much instant. Getting a gradually-growing audience grooving, his bass-heavy socially-conscious-but-fun-rap comes across like a mix of Loyle Carner and The Streets with a vocal style similar to King Krule. Playing a full 45-minute set would be a lot for even an established artist, but mustbejohn makes light work of what could be a daunting prospect. And, with a real mix of ages bopping along (including a two-stepping middle-aged bald guy) and singing the lyrics to 'Romance In Great Britain', 'Raining Colours' and 'New Gen' back to him, it's clear that he's got no shortage of bangers. By the end of the show, he's giving unreleased track 'Days Feel Like Seconds' its second singalong outing – and, with an incredibly memorable hook, it already sounds like a smash. Although it's not out until several weeks after this gig, he's got everyone singing along and raving to the d'n'b production. Overall, it feels like we're witnessing an artist who is capable of headlining the upstairs main room this time next year.
Baby Queen
It makes sense that Baby Queen's performance took place at The Level, the student union venue for Nottingham Trent students, because she is quickly becoming a voice for Gen Z. And you can certainly tell that by the crowd who wait patiently to be in the presence of their new idol, who is 30 minutes late on stage. Bounding onstage in a custom-designed outfit with her song names and lyrics sprayed on them in graffiti paint, her performance style sits somewhere between Avril Lavigne and Lily Allen. Leading the revival of tongue-in-cheek bratty pop with a punk-y attitude for a new internet-obsessed fanbase, tracks like 'Internet Religion' and 'Buzzkill' unpick social media obsession, vanity and lousy boys. She makes it even more relatable by physically climbing into the crowd and asking people to shout their name and jobs into the microphone. Later, she gets the crowd to kneel down on the floor and then bounce back up together when the beat hits. It's got all the makings of a unifying stadium star. If that wasn't enough, she's got real rockstar credentials, too; at one point, she has to briefly run off stage and throw up, but, working on the age-old ethos of the show must go on, she returns to finish the show. "Sorry I just threw up! But I'm back," she announces, almost like it doesn't even matter, adding that this is her third show in 24 hours. Ending the show with 'Want Me', Baby Queen has the crowd bouncing and screaming the chorus for her. One thing's clear: she's not letting anything get in the way of her ascendence to the throne.
Sipho
Birmingham-based R&B star Sipho really gives his all, delivering not only an incredible vocal performance but a sweat-dripping physicality, too. Despite performing for a modest late-evening audience, the Dirty Hit signee and his band bring some serious musicianship to proceedings. Simmering things down for the night at Rescue Rooms, the luxurious soul sonic is offset by Sipho launching cans of beer into the crowd – something we've not seen in quite some time. His track 'Bodies', though, is a runaway highlight and nothing short of epic.
NiNE8 Collective
Drawing seemingly all of Nottingham's trendiest kids to Rescue Rooms for their endlessly-energetic genre-defying performance, the London-based NiNE8 Collective close out the festival on an unbeatable high. Capitalising on Nottingham Forest being promoted to the Premier League on the same day, the crowd couldn't be more hyped. "You ready to turn the fuck up!" is the instruction from Lava La Rue, who is joined on stage by Mac Wetha, Bone Slim, Nige and LorenzoRSV. Defying genre categorisation, tracks like 'FVR 105′ and 'LUV U DO' are received as singalong anthems, and they've got crowd participation sussed, too, screaming "when I say nine, you say 8!" – It's simple, but works a treat.
Read next: Tour de Moon Newcastle gave the city's young creatives the spotlight