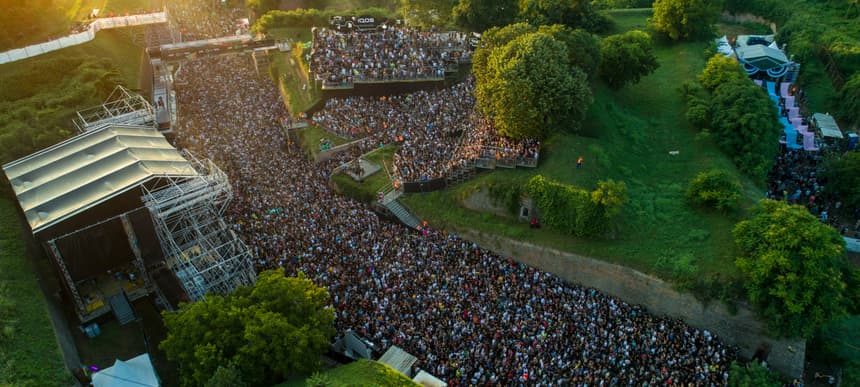 30.07.2019, Words by Andre McLeod
EXIT festival 2019 had something for every type of music lover
With thrash metal, electronic superstars and '70s-mining bands, EXIT catered to many kinds of music lovers...
Perched upon the Danube River, Serbia's now-19-year-old EXIT festival is held within an impressive location: a medieval Petrovaradin fortress. A one-and-a-half-hour drive from Belgrade is the lovely Novi Sad, the town where the festival is held each year. Serbia has been through a tumultuous time in the past decade with war and bombings ravaging its streets, and EXIT was originally founded in 2000 as a student social movement which has become so much more.
As such, it's a sight to behold, with 40 stages all inside one gigantic venue. The first thing you need to do is get to grips with the size and scale of the place. In a similar way to Glastonbury, go down one path or up some stairs and you'll find yourself in a whole new and unexplored area. A good pair of walking shoes is a must: I was doing around 10k steps by 5am, and over 20k per day.
Even more impressive than the venue is the eclectic line-up with music of all genres and taste catered for, from reggae, Latino, silent disco, pop, rap, electronic, Serbian rap, rock and many more. On the main stage Chase & Status put on a two-hour warm up of jungle and reggae acts before exhibiting their RTRN II JUNGLE set. On the very same stage, Greta Van Fleet performed to a packed-out audience. They could only be described as a '70s tribute act who have become the stars themselves. Either paying homage or repacking the '70s look, style and sound, love them or hate them they've successfully brought this era to a whole new generation.
Dance superstar Peggy Gou lit up the dance arena with her impressive stage set which looked like a spaceship had descended on the fortress. Brazilian DJ Renato played a wonderfully vibrant set in the No sleep Novi Sad, a much smaller stage than the dance area but packed full of incredible DJ talent. Mancunian IAMDDB played a set with swagger and high energy, while just around the corner was Siberian Meat Grinder a thrash metal group with a mask-clad lead singer. This festival truly had it all.
On the final day we took a little boat cruise down the river and took in the sights. There is a lovely city beach called the Strand that is a must-visit on a sunny day. As the cruise drew to an end, a dark cloud loomed ominously overhead. Fortunately we made it back to land before the heavens opened and a monsoon attacked the city for a few hours. Some might have called off the entire festival that day, but the show went on and the fortress showed hardly any signs of the deluge that had happened that day.
After everyone dried off, Skepta took to the stage with pomp and lyrical prowess that had the crowd singing along to every word from his hits to lesser-known BBK tracks. Jeff Mills was impressive as ever, reigning supreme on the dance arena but for me the best set of the festival (and quite possibly one of the best sets I have ever seen) was by Bassiani DJs Sébastien Léger and Lee Burridge at No Sleep Novi Sad.
The Georgian club which has been dubbed the 'new Berghain' took over the stage for the evening and didn't disappoint, with a night-to-sunrise set that captivated and enthralled for every second. Night turned to day and thousand of revellers were still there fully hyped and dancing away across the festival when I finally decided to make my way home at around 8am.
At EXIT, the fortress is the real star of the show. Each venue manages to retain the sound so when you head to another stage the energy of each place is contained and doesn't spill over. There is a stage for everyone here. Some might call it a scattergun approach, others an eclectic smorgasbord catering to all tastes.
Next year, EXIT leaves its teens and celebrates its 20th birthday, so you can expect one hell of a birthday bash.
Find out more about EXIT here.