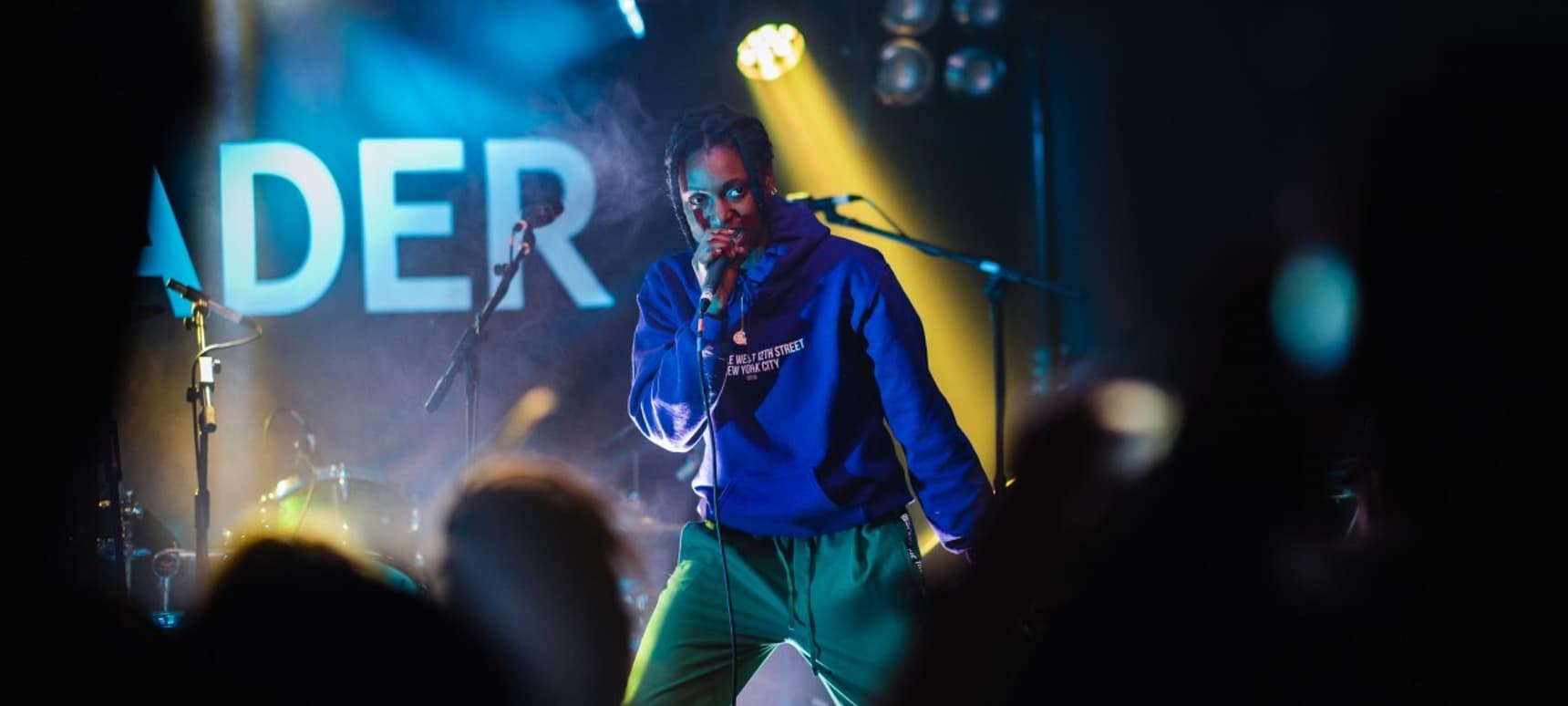 22.05.2018, Words by dummymag
19 Of The Best Shows at The Great Escape, Brighton, 2018
We headed to Brighton for the seaside town's annual music showcase and found Northampton rapper slowthai stage-diving at Patterns, Glaswegian utopian electro duo Free Love starting a lunchtime church rave and London MC Flohio ascending to become the future of U.K. rap with a trio of shows. No two performances were the same; and with more than 350 booked across the scorching weekend, we darted along the pier and up the hills to discover as much new music as possible. Here are 19 of the most exciting performances we saw at TGE 2018.
FLOHIO
For the first of three shows at the Brighton festival, south London rapper Flohio – 25-year-old Funmi Ohio – stakes her claim as being the future of of U.K. rap. Performing on the FADER stage in the East Wing of Brighton Centre, she wastes no time firing through 20 minutes of intense, unapologetic bars. Sporting green tracksuit trousers and a purple hoodie – with a constantly focused look in her eyes – the bass is wall-shakingly hard and her flow breathtaking. "How do I sound in the back? Good" Flohio asks, knowing full well she's killing it. Running through her infectious mission statement 'Fights' and climbing to the crowd's level for 'Bands' and new single 'WatchOut', she barely pauses for breath… Two days later Flohio's just as impressive laying waste to the dark and dingy upstairs of Komedia. What's most impressive is that she makes it look so easy. If one thing is clear, it's that Flohio is at the top of her game but only just getting started.
Photo: Sam Nahirny
DIZZY FAE
Nineteen-year-old Dizzy Fae doesn't let technical difficulties get in the way of her show, performing to a busy crowd at intimate club venue Bau Wow. With its neon strobe striplights running from the wall to behind the stage, the Minnesota artist is as comfortable singing sensual R&B over minimalist electronic production as she is rapping. Sounding like a combination of FKA twigs, Jorja Smith and Kelela, it's easy to see why she has toured with The Internet and Lizzo.
SAWEETIE
Performing in Shoosh, a glitzy VIP club tucked under the arches near Brighton pier, Bay Area rapper Saweetie takes charge on the platformed stage in front of sparkling glitter-covered walls. After her DJ/hype-woman ensures everyone is "feeling good, feeling great" and telling the crowd they've come a long way, Saweetie arrives in a lace top, camo trousers and with two backing dancers swishing their long hair around beside her. Considering it's her first time in the U.K. the 'Icy Girl' works the packed crowd effortlessly. For 'Good Good' all the ladies are instructed to make some noise – of course, they do. It doesn't take long for her dancers to bring chairs on stage either. Anti-fuckboy anthem 'Agua' gets an airing before she drops down to the floor. By the time 2017's 'Icy Girl' – with that instantly recognisable Khia 'My Neck, My Back' sample – drops, it feels like the 100 or so in the crowd is watching the birth of a hip-hop star. She may have only performed for 20 minutes and a handful of songs, but Saweetie is an undeniable rap queen in waiting.
Photo: Dee McCourt
GIRLHOOD
Fusing 80s hip-hop and 90s neo-soul, Girlhood perform by the beach early on Friday, bringing a summery energy to the outdoor Dr Martens stage. It's a great start to three days in Brighton under constantly blue skies and sun. Starting with the effortlessly soulful, jazz-infused 'My Boy', vocalist Tessa Cavana's voice carries across the pebbly seaside perfectly. After the soothing yet lovesick 'Bad Decisions', Tessa teases that the duo – there's also Christian Pinchbeck on keys – have got an album coming out. We can't wait to hear more of their jazzy, soulful pop-R&B creations.
BAD GYAL
Arriving onstage in a cream puffa jacket with a drink in hand whilst wearing Nike leggings, a black crop top and gold hoop earrings, Spain's Bad Gyal looks ready for a dancehall-reggaeton workout. As the Barcelona-born performer – singing into a headphone mic reminiscent of early 2000s Britney – and her two impeccably choreographed dancers twerk their way through 'Jacaranda' and 'Blink', it's a consistent adrenaline rush. With shows at Primavera and Bilbao BBK lined up, Bad Gyal's upbeat sound is going to be everywhere this festival season.
Photo: Sam Nahirny
RINA SAWAYAMA
Sporting shoulder length white hair, a glistening silver choker, black fishnet top and motorsport-style chaps, Rina has the look of a futuristic alt-pop star. Yet when she performs there's a feel-good throwback to the 90s: Rina channels the charisma of Christina Aguilera, has the voice of early 90s Mariah Carey and sings about social media addiction. Performing in front of a starry blue backdrop under the arches of Coalition, the Japanese-English artist gets the crowd clapping while singing 'Tunnel Vision' then closing with the sensual 'Valentine'. Rina's in her own lane, essentially; and her two dancers are just as amazing.
MS BANKS
"Alright so I'm gonna bring out the main gal" is the welcome for Ms Banks who arrives ready for business dressed in a dogtooth blazer and skirt. Powering through 'Come Thru' she barely pauses for breath. "I wish I could twerk" she admits self-deprecatingly, but she needn't worry thanks to her faultless flow. 'Day Ones', with its Afro-beat style production, could and should be a crossover hit, as her oldest fans – and those who've just discovered her – sing back the anthemic chorus. Quickly plugging her new mixtape 'The Coldest Winter Ever', she's not afraid to canvas for more supporters – but rather than coming across as try-hard, it's endearing to her likeable, Lady Leshurr-style personality. The ground almost erupts by the time the bass-heavy 'OMG' hits before ending with the booty-shaking 'Clap'. It's no surprise the empowering rapper is being touted by huge names like Nicki Minaj.
Photo: Sam Nahirny
LOVE SICK
Combining Mura Masa-style synths with an incredible vocal in downstairs bar The Walrus, Glaswegian duo Love Sick – aka Julie and Shaun – are an early highlight of the festival. On new single 'What I'd Do', vocalist Julie's delicately powerful voice proves captivating while the pair's new material, led by Shawn's pounding drums and pop production, is instantly memorable as he hammers the synth drum pad. Effortlessly compelling while subtly moving from side to side, Julie commands the cosy bar without even trying. "This is the one isn't it?" asks someone in the crowd before Love Sick's biggest hit to date, 'Bullet'. An emotive break-up ballad disguised by danceable beats, it's the one that really stands out and once again shows off Julie's unfaltering voice. We're excited to hear more of them.
BOSSY LOVE
Famed for giving high-energy immersive performances, Glaswegian duo Bossy Love bring their punchy synth vocals and groove-laden basslines to the small upstairs room of Komedia for a proper pre-midnight party hosted by Creative Scotland. Infectious synth-pop tracks like 'Call Me Up' and 'Body' come to life with an Aluna George-like urgency. As well as having an endless stream of hits ready to be unleashed, singer-come-mechanical scientist Amandah Wilkinson is a born performer. Completely out of the blue, she climbs into the audience and walks through the crowd performing a cover of Blu Cantrell & Sean Paul's 'Breathe'. The percussive element of 'Swear To God', next, is endless fun. "We put out a new single last week and it'd be great if you guys just play it on your Spotify and leave it on for a few hours" drummer John Baillie Jnr jokes. Moments later Amanda is involved in a dance off with one of Dummy's friends; an endlessly energetic end to the first night of the festival.
Photo: Cameron Brisbane
PAIGEY CAKEY
Another female MC playing The Great Escape and demonstrating why the U.K. is such a hotbed of rap talent right now – following Ms Banks and Flohio – is London's Paigey Cakey. Performing on her own to a busy afternoon crowd in the downstairs space of Patterns, all she has with her is a laptop. But despite being solo, Paigey commands the audience's attention effortlessly. Veering between bashment and grime, the fast-rising MC looks at home onstage; sporting a red and white baseball jacket, black tracksuit trousers and red checkered Vans. Despite storming through 'Boogie' she sadly overruns on time – much to the crowd's and her own disappointment – so there's no time for new single 'Pull Up And Skrrr'. Even so, it's a great introduction to her rapid-fire flow.
DAY FLY
London-formed Rotterdam-based duo Day Fly kick off the Dutch Impact showcase in the upstairs bar of Komedia at midday on Saturday with their fusion of hip-hop beats and The Weeknd-style smooth R&B vocals on standout track 'Do You Need Me'. Seconds later vocalist Beau Nox and producer Rudy Jr., change the vibe with new single 'Her Light', fusing Jungle-like synths and spiralling white strobes with an infectious summer-ready chorus. While keyboardist Rudy is dressed casually in a grey hoodie, vocalist Beau sports an oversized black and white pinstripe shirt with beanie hat; the fact they look so cool just adds to their appeal. And with a debut album promised for later this year, Day Fly is certainly a name to keep an eye on.
Photo: Sam Nahirny
bülow
It might be Dutch artist bülow's first ever festival but you'd never know it. Performing in-front of dozens of stacked cube lights and joined by a drummer and keyboardist at the VEVO stage, the teenager is a popstar-in-waiting thanks to infectious synth-led hits 'Like This Guy' and debuting her new single 'Sad & Bored', a collaboration with American rapper DCKWRTH. If you're a fan of Lorde, bülow is a name you'll want to get familiar with.
KATE NV
After a lunchtime shot of vodka – or three – with the Rush team (they're in charge of bringing a handful of Russia's most exciting artists and bands to the festival for the country's first ever Great Escape showcase) we get front and centre at the Queen's Hotel for Kate NV. With her second album coming via RVNG Intl. next month, the Russian artist's show is a midday jolt of inventive, original electronic sounds. Surrounded by hardware and cables infront of a sparkly curtain, Kate's experimental electronic manipulation and bubblegum synths have much more of a pop feel to them in a line environment than on record. The swirling synths coupled with her mostly Russian vocal and almost mime-dancing make for a transfixing, hypnotic performance. Onstage she really lets loose, too – bouncing around behind her keyboard equipment, skipping from one side to the other and at times screaming maniacally into the microphone; it's a constantly evolving, interesting performance that shows real potential for her to cross over.
Photo: Jamie MacMillan
MAVI PHOENIX
Sporting circular glasses, a paint-dotted Lakers basketball top and Kappa tracksuit trousers with trainers and white sport socks, Austrian 'young prophet' Mavi Phoenix looks ready for a high-end magazine shoot. Packing the downstairs of Komedia with her DJ, auto-tune heavy trap-pop hits like current single 'Yellow' and EP highlights 'Love Longtime' and Quiet' sit her somewhere between M.I.A. and MØ. With more European dates lined up for the summer – as well as a slot at All Points East festival in London this bank holiday weekend – Mavi is putting Austria on the map.
FREE LOVE
Playing in a church at 1.30pm isn't the type of venue you'd typically find Free Love – fka Happy Meals – playing. The Glaswegian disco duo are more adept to playing club sets. But One Church proves to be an grand yet fitting setting with great acoustics. Layering addictive swirling synths over French-spoken word ('Altered Images') and English vocals, it's a captivating performance – quite unlike everything else we see all weekend. Enigmatic singer Suzanne Rodden really knows how to put on a proper performance; climbing into the crowd so she can manoeuvre herself across the wooden floor. When their most-known disco-pop bop 'If You Want Me Now' cones, Suzanne's disappeared amongst the audience, reappearing next to the stained glass windows then climbing onto the makeshift bar and interacting with everyone as she goes: full of eccentricity, she carries an almost witch-like character, casting a charming spell as the hi-hats echo around the massive building. As the lasers and techno beats combine she knocks over her mic stand before looping her scream in a frighteningly possessed manner – it's all brilliantly bonkers, and definitely not the kind of show you'd expect to see in a church. With sets at Lovebox and Bestival coming up, as well as a support slot with Django Djano, Free Love's utopian party has only just begun.
Photo: Cameron Brisbane
SLOWTHAI
Arriving halfway through slowthai's no-holds-barred show at Patterns, most of the crowd is already involved in a mosh-pit. Bodies bouncing and falling as far as the downstairs venue stretches, it's the perfect setting for the visceral Northampton rapper to unleash his urgent punk-y energy. Stage-diving under the low ceilings is the norm as wall-shaking bass engulfs the dark and sweaty room while slowthai – topless with his tattoos on show – surfs the crowd. "I wanna be lifted up to the sky," is his command. Moments later he's raised overhead like a king. Jumping into the sweat-drenched crowd at every opportunity, it's undoubtedly the most physical and immersive performance of the weekend. As hordes of fans leave the venue covered in sweat and beer, it's clear that slowthai is a new generation of rockstar.
NANA ADJOA
Dutch-Ghanaian singer, songwriter and multi-instrumentalist Nana Adjoa arrives on the Komedia Studio stage and instantly commands the crowd's attention with her soft, soulful vocals. Playing her guitar to the 90s trip-hop styled single 'Part Of It', the slowly swirling riffs and light drums build around her lyrics effortlessly. For her debut performance in the UK, it's a quietly confident show that's full of promise.
Photo: Sam Nahirny
JIMOTHY LACOSTE
Camden Town rapper/internet sensation Jimothy Lacoste – real name Timmy Gonzalez – turned the hype to his advantage during a packed 1am set in the downstairs of Komedia. Having attracted a mile-long queue to his show at The Walrus several hours earlier, there's obviously something infectious and charming about his undeniably catchy tunes. 'Subway System', about travelling on the London Underground, is his biggest hit with the young and trendy crowd rapping back every line and waving their arms from side to side when instructed. Some might call his meteoric rise a flash-in-the-pan 15 minutes of fame, but judging from the crowd's reaction – he's received like an icon – Jimothy is going to be sticking around thanks to his simplistic iPad-produced beats, earworm choruses and, more than anything, his positive energy.
NAAZ
Performing in a massive theatre and drawing from her debut EP 'Bits of Naaz', 19-year-old 'bedroom musician' Naaz quickly proves herself as a Dutch pop gem. Staring off sounding soft and delicate before unleashing chart-destined sing-along hits 'Up to Something' and 'Loving Love', it doesn't take long for the 272-seat Sallis Benney Theatre – which usually hosts dramas and art exhibits – to fill up. Singing with a faultless live band, her honest tracks about loving your imperfections stand her out as a great role model for younger fans.
Photo: Sam Nahirny