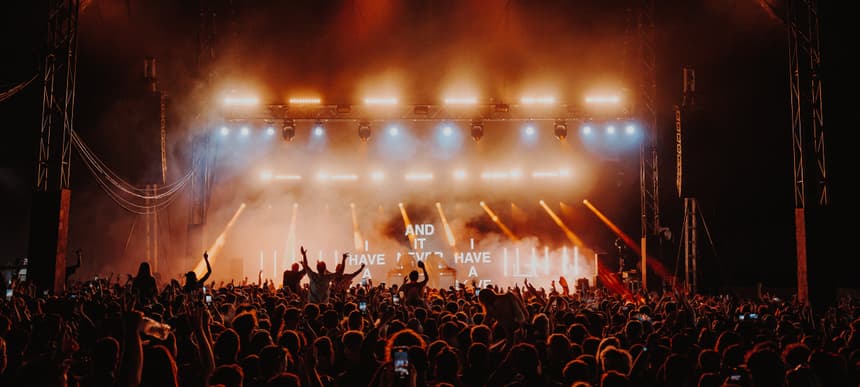 23.05.2023, Words by Billy Ward
A guide to the DMY x Moth Club stage at Wide Awake 2023
Come and say hi while listening to some great music at our stage this weekend
Wide Awake is pitching up at Brockwell Park in Brixton this Saturday to showcase the very best emerging and established talent across a line-up you'll be pushed hard to find anywhere else in London. 
DMY are hosting our very own stage this year, along with our friends at Moth Club, bringing a fine selection of left-field indie, post punk, electronica and more. From cult-status underground UK gems, to rising stars from across the Atlantic, here's our complete guide to the acts we're putting on this weekend.
London double-act Two Shell have become one of the most talked about electronic acts over the past year and a half for two reasons: their innovative dance-floor conquering anthems and their unapologetically avoidant approach to almost everything they do. Luckily, we've managed to pin the elusive pair down to bring the party to our stage at Wide Awake. 
South East London artist Tirzah is another figure who chooses to operate mainly in the shadows. Cutting her teeth with cult musicians like Mica Levi, Kwes, Coby Sey and Dean Blunt, the songstress occupies a pivotal position in the UK capital's underground. Fans can expect a show of quietly aggressive ambience to accompany the pure unrefined tones of Tirzah's vocals.

Hyperpop princess and PC Music affiliate Roma Radz will bring barrels of energy to our stage. A lover of all things rave, the rising talent has taught us to expect to the unexpected. 
Weaving from dreamy indie to orchestral pop, happy disco and beyond, London band Jockstrap are the musical duo consisting of Georgia Ellery and Taylor Skye. Last year's critically acclaimed debut album 'I Love You Jennifer B' is a loud, rapturous, head-banging body of work that positions this group as one of the UK's most exciting prospects. Both talented musicians in their own right, Jockstrap's box of tricks for their live shows is seemingly endless. This one's going to go off. Big time. 
Meron T got her year underway with 'State Of Mind', a bouncy dance floor anthem mining the edges of amapiano and deep house. Not one to shy away from the party, the South London singer-songwriter is trading her guitar for the decks this weekend. If her set is anything like her DMY Mix back in February, we're all in for a treat. 
Another London band to be gracing our stage this weekend, post-punk outfit Warmduscher are readying up for a special show. If partying is what you want, this band will deliver. If it's a good time you're searching for, Warmduscher will happily provide. Just be prepared, their antics might last all night.  
While Dublin four piece Gilla Band's cataclysmic sound avoids consignment to any singular genre, it's thrusting noise-rock guitars and heavy techno drum beats are perfect for the gigging circuit. This band is a true force to be reckoned with when it comes to live performances, so we're pleased to have their cataclysmic sound grace our stage. 
Blondshell is the stage name of LA-based singer/songwriter Sabrina Teitelbaum. Shedding her previous pop-leaning skin, Blondshell has peeled back the layers and re-emerged as something more rough around the edges. More raw. When the singer performs at our stage she'll be at the very beginning of a mammoth world tour that will last until December. 
The swagger and confidence of Washington-hailing indie rock band Enumclaw have garnered comparisons to the peak of Brit-pop. But instead of Liam Gallagher and Jarvis Cocker, this group come from a scene that originally birthed the likes of Nirvana, Alice in Chains and Mudhoney. They know what it takes to get a crowd bouncing. 
London-based psych-pop talent Wonderprince typically mines the edges of woozy alt-pop icons such as Mac DeMarco and Connan Mockasin. Behind the decks, he's a new force entirely. This guy is an unapologetic music maniac so expect some top notch selections for his DJ set.