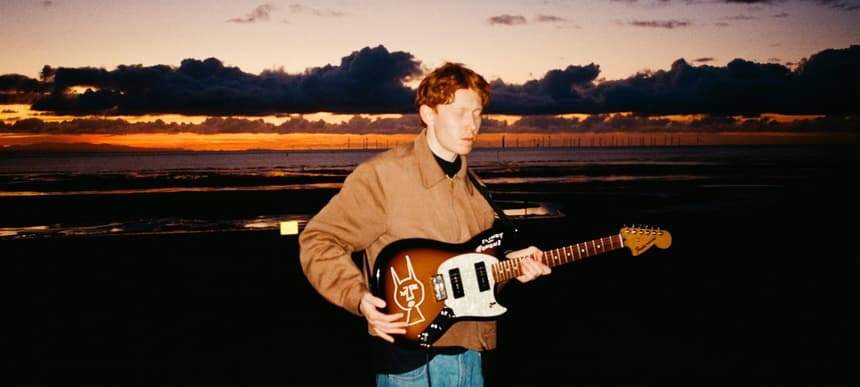 27.02.2020, Words by Billy Ward
King Krule raised the roof at his 'Man Alive!' album launch show in Kingston
The gig comprised the various stages of Archy Marshall while also laying down the exciting new vision etched out by the new album
Just a stone's throw away from Kingston's train station is a former war time theatre – now Pryzm nightclub – and for one night, the venue where King Krule would mark his bold return in the final hours leading up to the official launch of his 'Man Alive!' record.
As flocks of fans began to fill up the arena, an overwhelming sense of anticipation flooded throughout the room as the indistinguishable chatter of hundreds of people grew in volume. Those familiar with frontman Archy Marshall will know his musical releases come few and far between, and that his short stints in the spotlight are closely followed by long episodes of anonymity where he disappears back through the suburban cracks from which he came.
In the months running up to 'Man Alive!', Marshall had given his fans a glimpse of the new direction he was taking the record in, releasing short film 'Hey World!' in November.  Filmed by his girlfriend – photographer Charlotte Patmore – the video propped the red-haired Londoner up against soaring nuclear towers and rolling electricity pylons as he stripped back a selection of new tracks such as 'Perfecto Miserable' and 'Alone, Omen 3' to their most naked form – a sequence of drowsy guitar chords and toned-down vocal cries.
The rural setting and mellow sound that defined 'Hey World!' went towards showing a snippet of Archy's current reality after a life-changing year. Having left the city life in London for the North West to be closer to his partner's family after finding out she was pregnant, the impending notion of fatherhood brought about a change in headspace for the 25-year-old, who cut down on his drinking and smoking and learnt to appreciate certain aspects of life he saw the negative in before.
Having already been warmed up by a high-octane set from post-punk collective Boss, the crowd erupted as Krule's band members entered the stage. Archy waited an extra minute before slowly emerging and swinging his customised Fender Mustang over his shoulder. As he made his final preparations it was hard to imagine how someone who seemed so laid back to the point of even looking shy was about to whip up the Kingston crowd into such a sweaty frenzy.
With the first chords of 'Has This Hit?', however, Marshall made the transformation from his self-effacing persona into a rock star-like entity – a change he has described previously as a form of method acting which he adopts when performing live.
In a blurred moment of particular energy, saxophonist Ignacio Salvadores threw himself into the wave of people below, only staying afloat for a few seconds before disappearing beneath the flailing sets of hands and joining the crowd for the remainder of the track.
The show's setlist found a harmonious balance of popular numbers from previous two albums 'The Ooz' and '6 Feet Beneath the Moon' as well as mixing in a number of cuts from the new project. Having always had a strong and dedicated core of fans, the commitment was clear to see as they enthusiastically recited the lyrics for songs such as 'Stoned Again' and 'Comet Face' which hadn't been officially released at the time of the gig.
For the closing few tracks the group performed two spellbinding renditions of 'Baby Blue' and 'Easy Easy', a pair of songs they've played countless times throughout the years and have come to truly master. Archy let out his final shriek of the night and nonchalantly threw his guitar on the floor. No parting words were needed as he patted his chest three times, waved the crowd goodbye, and slowly stooped off the stage in the same manner he entered it.
Combine the group's expansive musical talent with a loyal audience and you can begin to understand why King Krule is one of the best live acts around at the moment.
Read next: King Krule extinguishes feelings of isolation in 'Alone, Omen 3' video
Follow our weekly-refreshed NEXT HYPE playlist to keep up to date with all the best new music.