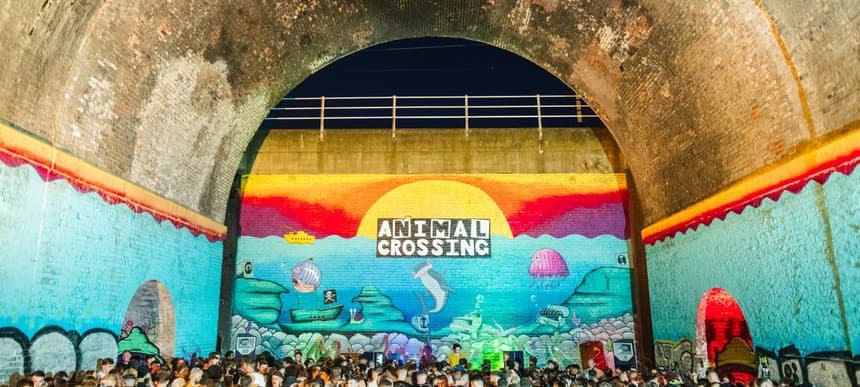 18.08.2021, Words by Ben Jolley
Manchester music and art collective Animal Crossing on standing out from the clubbing crowd and their debut Summer of Love festival
"As a Manc you're raised on late-night tales of convoys to illegal raves, the warehouse parties ringing true in your ears; from a young age, it fills you with excitement and inspiration," reflects Olli Ryder, who is one fifth of music and arts collective Animal Crossing. Founded in 2018 by a group of misfit strangers who became friends while travelling, it was created with the idea of 'celebrating the exploration of human senses'. As Olli recalls, "it was nothing short of fate – one holiday, several lads who'd never met previously all ended up in the right place at the right time. A bar in Barcelona after each losing our pals was the moment that brought us together."
Returning home to Manchester "filled with inspiration" and with the music they heard still ringing in their ears, one meet up became two and, holiday after holiday, Joey Jackson, Ryan Edwards aka R.O.Y, Luke Bowes, Daniel Faiz and Olli connected even more. "We laughed, experienced parties and cultures together," Olli recalls. Soon after, they had the vision to "bring a piece of ourselves and what we had been living and breathing to life". Feeling like something was missing, the group "analysed what was around us and saw a lot of similarities in brands and parties," said Olli. "It was key for us to provide something different, fun, accessible, timeless… We're a generation that eats with our eyes, so the branding also had to reflect what the party was about. Before you attend, we want to create that intrigue, that conversation…"
Joey and Olli then sat down for the first time to start brainstorming ideas; "we created a Google doc and mapped out the concept: new spaces, new creativity for each event. We knew the branding needed to be colourful, vibrant, and illustrated. Next came a hit list of artists and a list of goals with timeframes". Enter, Animal Crossing: sparked because of their love of music, the party, and everything it brings, their collective ethos is to always put the dancefloor first and throw good parties with good people. "To be able to create wow moments that connect people is special and we wanted to be able to share that on a large scale," Olli considers. A large part of achieving this is down to "thinking outside the box" and throwing parties in previously undiscovered locations.
This idea of striving to deliver a one-off experience is something he and the team felt had been lacking elsewhere. "If you're not pushing the boundaries then you've let the people who work hard to pay for a ticket down," Olli says. "It's your duty as a promoter to keep excelling in what's possible for people's experience." Combining sounds, architecture, visuals and lighting to "immerse the audience and heighten all the senses", they paid attention to small details. "Why am I stood in the middle of an abandoned car showroom with all the windows tinted and Traumer sending it silly?' These are the type of questions we want people to be asking. All of the minor things, being welcomed with a smile, making sure nobody is queuing for the toilet or the bar, ensuring the sound is 10/10… all the little bits you don't even realise are what makes a good party great".
Building a community is also a key part of the Animal Crossing story: "we wanted to create a safe space where people walk through our doors and feel at home, let their hair down, and express themselves," Olli enthuses. "With the sound we push and the energy around the brand, it welcomes a lot of like-minded people. No bullshit, no-nonsense, just rock up and do your thing. Every artist booked, every bit of paint flicked is with a purpose to ensure people have a good time and go away knowing they'll return again." And, with a motto of "creating adventures across the globe", the Animal Crossing team intend to "spread the love worldwide".
But, before they take things global, this weekend will see the Animal Crossing team fulfill one of their biggest dreams: hosting their debut festival. "Every decision we have made previously has to lead up to creating the momentum towards the festival," Olli considers of their aptly-titled two-dayer Summer of Love. Following such a tough year, he and the team say "it's just amazing that we've been able to bring it to life". Inspired by taking a nostalgic look at rave and club culture – "20 years back music was everything, it was life, the weekend offender found lifelong friends and joined the convoys of cars flocking far and wide to find the next rave" – this uninhibited hedonism is something that they're keen to reignite. "It was all about community and I feel that, after the hard times of the last 18 months, people need that place to belong". This idea, Olli says, is what started the festival's narrative: "one night in the studio the penny dropped, the summer of love…"
Musically, it was fundamental to book DJs who are "genuine artists" (Raresh, Praslea, Shonky, Rhadoo, Dyed Soundorom, Evan Baggs and Traumer are among the many highlights). "Taking control of a room for 10 hours plus and having everyone on the dancefloor connected is a skill that not many have," Olli says. "You go to the theatre to watch a show; these guys provide that emotion with the music and selections that provide a similar type of feeling. It's nothing short of magical". Beyond the sonics, the undisclosed venue choice is – as with all AC events – guaranteed to intrigue and surprise. "We pride ourselves on finding good sites, and I say with full confidence this is the most special to date. There is no question. It had to be. There is a certain weight and responsibility that comes with hosting a festival. You'll walk through the roller shutter doors, into the Love Factory and that will be all you'll need to get it. It's a double double special gaff".
Art is also a key component of the Summer of Love festival: "people have five senses that deserve to be tantalised," says Olli; "the artistic elements are what get people talking, the music is always serious and at a standard that will guarantee the groove. The responsibility lies with us to further add to what people digest. When you walk within the Summer of Love, you will be walking into that full experience".
Animal Crossing's Summer of Love festival takes place at 220 Dantzic Street, Manchester, M40 4DD, on August 21-22.
Book tickets via: