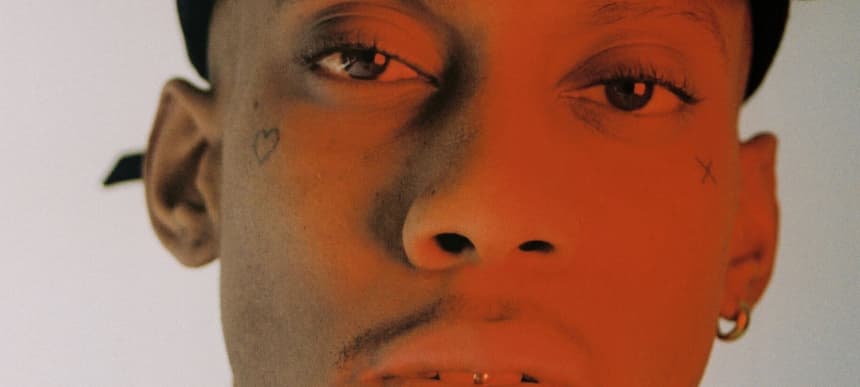 13.06.2019, Words by Billy Ward
Octavian flexes his musical prowess on new mixtape 'Endorphins'
The 23-year-old juggles the spirit of grime, pop, hip-hop, gospel and house on the record...
Transcending genres with such ease might come with a level of difficulty for most artists. But not Octavian. Failing to allow labels and tags to pin him down, he exists exponentially in a kind of limbo state, wedged somewhere between a fuzzy-edged, reminiscent dreamworld and the stark streets of London, where the young artist had to battle bouts of homelessness on his ascent to the top. 'Endorphins', the newly-released mixtape by the 23-year-old, juggles the spirit of grime, pop, hip-hop, gospel and house to amalgamate his inspirations and tastes acquired over a lifetime, while continuing to pattern his own ever distinctive sound.
How do you go about producing music that is unequivocally fresh and fascinating, yet still staying true to the roots from which you grew? For Octavian, he just does what he knows best – himself. Having been known to turn down mega co-signs from the likes of Drake in the past, it's clear that the London-based artist isn't fazed by the noise surrounding him. Opening track, 'Gangsta Love', pays homage to the soothing sound of the church; his raspy vocals only pausing momentarily to make way for a choir of gospel singers humming in unison the title of the song – the type of juxtaposition the young creative executes in his music so effectively.
"I knew i'd be big, because I didn't want to go to prison"
Winning the recent BBC Sound of 2019 award is proof of the rapper's quick rise to success. Octavian has had a great two subsequent years following debut single 'Party Here' in 2017, which gave many a first glimpse of the intergalactic sound that he pursues on the new release, 'Endorphins'. However, life hasn't always been so fortunate for the artist who, at just fourteen, was kicked out of his house and forced to live with £0 in his account, after being told by his mother that he would either go to prison or he would make it big.
Reflecting on that time of his life, he confidently said:"I knew I'd be big, because I didn't want to go to prison," and now given his position, the musician doesn't hesitate in letting his newly-acquired status known. There proves no better example of this than the song 'King Essie', where the lyrics: "These man they wanna take my place what can I say / These man they wanna be King Essie," are spat in a lulled hybrid of rap and spoken word, accompanied by a futuristic synth sound which is carried along by a sequence of itchy trap drums to produce a stratospheric experience.
The mixtape unapologetically twists and turns in sound, speed and emotion with every passing song – some opt to use autotune, others utilise Octavian's incredible rapping ability. Some evoke sadness, others make you want to crank up the volume and start the party. Laying behind the tracklist is more than just a random set of songs thrown together; more a glimpse into the mind of a person who has been through the dirt to get where he is.
On songs like 'Take it Easy' featuring US rapper Smokepurpp, we hear a bad boy tune drawing inspiration from heavy trap; spawning lyrics such as: "This blade will make you feel pain," and "I kill a man then I throw up the flag". 'Risking Our Lives', however, shows a different side to Octavian, in which clanging trap bells are swapped out for a smoother club sound, and violence-themed lines are traded for lyrics like: "Not many people are in tune with me," and "On my own this is too big for me". It's evident that the rapper is a complex character, with his music echoing his layered nature – demonstrating the bad, the good, and the misunderstood – and this multiplex of feelings and inspirations help in explaining the eclecticism of the tape.
If you needed any more persuasion on Octavian's precedence in the scene, his collaboration with Skepta and Michael Phantom on 'Bet', which has already amassed over eight million views on YouTube, should lay any doubts to rest. The song oozes swagger as the rapper spits over the bass heavy tune about stealing your girl with a cocky vivacity – the addition of Skepta's verse only adding to the attitude and solidifying the track as a fan favourite. The musician is not afraid to be experimental with his work, as is evident throughout 'Endorphins', however, returning to simple and straightforward spitting is welcomed with open arms and provides a much needed element to the record, accompanying the song 'Lit' featuring A$AP Ferg as the tunes to get gassed to.
The future looks bright for Octavian. When he first burst onto the scene a few years back, he blew everyone away with a unique sound that has since inspired a new wave of UK music. His new mixtape sets out to continue this legacy, providing musical elements of past, present and future, whilst allowing us to peer into the mind of the forward thinking creative. Where previous Octavian releases may have perfectly encapsulated the UK sound, 'Endorphins', embodies the next transformation in the artists illustrious career, embracing global styles and cultures from his travels around the world and incorporating them into his music, to make for a matured and fuller experience.
The diversity of styles and sounds displayed on 'Endorphins' means there's truly something for everyone, and despite already stamping his mark down firmly on the music scene, you can't help but feel like King Essie is only just getting started…
Stream the mixtape in full:
Octavian plays the Peacock Society festival in Paris this July – find tickets here.