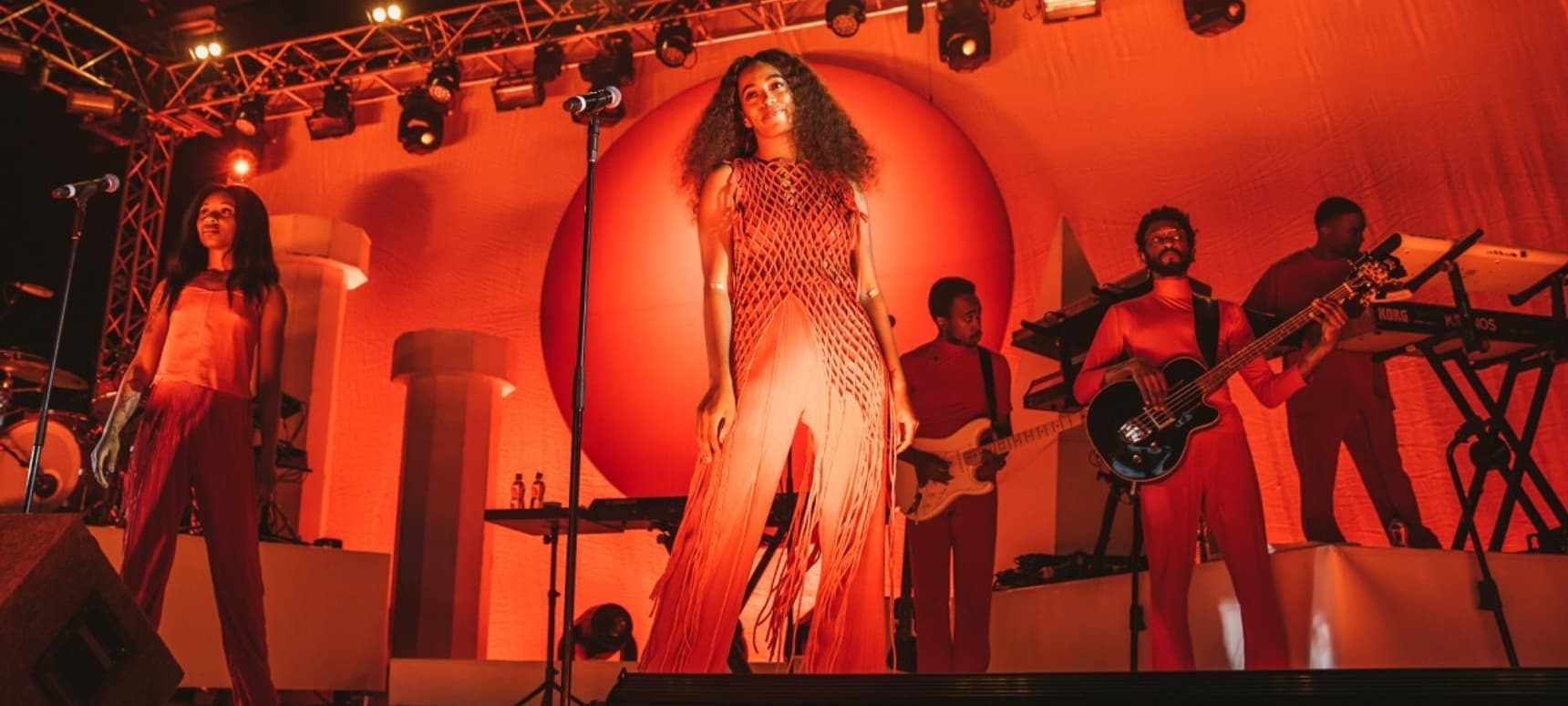 19.07.2017, Words by dummymag
Review: Lovebox, 14/7/17, London
Friday at this year's edition of Lovebox Festival is all about one man. While the lineup feels a little top heavy in comparison to previous years – to be fair I suppose Frank Ocean can't have been cheap – this is more than compensated for by bright sunshine, an up-for-it crowd, and a number of superb performances throughout the day.
The day starts off in earnest with West Midlands duo TC4 banging out funky and garage hits, drawing for old favourites like 'Are You Gonna Bang Doe' and 'Call Me a Yardie' alongside newer cuts like Champion's 'Gunshot'. Floating over to the main stage, one of my new discoveries is RÜFÜS – that most passé of things, a band – who a boozy group of Australians inform me are apparently absolutely massive Down Under. Their muscular synth pop reminds me a lot of fellow Aussies Cut Copy, or perhaps a less vulnerable New Order. It's perfect early afternoon festival fare, and gets me in the mood for a proper dance.
The fabric tent plays host to big hitters such as Bicep and Seth Troxler, but there was one act in particular I wanted to check out. In all honesty KiNK's particular brand of machine-house isn't quite to my liking – at least on record. But I was curious to finally see the show that had propelled him to the upper reaches of RA's live poll five years in a row. I was not disappointed. It helps that he seems to be having at least as much fun as the crowd – not insignificant in a business where top tier DJs often seem to wear a studied sense of ennui as a strange, jaded badge of honour.
Part of the appeal is the speed and dexterity of KiNK's movements – he is clearly working hard rather than seeming to be working. But the performative aspect is what seals the deal. He'll lift up a keyboard and show its face to the crowd, as if to say, "Here's what I'm about to do", before tapping out rhythms and melodies in real time. It sounds simple but the unpretentious nature of the act – sharing what he's doing rather than hiding – gets the whole crowd on his side, even those like me who needed some initial convincing.
After a brief wander in the vicinity of Jamie xx – the ultimate Emperor's New Clothes DJ – I take my place for Solange, one of the most anticipated sets of the whole festival. It's a powerful demonstration of how a live show can lift even material of this caliber to a whole new level. Having checked herself out of hospital that very morning so that she could perform (cue appreciative cheers), Solange's already extroverted and celebratory performance takes on a whole new layer of triumph. Set against a glowing red sun and geometric pillars, with a cast of backing dancers and musicians so in sync with each other it's like they're being controlled by a single mind. The choreography and flow are astounding. But there's no doubting who the star is. Solange plays most of last year's A Seat at The Table, along with a clutch of songs from her 2012 EP True. Finishing on a one-two punch of 'Losing You' and 'Don't Touch My Hair' (with Sampha returning to the stage after his earlier set), she departs to rapturous applause.
You'll likely have read by now about how "divisive" Frank Ocean's set was. It didn't feel like that from where I was standing. Truth be told, he is decidedly not a conventional festival headliner. But that's partly what made this performance so special. Ever since the singer cancelled three festival performances back in May due to "production issues", I had been crossing my fingers praying he would make it to Lovebox. This was only his third performance since 2014, and the crowd were likely hearing all of these songs live for the first time.
You'll likely have read by now about how "divisive" Frank Ocean's set was. It didn't feel like that from where I was standing.
To everyone's surprise, he performs not on the stage, but on a platform embedded in the centre of the crowd, with home video style visuals projected onto giant screens. (It's later revealed that Ocean's cameraman is none other than Spike Jonze, possibly filming a documentary about the singer). It's a peculiar setup – in fact, it takes me most of the set to realise why I'm struggling to see anything happening. But then Frank isn't one to give in to established conventions.
It wasn't perfect. After arriving onstage almost half an hour late – causing understandable nerves to spread throughout the crowd, given his unpredictability – we only receive a truncated performance, with 'Pyramids' and 'Futura Free' among the songs he'd found time for at other recent headline shows. He plays just one song from Channel Orange, an album universally regarded as one of the finest this decade has offered us. The 'hits' are largely saved for the closing section. Ocean's intimate performance is emphasised by a strange, understated front-section which creates a very particular mood, hovering on disconnect. But the love in the crowd sees him through, and the latter part of the show – when he's joined by a live band – is warmer and more generous. 'Thinkin Bout You' provides the first proper 'festival moment', while 'Nights' and 'Pink + White' showcase the Blonde material at its finest.
This sparse, impressionistic performance really does justice to its material – intimate confessionals rather than pop music engineered to soundtrack Glastonbury idents.
As Ocean himself admits at one point, there's a sense he's still figuring things out in front of us. But this sparse, impressionistic performance really does justice to its material – intimate confessionals rather than pop music engineered to soundtrack Glastonbury idents. 'Nikes' inspires one final, glorious falsetto chorus, everyone grinning at the ridiculousness of it. Anyone who wasn't already a fan or familiar with his work might have justifiably wondered what all the fuss was about. But for the huge crowd, many of them sporting cropped green hair or striped bandanas in tribute to their hero, tonight was something rather special indeed.