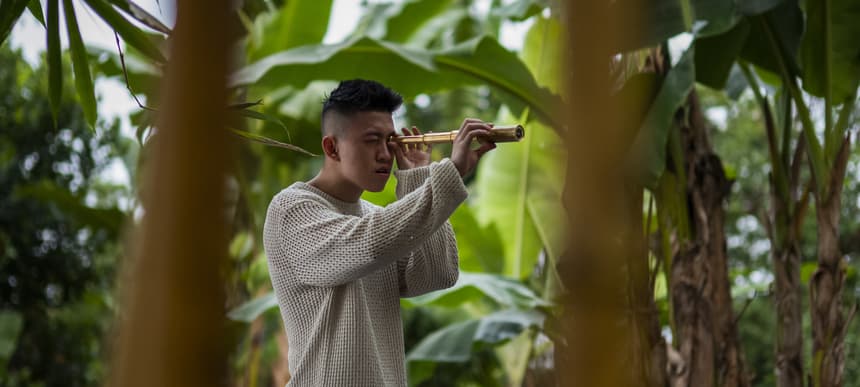 01.08.2019, Words by Felicity Martin
"I want to put out something timeless": The unstoppable vision of Rich Brian
On 'The Sailor', the LA-via-Jakarta rapper is more vulnerable than ever before...
As a teenager in Indonesia, Rich Brian was obsessed with the film La La Land. "I remember Emma Stone talking about people that have crazy, huge dreams, and people that have dreams that don't make any sense," he says of watching the Hollywood blockbuster. "And I just related to that so much. I got really emotional watching that movie." The city of stars that the movie revolves around is now home to the 19-year-old Chinese-Indonesian rapper, who upped sticks to the US from Jakarta two years ago.
'The Sailor', Brian's just-released second album, was inspired by this trans-continental upheaval and his newfound immigrant status. He's used the record as a chance to shine a spotlight on his native land: single 'Kids' was accompanied by a touching visual homage to his hometown, featuring Jakartans from all walks of life, a roadside pop-up restaurant known as a warung tenda, and the commonplace sight of three people riding a motorcycle. "I realised that loads of people don't know what my home country looks like," he says down the phone from LA. "Even Sean [Miyashiro, Brian's manager], he was like 'I don't fucking know what Indonesia looks like!'"
A video recently emerged of Brian playing 'Kids' to Indonesia's president Joko Widodo, known affectionately as Jokowi. As an official with a well-documented love of heavy metal, Brian wasn't sure how his style of rap, often laden with expletives, would go down as he pulled up to the palace dressed "super neat" with his family. But the president approved, giving him a tour of the compound and his pet goats – something quasi-symbolic for Brian after his 'Back At It' artwork found him posing with the farmyard animal. "I had to tell him about my whole story of like, you know, I was homeschooled and learned English on YouTube. He kept saying, 'Oh wow, two years, the progress is really fast!'"
"I don't think I've ever seen a reaction like that to anything that I've put out," he continues about the video. "I remember showing the cut to my mom and sister and they both cried. Apparently it made a lot of other people cry, like, especially Indonesian people. When I see those comments, I just think, 'Wow, I made it.' It's like mission accomplished, basically, because I love when art makes people feel a certain way."
Rich Brian's success story is one that will surely go down in the canon of rap. He began life as a meme, a 16-year-old in a pink polo and bumbag who rapped under the name Rich Chigga (one he now regrets using), with comedic rap tune 'Dat $tick' going viral through Vine. A Ghostface Killah verse on the aforementioned track was followed closely by co-signs from 21 Savage and XXXTENTACION, and he signed to 88rising, the label founded in 2015 by industry magpie Miyashiro that helped push East Asian rap to the forefront of global consciousness. In 2018, Brian would become the first Asian artist to reach the top spot on the iTunes hip-hop chart with his debut album, 'Amen'.
'Amen's follow-up is a serious display of Brian's artistry and musical progression; a movement away from the hyped-up trap of his past releases, it zeroes in on a more orchestral, full-bodied sound, with dusty boom-bap sitting next to luxe string sections and guest slots from Wu-Tang's RZA and Joji. The record, though, was the result of a trying time, that came seemingly out of nowhere for the rap phenomenon.
"I learned there's a lot of a lot of grey areas in life, you know, a lot of things aren't black and white"
Around nine months ago, Rich Brian gave up smoking. The nicotine withdrawal had a weird, unexpected effect on him: he started to suffer from bad anxiety and kept throwing up. As well as the side-effects of giving up the Juul, he'd also gone through a break-up and a bitter month of writer's block. "I was, like, going through it on this album," he laughs. "It was such a sudden thing that happened in my life that I learned a lot from it," he continues. "I learned there's a lot of a lot of grey areas in life, you know, a lot of things aren't black and white. Your perspective on things can change really fast – it's like, a really trippy thing. I've been doing a lot of meditating and trying to stay sober as I can all the time. I've been a lot more mindful of my mental health."
Album cut 'Yellow' opens with lyrics that might seem alarming given this information: 'How do I disappear without anybody knowing?', Brian sings, 'Will anybody even miss me when I'm gone?' The track swerves into an exploration on the nature of hip-hop and legacy, delving into the concept of posthumous releases, how his music might be considered in the future, as well as his East Asian identity. 'Bitch, hello?' he spits, 'Don't fight the feeling 'cos I'm yellow', riffing on a racial slur. It's a powerful portrayal of his come-up and the obstacles he's had to tackle along the way.
Fifty per cent produced by Brian, 'The Sailor' also sees production from Bekon, the once-mysterious brains behind much of Kendrick Lamar's 'DAMN.', as well as The Donuts, a group of six producers who are "so musically talented," he says. "They can just come up with the craziest chords." The recording process was uncharted territory; "my first time really letting go," Brian admits. They'd hold jam sessions, connecting a bunch of instruments to a computer with a mic in the middle of the room and record live. "We would jam for like three hours and then come up with 20 or 30 different little ideas. And then at the end of the day we'd listen to it. And then we're like, 'Okay, which idea do we want to turn into a full song?'"
"It's me realising that, like, if I put this album out, it's going to be out there forever. I want people to be able to listen to it, like 20, 30 years from now."
The biggest difference between this and his last work, he explains, has been his mindset. "I really found my writing style," he says. "It's me realising that, like, if I put this album out, it's going to be out there forever. I want people to be able to listen to it 20, 30 years from now. I want to put out something timeless."
"Back in the day there would be a lot of times where I would sacrifice actual lyrics for flows," he continues, "and I really avoided that this time. I made sure that what I was saying was very vivid and understandable. So someone can listen to it and it almost feels like I'm talking to them. This is not going to be just a hip-hop album, because, who knows, maybe [I] could become someone that people that don't listen to hip-hop can listen to and still love?" he wonders.
Brian's own love of hip-hop started as a self-described loner kid back in Jakarta, fixated with watching YouTube clips of Childish Gambino, Tyga, Macklemore, 2 Chainz and Drake, committing their lyrics to memory. No longer a homeschooled teen with no friends, Brian is now living out a contemporary form of the American Dream and rubbing shoulders with famous musicians, though he admits it "definitely gets lonely sometimes".
"This one time, I had my 19th birthday in America, my first time celebrating without my family," he continues. "I didn't think it was gonna affect me that much, but that was definitely a really weird, lonely point in my life. The next day, I was just sad. And I couldn't tell what it was, it was this weird thought in the back of my head. My girlfriend at the time, she was like, 'What's wrong, you seem kinda off today,' and I started bawling my eyes out."
Brian goes back to Indonesia every six months to see his family, something that makes him feel like he's "living a weird double life – every time I come back there feels like I never left. It feels like my life in LA doesn't even exist." Album cut 'Curious' addresses this fractured relationship with his past life head-on: 'I went from good wine to seein' tears in my mom's eyes / I don't blame her, though / She used to feed me, now I live alone'. "When I first got to LA I remember going out with my friends," he recalls, "we were going out bowling and it was 10pm and I was like, 'Yo shit, is my mom gonna call me and tell me to get home?!' And then I realised she's on the whole opposite side of the world."
Sending a message to Asian youth that they – like him – can achieve success is an important function of 'The Sailor'. On 'Kids' Brian raps: 'Might steal the mic at the Grammys just to say we won / That everyone can make it, don't matter where you come from.' It's a statement that's truer than ever before. Pan-Asian collective and label 88rising have made an indelible mark on culture, causing the careers of Brian, Joji, Niki and more to skyrocket, and making for an organic fusion of Eastern and Western culture that makes sense within our ever-more-connected world.
88rising are known for putting out visuals that are as strong as the music and, sure enough, 'The Sailor' arrived with a 15-minute short film directed by Sing J. Lee, a visual depiction of Brian's backstory and the record's themes. It expresses his dual identities, flitting between snapshots of him as a child with his family and hyper-American tropes of fast food production lines and baseball games, and also envisions a Black Mirror-esque future of Rich Brian holograms performing to an empty club.
The showbiz world La La Land depicted is one that Brian now wants to inhabit. "I really want to get into acting. I'm still gonna make music," he promises, "but I really want to focus on what I'm passionate about, which is acting." Looks like Rich Brian won't ever stop exploring uncharted waters.
Rich Brian's 'The Sailor' is out now via 88rising – buy/stream it here.