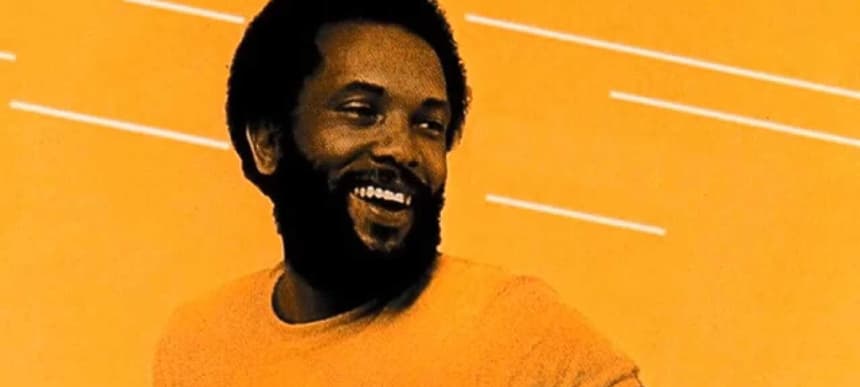 09.05.2016, Words by dummymag
Roy Ayers: "It is important I reach as many people as possible with my voice."
As the month of May begins and the grey clouds seem to finally clear, a certain track named Everybody Loves The Sunshine will seemingly creep its way into your rotation. It's a song that we've all listened to in some shape or form, but find it hard to recall when or where that glorious first play occurred. You may have stumbled across it through Mary J Blige's My Life, or maybe you found it listening to Common's Book Of Life, or even whilst listening to Mos Def's Life Is Real. The reality is, you may never be able to trace back to when you first took a leap and dive into those sun dazed synths, but they have remained unmoved in your psyche since; quite possibly due to the fact Everybody Loves The Sunshine has been sampled over 100 times since the now funk, soul and jazz music messiah Roy Ayers first recorded the illusive hit in 1976.
Almost 40 years later and at the age of 75, Ayers' career has been wealthy in both success and releases, leading to him being cited as one of the most sampled musicians in history. Whilst talking on the phone, I ask why it is that he still continues to record music and tour. He has one simple answer, "For the younger generation. That's exactly why I do it, exactly for that reason."
Before the samples and before the sunshine, Roy Ayers' love for music was ignited at the tender age of five years old. "I went to see Lionel Hampton when I was really young and he gave me a set of vibraphone mallets," he recalls. "I've lived with them for the rest of my life, along with this memory." Tracing back to where it all began for the young Roy Ayers, many know him for his relationship with the vibraphone – an instrument he has come to master. But truthfully, it all began with his voice. "I was singing before the vibraphone but I was playing the piano because we had one at home," Ayers adds. "The piano really made me want to play the vibraphone. So, from there Lionel Hampton made me really want to continue, and made me stick to playing the vibes." A determined young man, Ayers was now convinced his future lay with this instrument. "My first proper experience with the vibraphone was in my teenage years, when my mother and father bought me my first set. They were $300 and my god, it was a wonderful experience to play them."
Its an odd sensation to have an attachment to a song when you can't really pinpoint where the relationship began. Saying this, Ayers himself can't seem to remember how the sampling epidemic first erupted either. "I heard people who sampled me and they sampled me a lot. I think the first was, I can't remember the group but they sampled me. Oh my, I can't remember the name of the group!" Roy chuckles down the phone."They have sampled so much music over the years, it's wonderful." In recent years, the sampling has certainly shone a light on his work, yet Ayers will be the first to remind you why people took notice in the first place. "Yes, I think most of the people know me for my vibraphone work, as they like the way I experiment with it," he continues. "I always try to please the crowd, and put the very best into how I perform. You know, I'm so competitive with others, and they are a great inspiration."
At the latter stage of his career, Ayers still searches for inspiration, ranging from his peers to younger, emerging artists. "I listen to a lot of Miles Davis. I love Miles Davis. He's a far out musician." Sparking a little fire inside, Ayers recalls a rather bizarre meeting with the jazz legend. "I went over to his house when he was alive, and he hit me in the stomach. I'll never forget it." Seemingly unaware to the peculiar nature of the statement, he continues unfazed. "Herbie Hancock had told me that Miles Davis would hit you in the stomach to see if you are in shape. When he hit me I said it was a good hit. He replied to say I really was in good shape."
"I love Miles Davis. He's a far out musician. I went over to his house when he was alive, and he hit me in the stomach. I'll never forget it." – Roy Ayers on Miles Davis
Ayers continues on a stroll down memory lane as he recalls of his admiration for the late Prince. "I just found out Prince passed. He was a great artist and definitely an inspiration for me. I never met him but I met his people, like Lisa Coleman. She was wonderful, and still is." He pauses for a moment and thinks to himself. A defeated sigh follows as he exhales to continue. "It's a god darn shame to see Prince pass." It's striking and unnerving to hear a man so full of life suddenly sound so defeated. Yet, with a career now spanning over 55 years, the passing of close friends and collaborators is a harsh reality that Ayers has come to face. Only recently he lost a dear friend and collaborator, Dennis Davis, who Ayers describes as, "one of the greatest drummers in the world, he had cancer but died a fantastic drummer." Ayers continues to elaborate on further passings this year, including "Stevie Wonder and David Bowie, who worked with me all of the time." Collaboration has been at the heart of every venture Ayers has embraced and involved himself with. From talking to Ayers about his friends, both past and present, it's clear that teamwork is essential to any success for him. Those who pass may take a piece of Ayers with them, but he is determined to take a piece of them onwards.
Whist Ayers is left troubled by the passing of friends and peers, it most certainly won't slow him down. Only just last year, Ayers was working with Tyler the Creator on his track Find Your Wings. "That was a very nice track. I dealt with Tyler personally and it was a very special affair. He was a lovely young man." Much like how Lionel Hampton handed Ayers his first vibe mallets, Ayers is now informing and inspiring the likes of Tyler, The Creator – an artist who is undoubtedly a student of the path Ayers has forged. Like many of the younger generation of musicians, Tyler would have most likely discovered Ayers sound through a sample posted on a blog, or two hours into an infinite YouTube playlist. Yet, while the methods may have changed, with Ayers' sound shifting and evolving, it's this unknown that he continues to embrace. "It's wonderful, the desire young people express for my music. It's wonderful because I'm still growing in popularity."
Ayers has no plans to lose touch with the the modern scene, recently working alongside Alicia Keys on her sixth studio album. "I like Alicia Keys. I recorded a couple of tracks with her on the new album, which I guess will be coming out pretty soon. I recorded with her – she likes me very much and I liked her very much." Alicia isn't the only member of the of the Keys family that Ayers is an admirer off, adding praise to her son Egypt. "And I like her son. He can play the drums!" It is almost as if Ayers can see himself in the young drummer – who is only five years old – the exact same age that Ayers was when he first picked up a pair of vibraphone mallets.
"It's wonderful, the desire young people express for my music. It's wonderful because I'm still growing in popularity." – Roy Ayers
Ayers remains busy with his own projects, with a release planned for later this year. "I'm working on a new album," he states. "It won't be released till July, or maybe even August. We also start touring tomorrow. It's basically based around the album. We have changed a few songs but it is quite similar…a very good show." Having accomplished and experienced enough for three lifetimes, Ayers' job as a musician could quite easily be curtailed. But it isn't as simple as that. "I have to keep touring 'til I die," he says firmly. "I believe it is all about life or death. It has got to be life or death. Life first, and death second. I'm inspired to play music for that reason."
As the generation that follows will discover his music through paths and corners which didn't even exist when he first picked up the vibraphone, Roy Ayers will never lose touch of that day over 70 years ago, when Lionel Hampton first handed him a pair of mallets. Each encounter and chance meeting has played its part in forming a career seasoned with fond memories, achievements, highs and lows. Ayers doesn't just remember these moments, he embodies them, insuring that they live on. Ending on an absolute high with us, he adds: "Everybody is important, so it is important I reach as many people as possible with my voice."
Roy Ayers plays The Soundcrash Funk & Soul Weekender, which takes place on 13th to 15th May, 2016 in Camber Sands. Now sold out (info).