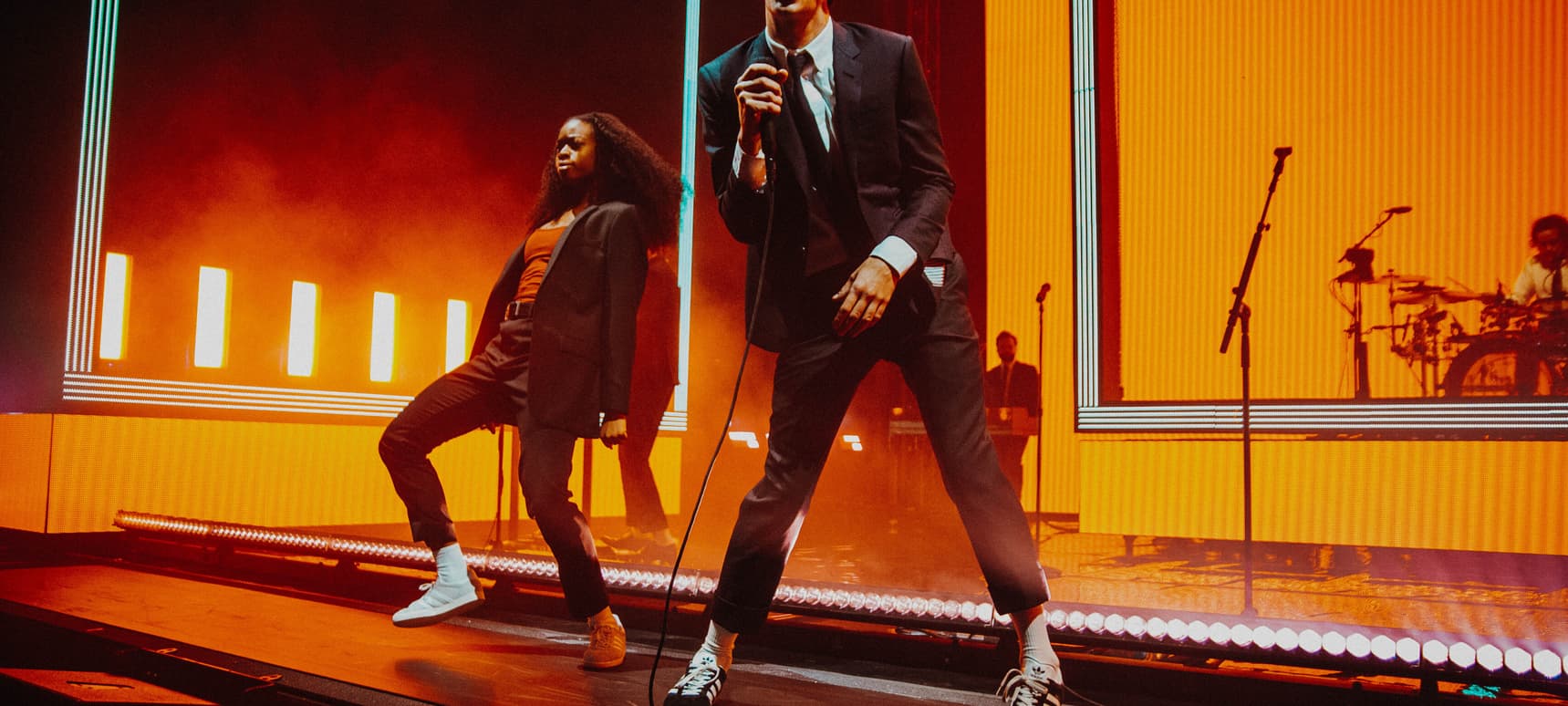 21.01.2019, Words by Ben Jolley, Photos by Sam Nahirny
Six things we learned from The 1975's O2 Arena show, 2019
Slick, tech-heavy production and Matty Healy's likeability as a frontman ensured their O2 Arena show lived up to the hype...
Having sold out two consecutive nights at London's O2 Arena, the anticipation was always going to be high for one of The 1975's biggest shows to date. The Manchester-born band, fronted by Matty Healy, didn't let the hype phase them, though; instead delivering a constantly-evolving, genre-hopping, technologically-innovative performance that delighted fans old and new – all 20,000 of them…
The band have quickly gone on to conquer arenas
From the deafening screams of thousands of teenagers ready to lose their minds to the band of their generation, it's clear that Matty Healy and co are one of Britain's biggest and most influential bands of the decade. And it's not hard to understand why. The first time I saw them perform (around the time of their debut 2012-released 'Facedown' EP) was at Nottingham's 250-cap sweatbox the Bodega, then headlining Parklife festival in their hometown in 2017, and now, in January 2019, a few months on from the release of their third album 'A Brief Inquiry Into Online Relationships', they have grown into a band capable of conquering the country's biggest spaces.
Matty cuts a likeable, charismatic figure on stage
The band are dressed for an occasion as momentous as this; in smart black suits and ties, though Matty's trousers are rolled up to reveal white socks and trainers. He might be a massive popstar now but he's still happy to let his relatable quirks shine through while briefly opening up about a difficult time in his career – and that's why he's so adored by fans; during 'TOOTIMETOOTIMETOOTIME' he attempts to keep up with the faultless choreography of the band's two dancers (of course, he can't, but it makes him all the more endearing).
Known for supporting new artists via the Dirty Hit label, he even makes time to bring out his "new favourite popstar," Filipino-born London-based No Rome, for a singalong rendition of their collaboration 'Narcissist'; jumping together and hugging at the end, its heartening to see he's happy to share the spotlight. Every bit the frontman, Matty oozes charisma throughout the near-two-hour-long show, moving across the stage on a vast treadmill (ensuring he's never in the same spot for too long) pointing and waving as he goes: Mick Jagger for the Instagram generation, essentially.
The tech-heavy stage design is endlessly imaginative
Something that's instantly striking is the innovative stage design: from the gradually lowering illuminated light boxes which are used as a representation of the band being closed in on, to the seemingly random words which flash on towering screens like subliminal messages (just two of many simplistic yet effective stylistic devices used to thought-provoking effect throughout the show). Additionally, the use of colours and geometric shapes – inspired by the band's latest album artwork – makes for an inventive watch.
At this show, the visuals are as important as the music
Production-wise, it's a slick arena show – and that's before mentioning the kaleidoscopic visuals which are used to transport the audience to another dimension; the perfect accompaniment to the glitchy and heavily auto-tuned 'How To Draw/Petrichor' which combines Bon Iver-esque autotune with rave-y Four Tet-style breaks.
They're unafraid of getting political and speaking their minds
On the stirring 'I Like America & America Likes Me', where hushed bleeps turn into a politically-charged cry ("We're scared of dying," Matty shouts: "Would you please listen?"), he calls for an end to unnecessary bloodshed over trap synths which cast him as something like a more socially conscious Travis Scott. Changing the atmosphere once again, 'I Always Wanna Die Sometimes' – a heart-stirring acoustic highlight from the new album – is received as the millennial answer to Oasis' 'Wonderwall', with thousands of phones lighting up the sky.
The tour is pushing the boundaries of the live experience
Another moment unlike your typical arena show comes when Matty pushes the wall which forms the backdrop and steps inside the box, at first appearing ant-like in a screen of TV static, before it's gradually revealed to be an iPhone turning on with Matty left to stare at the word 'Hello'. It's clear a lot of time has gone into making the show as memorable and full of questions as possible, transforming the audience's perception of what a live performance can become in the process. An assault on the senses, everything about the technologically-advanced setup makes the viewer reconsider their understanding of live music.
Take a look at the live gallery from the show – shot by Sam Nahirny – below.
The 1975 play Exeter tonight – see where else they're going on tour here.