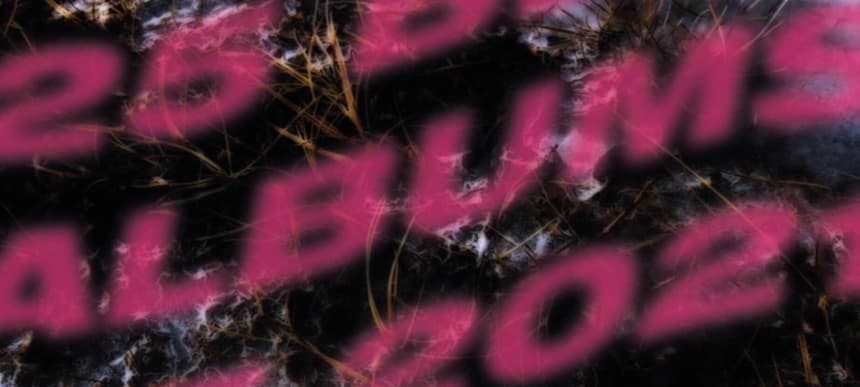 16.12.2021, Words by Billy Ward
The 25 Best Albums of 2021
Here are 25 records that have impressed us the most this year...
In a year of uncertainty and concern for the future, we've relied on great music to get us through the tough times. Luckily there's been no shortage of it. The DMY roster has continued to expand over the last twelve months and our series of DMY Live events hosted across London have reminded us why we've missed live music so much (we've purposely excluded anything we've released from this list but you can have a listen to those here).
In the age of streaming, the way people listen to music has changed a lot but this doesn't make albums any less significant – they still matter and deserve to be celebrated. Without any further introduction, these are the 25 records, mixtapes and projects released in 2021 that we believe deserve a special mention. Make sure to read our 25 Best Tracks of the Year list and check out DMY Artists too.
25. Central Cee
Wild West
Self-released
24. Vince Staples
Vince Staples
UMG/Blacksmith/Motown
23. ENNY
Under Twenty Five
FAMM
22. SAULT
Nine
Forever Living Originals
21. Summer Walker
Still Over It
LVRN/Interscope
20. JME, Frisco & Shorty
Norf Face
Norf Face
19. Nas
King's Disease II
Mass Appeal
18. slowthai
TYRON
Method/Interscope/AWGE
Check out our coverage of slowthai's 'TYRON' record here.
17. BackRoad Gee
Reporting Live (From the Back of the Roads)
23 Formation Music
Read next: Looking backwards to move forwards, BackRoad Gee is taking UK rap into uncharted territory
16. Dean Blunt
Black Metal 2
Rough Trade Records
15. Bicep
Isles
Ninja Tune
14. Joy Crookes
Skin
Sony/Insanity/Speaker Box
13. Ross From Friends
Tread
Brainfeeder
12. Doja Cat
Planet Her
Kemosabe/RCA
11. Koreless
Agor
Young
10. John Glacier
SHILOH: Lost For Words
PLZ Make It Ruins
It's hard to believe that 'SHILOH: Lost For Words' is Hackney-based rapper John Glacier's breakthrough debut mixtape. An elusive figure in London's bustling underground music scene, the hazy 12-track project mines the edges of indie-pop, electronica and rap, owing its deluge of sounds to a number of trusted producers such as Holly, Psychedelic Ensemble and Tn_490 – but steered most dramatically by LA-based beat maker Vegyn. Sonically speaking, the record immerses listeners in a dream-like world of moody ambience, woozy melodies and sticky synth keys, however, it's John's nonchalant lyricism which takes centre stage and seals this project as one of our favourites this year. Drop the needle on the record and you can expect to hear a poetically authentic account of the artist's dreams, hopes and most endearingly, her vulnerabilities. Billy Ward
9. Swindle
THE NEW WORLD
BMG
Swindle started his music career via grime label Butterz and Mala's DEEP MEDi MUSIK. The rhythms of Swindle's latest album 'THE NEW WORLD' can be traced right back to that time, while the jazz-flecked orchestration lean into Swindle's time spent on the Brownswood roster in 2018 with his album 'No More Normal'. A phenomenal community of voices narrate 'THE NEW WORLD', most of whom are presented in the twenty-minute film that featured a medley of the album's tracks. Created in under two weeks during the first lockdown, it represents a stage of Swindle's self-actualisation, both musically and in spirit. It is executed with statement and intent, with the ability to change and uplift – Swindle's craftsmanship feels epitomised in 'THE NEW WORLD'. Maisie Goulsbra
8. Potter Payper
Thanks For Waiting
UMG
After his music career was stifled following a prison sentence that started in 2017, Potter Payper penned a letter to the fan-base he had spent the last decade building up. This message is referenced on the cover art of 'Thanks For Waiting', the Barking emcee's fifth mixtape and first major label record since signing for the UK division of Def Jam. If 2020's 'Training Day 3' was a move to tie up some unfinished business, completing a trilogy that had started back in 2013, then this year's project marked the start of a new chapter altogether. Awash with gritty depictions of road life and living in the fast lane between temptations and commercial success, the most striking aspect of the record is his unapologetic authenticity, propped up by a star-studded track list to ready listeners for his debut album. Billy Ward
Read next: Potter Payper's 'Thanks For Waiting' mixtape is the beginning of a bold new chapter
7. Greentea Peng
MAN MADE
UMG
During some soul searching in Mexico, South London native Greentea Peng met her manager and moved back to the UK to pursue a solo music career. Her debut album 'MAN MADE' landed in a swirling psychedelic record sleeve and was recorded at 432Hz (instead of the industry standard which is 440) for it to better soothe its listener. Masterminds like Swindle, Mala and SAMO & KIKO are responsible for the enmeshment of dub, hip hop and jazz with executive production by Earbuds. Each track bleeds into one another seamlessly, lulling you into a stoned summer day with the sounds of South London passing by. Fittingly, she rode around London on an open top bus (The Seng Seng Mobile) with her band to promote the album and it lived up to everything we hoped for and more. Maisie Goulsbra
6. Dave
We're All Alone In This Together
Neighborhood
Dave must have had his work cut out when brainstorming ideas for the follow up to 2019's Mercury and Brit Award-winning debut album 'Psychodrama'. A project which took the country by storm and positioned the young rapper as one of the voices of a generation, for the last two years he has had the world's eyes on him anticipating what would come next. The answer was 'We're All Alone In This Together'. Perusing Afrobeats, R&B, drill, gospel, electronica and beyond, the sophomore record sees the Streatham-hailing wordsmith continue to tell his story with the same hard-hitting lyricism that has defined his earlier releases, blending social commentary with a more eclectic blend of musical influences than its predecessor. Complete with a world-class line up of features, including Stormzy, WizKid, Boj and more, this project saw Dave shed more layers than ever before, giving intimate accounts of his mother's struggles while showing new dimensions to his artistry. Billy Ward
5. Arlo Parks
Collapsed In Sunbeams
Transgressive Records
Taking its name from Zadie Smith's novel 'On Beauty', 'Collapsed In Sunbeams' – the debut album from West-London singer Arlo Parks, picked up the 2021 Hyundai Mercury Album of The Year Award. Its compelling poeticism offers listeners a glimpse into Parks' diary. A writer of prose is considered an outsider or an onlooker, but Parks makes music from the same viewpoint. Tender, introverted indie music meets with neo-soul and jazz for an honest depiction of mental health and sexual identity. In interviews, Parks often speaks about how she enjoys literature for descriptive content over plot, and this album is reflective of that – you could say it is wallflower music. And although you might expect grandeur and showiness from a top ten album, 'Collapsed In Sunbeams' delivers its message in the most appropriate way to its subject matter. Its refinement is a breath of fresh air. Maisie Goulsbra
Listen to our podcast with Arlo Parks.
4. Ghetts
Conflict Of Interest
Warner
A 'conflict of interest' arises when the duties or obligations of an organisation are compromised by simultaneous but opposing decision-making. In 2019 Ghetts signed a letter endorsing Jeremy Corbyn in the general election, with a call to end austerity. As a man who has served time in jail himself, Ghetts is pretty well qualified to comment on austerity and its effects. This is the first album Ghetts has released on a major label but the commitment he has given to music shows that he isn't in this game purely for monetary gain. Each of the album's tracks feels completely authentic – his flow, which was born out of being a grime MC, sits beside other guest vocalists giving 'Conflict of Interest' a far-reaching message, equally perceptive and retrospective. As a veteran in the scene who started out as a commentator, if that's what being an MC is, this project is emblematic of the undeniable transition Ghetts has had into becoming an artist. Maisie Goulsbra
Check out our interview with Ghetts about the album.
3. Joy Orbison
still slipping vol. 1
Hinge Finger (XL Recordings)
Considering that Joy Orbison's indelible influence on underground club culture in the UK has spanned for more than a decade, it was a surreal reminder when 'still slipping vol. 1' dropped earlier in the year that this was only the electronic stalwart's first full-length project. Infused with warped voice note samples from his parents, uncles, aunts, sister and cousins, the clubbing luminary draws upon his family ties to form the bedrock of what is one of the most touching dance records of 2021. "The second you just change the language to mixtape, no body cares" a woman mutters in the dying seconds of 'sparko'. Releasing this project as a mixtape instead of an album was an important factor for Orbison when creating the record, who places a lot of emphasis on collaboration and invites a number of guests such as Herron, James Massiah, Bathe, Edna, Léa Sen, Goya Gumbani and Tyson to weigh in on the creative process. Perhaps freed from the weight a label such as 'debut album' might've brought with it, twelve years after his first single launched, Joy Orbison has produced something superb. Billy Ward
2. PinkPatheress
to hell with it
Parlophone Records/Electra Records (Warner)
Breakout artist PinkPantheress' mixtape embodies an era of clothes recycling, DIY aesthetic and Y2K throwbacks. Arriving into the world of music in relative obscurity (because she wanted people to hear her music before they saw her), the public was surprised to find out that she is a Black woman of Kenyan descent when her identity was eventually revealed. 'to hell with it' is a collection of tracks that all come up under 3 minutes long, deliberately made that way to fit into Tik Tok's video limit. Blending jungle, garage and hyperpop – a sound she has coined "new nostalgic" – Pinkpantheress' debut record is one of the catchiest projects to be released all year and has shown the potential of harnessing social media to make DIY tracks a viral phenomenon. For someone who only began making music on Garageband a few short years ago, her impact this year has been as undeniable as it was unpredictable. Maisie Goulsbra
1. Little Simz
Sometimes I Might Be Introvert
AGE 101 MUSIC/AWAL (Sony)
She may have been underrated and under-appreciated for far too long since emerging onto the scene back in 2014, but there's no longer any doubt that Little Simz is one of the decade's most important British artists. Barely putting a foot wrong her whole career, it wasn't until the rapper's banner year in 2019, where a starring role in hit series Top Boy and the release of her brilliant 'Grey Area' record, meant that people could no longer turn a blind eye to the sensational talent we had on our hands.
Fast forward to 2021 and if anyone required a reminder of the north Londoner's timelessness, you needn't look further than her latest musical statement, 'Sometimes I Might Be Introvert'. Splicing political commentary with inward-looking, soul-bearing memoirs, the 19-track project balances out the braggadocio pen-game we've come to love from the rapper with a more vulnerable and self-reflective side of her craft. The album's lyrics tell a clear and cohesive story of poverty, government failures, love and loss, grappling as much with her own mind as she is with the society that surrounds her.
Perhaps one of the album's most remarkable accomplishments is Simz's desire to experiment with ambitious sounds and genre-blending production techniques, making for a record that packs just as much punch when performed live – something not all rap albums are able to achieve. Awash with grandiose strings, percussion and choruses, Simz's intones are elevated by an orchestra which helps make her words sound even more vital.
If 'Grey Area' saw the north Londoner come into her own as an MC, then 'Sometimes I Might Be Introvert' is Little Simz's enduring artistic stamp, developing her sound to be more expansive, cinematic and unique than ever before. Billy Ward
Read next: The 25 Best Albums of 2020
Be sure to check out our 25 Best Albums of 2021 Spotify playlist below to find all of our favourite records from the year in one place. Also listen to our DMY Artists: Releases playlist to hear the music we've been putting out over the last 12 months.