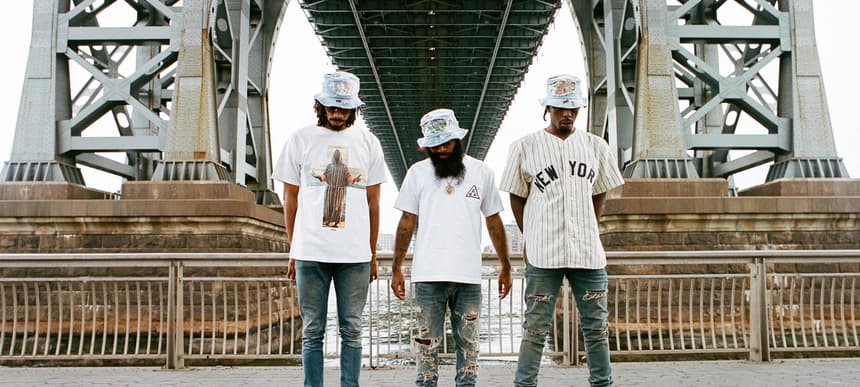 05.04.2016, Words by dummymag
The 7 things that inspired Flatbush Zombies' debut '3001: A Laced Odyssey'
Flatbush Zombies are one of rap's hardest working outfits. Explosive live shows, a top-tier catalogue of mixtapes, EPs, and one-off feature spots, and – most importantly – they've just dropped the album that overexcited moshpit chasers have spent the best part of six years being thirsty for. Their debut full-length '3001: A Laced Odyssey', which came out March 11th on indie imprint, The Glorious Dead Records.
Finally delivering on all the promise of their earlier releases, the album is a total home-run. Acid-laced productions, tripped-out lyrical imagery and the same sense of Brooklyn youthfulness that they exuded from the jump all burning in this one record. Since day one with the Zombies, working out precisely what they are getting at can be a tricky task. It's hard to tell what is autobiographical and what is just a musing from an LSD existentialist joyride. We thought we'd dive into the abyss and try to decrypt a little bit more about the life of the Zombies, so here are some of the inspirations that built the record.
NSFW…well, you'll see.
Rock Music
Erick 'The Architect' Elliot: "Gorillaz were a huge influence on me for this album— I'm a huge fan of their music and I think I naturally produce records with their sound in mind sometimes. A lot of heavy synth leads, interesting time signatures and styles, and an overall cool vibe. I was listening to a lot of System of a Down for inspiration as well— they were an immediate go-to while searching for interesting melodies and drum beats. To note some other bands I was listening to: Korn, Pink Floyd, The Beatles. I didn't want to rely on samples for our album so I listened to a bunch of music to lay out my original ideas, and thought of my melody as a sample itself. I never looked at any of our music this way before. Everything from Lee Moses to Brian Eno to Miles Davis."
Meech: "Led Zeppelin also inspired me on the rock side."
Films
Erick 'The Architect' Elliot: "Obviously 2001: A Space Odyssey was one of the main influences for '3001: A Laced Odyssey'. I was trying to dabble in more of this weird, sci-fi world of Eraserhead, DOOM, and random old cult classics that were ahead of their time…because we are ahead of our time."
Sobriety
Meech: "I was inspired by my slight sobriety binge. I really wanted to prove to myself that I could still be useful without being high out of my mind."
Vagina
Meech: "Panty pie."
Battle Rap
Juice: "Watching a bunch of battle raps randomly throughout making this album was pretty inspiring. The way they create stories with their words are fucking amazing. They do it live on stage in front of a crowd. It takes true talent to do that."
Classic Hip Hop Albums
Erick 'The Architect' Elliot: "I went back and listened to some of my favorite hip hop classics – Jadakiss' 'Kiss Tha Game Goodbye', "Notorious B.I.G's 'Ready to Die', Fugees' 'The Score', and Outkast's 'Southernplayalisticadillacmuzik', to name a few."
Illustrators
Erick 'The Architect' Elliot: "Jamie Hewlett, illustrator of the Gorillaz, was also a big influence on the way I was portrayed on the cover of our album. There's a character from a magazine he draws called, "Tank Girl" and I wanted to somewhat be depicted with the same kind of raw, "in the trenches", standing-on-top-of-a-tank attitude!"
'3001: A Laced Odyssey' is out now on Glorious Dead Recordings (buy / stream).