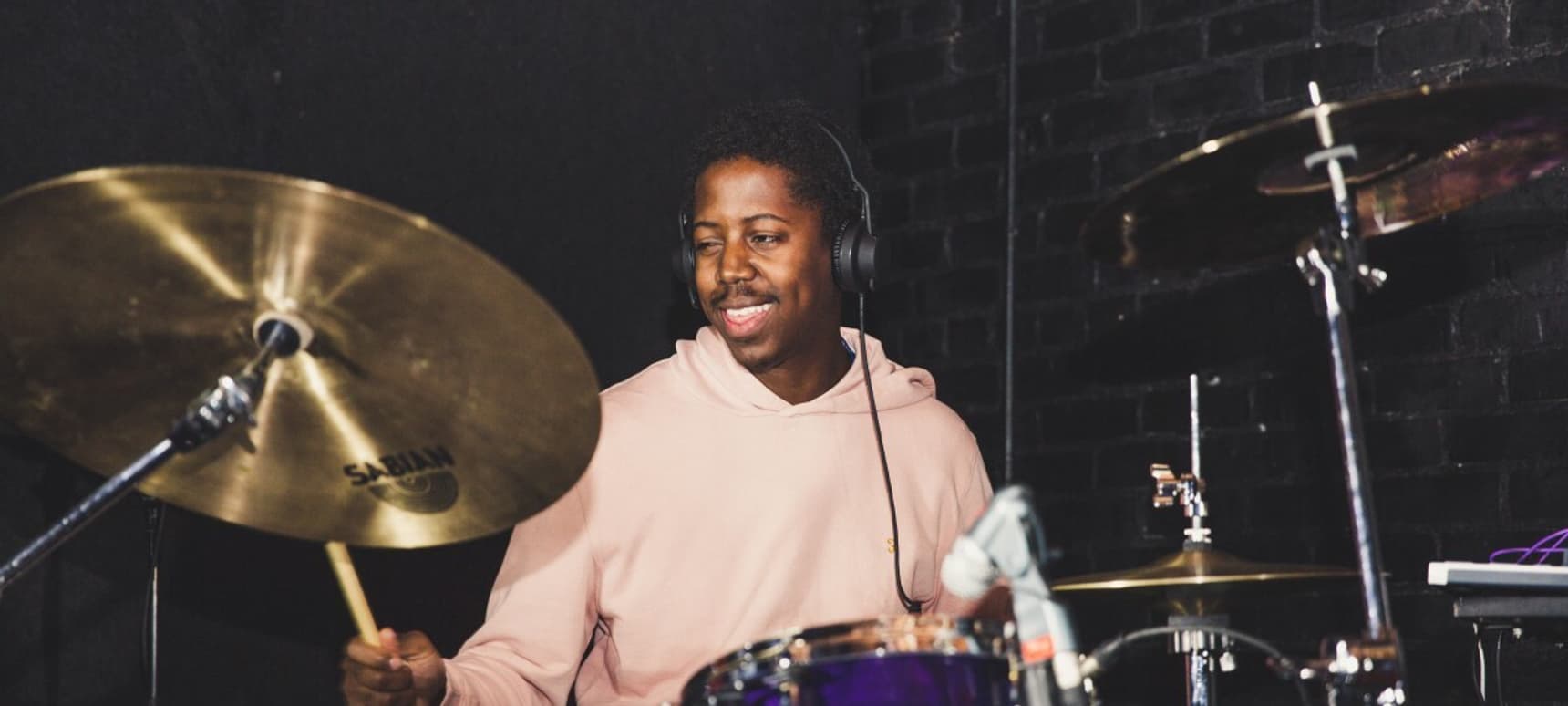 04.04.2018, Words by Nicola Davies
The art of jazz: A conversation with Moses Boyd
Moses Boyd's trajectory is an unlikely one. Growing up in Catford, south London listening to grime and going to a 'bad school', he has become one of the most sought after jazz musicians in the UK. Learning to drum at school, he quickly took an interest in jazz, and made it his business to become an expert. Having learnt for half of his 26 years (which he considers to "not be a long time") he has become successful in his own right as a solo performer, Solo X, leading his group The Exodus, playing as one half of the duo Binker and Moses and releasing music on his own label, Exodus Records. Not a bad track record for someone who's "only" been playing for thirteen years.
The Jazz re:freshed Outernational and British Underground showcase at this year's SXSW featured the best of new wave jazz from the UK, including Ezra Collective, Nubya Garcia and Blue Lab Beats. The organizers are committed to bringing the UK variant of the genre to global audiences, as 'Jazz re:freshed' co-founder Justin McKenzie comments: "In the UK, jazz music is undergoing a revolution – where the culture and the music reflect the varying influences and times we are living in. Now is one of the most interesting and creative times for jazz globally and SXSW is a great platform to share the UK's modern perspective." At a time when other UK genres are catching the attention of international audiences, it's reassuring to see this is a larger trend.
Watching Moses open the showcase was a powerful moment. Drums are a resonant instrument, but when someone like Moses is in control, it seems perfectly organized and spontaneous at the same time. He started strictly on drums, before moving onto playing tracks from his EP Absolute Zero (released in August 2017) where he uses a machine with a number of wires sticking out to incorporate electronic elements he can't physically recreate on stage. It's a masterful mash-up, and one which the audience was astounded by, especially when you consider it's all coming from one person.
Catching up with a very calm Moses before his set, we unpacked his sound, how he got into jazz in the first place, and why his breakout track, 'Rye Lane Shuffle', is more than the sum of its parts.
This is a jazz showcase, and you are a jazz musician, but is it normative jazz?
I play jazz but I play a lot of stuff as well. I didn't start playing jazz and I won't end just playing jazz. But it's part of the spectrum for Moses Boyd, that's the best way I can say it.
How would you describe your sound? Or maybe a better question is, how would you like other people to describe your sound?
I think it's always 'searching', that's for me. I don't like to do the same thing twice. So, whatever it is, I'm always trying to push myself because I do music for me first. So even if it's within a jazz context I'm always trying to do something that's slightly off the beaten track to some people. But it's always me trying to challenge myself creatively to keep myself excited for music. I don't know how you describe it in a sound but 'searching.' That's the best way I can say it.
I think I'm safe in saying that jazz drums aren't that common. How did you end up playing in that style?
Back then before the Tories got in and Labour had some money to spend, there was funding. So I had free lessons at school, which was amazing. The drum teacher, although I didn't appreciate it the time, was a great jazz drummer. He played with Barbara Streisand, Ella Fitzgerald, a lot of the legends. He was kind of semi-retired so he'd come in a couple of days a week and teach kids drums. But he would always give me jazz exercises and stuff to check. I absorbed it, I loved it, but I didn't really have a place to put it contextually because I was listening to grime, like Wiley and Dizzee. But then I'm studying drums, really trying to get into this thing, so it was weird at the time. I was this person getting into jazz, Max Roads and Duke Ellington, but also going along with what's happening. It's a bit mystical even to me because there's a lot of factors that were playing against me; I was in a bad school, nobody my age was really into jazz.
So you were playing jazz-influenced drums, but then also listening to it and working more with it as a genre. How did you deepen your overall knowledge beyond just playing the drums?
I think it was that searching thing. My parents are quite eclectic with music and just life, but I never had jazz music in the house growing up. So, for me, it was kind of like my thing. I'm one of six kids, I share everything, and it was the one thing I didn't have to share. Maybe that's what it was. So I think, while I was doing lessons and [my teacher] was feeding me the stuff, I didn't really see it as something weird. It was something I'd never heard of and I'm really interested in. I just started buying CDs and going to HMV and Zavvi, when they existed. I'd literally just walk in the jazz section and be like, 'That looks like a good cover. I'll pick that.' Before you know it you start to connect a lot of dots because musicians play with so many other musicians, and there's a lot of crossover.
I'd get a Branford Marsalis record and I'd see he's on a Sting record, and I'm like, "This is really interesting." Then I'd get a John Coltrane record and see he's on a Miles Davis record, and then you really get into the family tree and the history. That's kind of what sparked it really, and before you know it, you're fully addicted. Within three, four years, I'm trying to listen to the whole history. Because for me it was like, "How can I be a better musician?" In these records I heard that there was information I needed to make me a better musician. Although I did love it as well, I understood and could feel the importance of, 'There's something that I haven't got as a player that is here on this wax or on this CD that I need to absorb.' That's how I approached it for a couple of years. Still do, but now it's a bit more broad. Now I'm into other things, I listen to Bird songs for an hour…or half an hour!
A very interesting journey. For all of that work, you've won two MOBOs! Congratulations, that's amazing. You just recently won the second one, were they both for Best Jazz?
Both for Best Jazz. One was with an act I do called Binker and Moses, and then the most recent one was just me.
Growing up with the MOBOs, did you ever think you would be winning one?
Never, never, never, never, never. My mum and dad are more happy than I am! I remember watching the MOBOs and seeing So Solid and so on, and because of my initials as well, Moses Boyd.
You're literally Mo Bo! I didn't even realize that.
I still need pick up the second one actually. You reminded me.
They should send it to you! Do The Brit Awards have a jazz category?
No, they don't actually. That's interesting.
In terms of performing, you have a band, The Exodus, and you have Solo Exodus, is that more inspired by grime as well as jazz?
I mean they both kind of cross over. The Exodus is my band: Theon Cross on tuba, I have a guitar player, Artie Zaitz, on trombone is Nathaniel Cross, Tenor Saxophone is Binker Golding and me. It's all my music. It's a lot more stereotypical, it's not a tuba playing bass. It's more a band, it's my compositions, my music but it's very acoustic. I give them all the parts to play and they interpret, so to speak. It's still all my own music, but obviously it's only me on stage so I'm like, 'How do I carry this?' It's trying to be free to improvise but also within a certain structure and a concept. I'm into Aphex, I'm massively into Squarepusher and all that. But then I'm also into Max Roach and the great jazz drummers. I was like, 'How can I fuse these two sounds well?' I take samples and stuff from music I've created, whether it's on a laptop or in the studio and I feed it back into these machines, so I can either just play it or I can improvise and make something new on the spot. Or I can just be doing drums or create grooves and loops. That's the kind of vibe.
'Rye Lane Shuffle' is your big, breakthrough record. Tell me about the significance of that.
That's crazy. It's a tune I had written when I was about 17. There's no overnight success. That was a period when all of us were really honing our craft. Myself, Nubya Garcia, Shirley, Nathaniel – a lot of the people I play with who are doing great things now. I'm from Catford, South East London, and there used to be a workshop in Camden, and I used to get the bus every Sunday with those guys from one end of London to the other. I'd used to go to the Roundhouse workshop on Sunday, and it was that period when I was checking out music, and trying to write my own stuff with those guys playing it. I'd written it back then but never really had a home for it. Fast forward a couple years and I apply for a grant from PRS, the Steve Reid Fund and I was mentored, fortunately by Four Tet and Floating Points, and got some money to go into the studio, and it was just before the time of the jazz boom. I was like, 'Let me record something,' and then I was like, 'Ah I've got this tune.' To me, it was an old tune but let me just record it anyway.
A lot of the guys who are now doing stuff are on the track, so to me it's almost beyond my control how significant it is. I didn't realize it had this effect. I just recorded it and was like, 'Okay, that's another one of my tunes, nothing special.' Then I remember handing it to Floating Points and Four Tet. I'd recorded 10 tracks and they were like, 'What's that one?' I hadn't even given it a name at that point, it was like C-Tune because it was in C-minor. They were like, 'What's this tune?' I was like, 'Oh yeah, that's cool but what about the other ones?' He's like 'no no no no, this one.' Before I knew it man, Sam had pressed up a dubplate, he was playing it at Deviation, I had DJs all over the world in my DMs. That kind of kickstarted me having to set up a label and all of that, and the rest is history.
That's amazing.
It's called 'Rye Lane' because it was during that period when I was on the 171 bus going from Catford to Roundhouse. Rye Lane's in Peckham and that's kind of the middle of the journey, and it would always change driver, and I'd always be on the top watching life go by. Rye Lane back then was a lot more colourful. You'd see people running to church, people running out of the club, buying food. It was a very fun place on Sundays. I just remember for me, the influence of that music, it was like afrobeats, kind of grime, kind of jazz. And I was like, 'You know what? This is where I was at that time and that's what I attribute to that area.'
Talking about grime and jazz, you grew up listening to Wiley and Dizzee, and I'm sure you still listen to grime artists and other UK acts now. Do you get many grime fans finding your music and crossing over?
A few, more so with this last EP, Absolute Zero, which is slightly more electronic. But to me it's still kind of jazzy in a way. I get surprises from all over, man. I mean I was here yesterday in Texas and some dude just stopped me and was like, 'oh you're Moses!' But I don't know, it's hard, I think you'd have to ask a lot of the Grime kids. Spotify has changed the game for who's listening to my music. I think so, but maybe more could be cool!
Who are you listening to right now in the UK music scene, aside from jazz?
I've always been into Trim and his last album 1-800-DINOSAUR is amazing. A lot of the new guys, like Dave, and lots of Stormzy, Little Simz, Not3s, Novelist.
I don't know much about the differences between UK and US jazz, I'm assuming there are quite a few?
Yes and no. The UK's interesting man, and America's a very different place. I think the UK is special, and particularly London, because it's a very integrated community. Whereas I think America isn't the same. It's a beautiful place in some areas but it's very divided, for obvious reasons. You think of all the soundsystem cultures that have come from Jamaica, and what's been born in the UK. You've got jungle, grime, lover's rock, garage, dubstep. You know what I mean? It's very unique. Whereas I find that America's good at creating things and then keeping it. But London's constantly just innovating, so when you listen to UK jazz, it's hard to put your finger on it. If you listen to Nubya Garcia, it's like, 'Oh it's got its influence from there' but then it's also got this or myself or whoever. People like Soweto Kinch, he's taking things from A Tribe Called Quest but also things from Soul II Soul, as well as Wynton Marsalis and Aphex Twin. I find it's a lot more diverse and a lot more colourful.
Follow Dummy's curated playlists on Spotify.