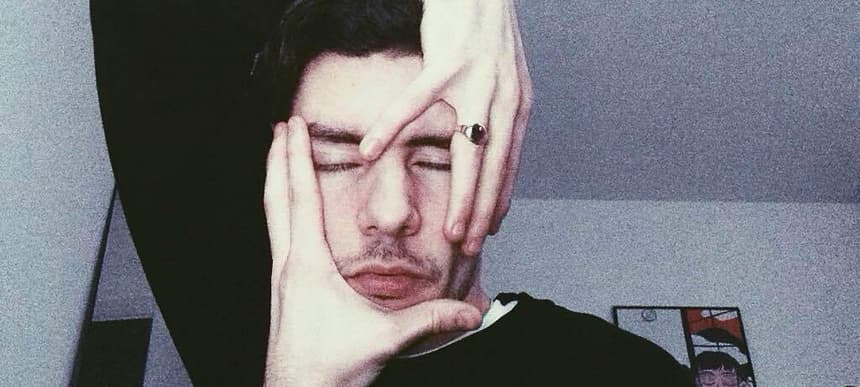 24.02.2015, Words by dummymag
Tropics interview: "Quite emotional but quite lonely."
After a severe blunder with Google Maps, I find Tropics sat with a beer in his hand at a bar in East London. Laidback and softly spoken, he's taking time out from a collaboration at a nearby studio to talk to me about his new album, 'Rapture'.
'Rapture' expels the thick, kaleidoscopic layers that held together debut album 'Parodia Flare'. This time around, there's no shoegazey textures and dreamy ambience, and there's a lot less sampling. It's a test for him, really, and the album sees Tropics – real name Chris Ward – leave his comfort zone and introduce listeners to more exposed, vulnerable melodies.
Ward explains how with 'Rapture' he found himself more inspired by organic ways of working, taking a DIY approach with instruments and experimentation and avoiding the 808 drum patterns and hooks that have become overly familiar over recent years. His stark, gentle vocals takes the forefront on 'Rapture': it's captivating and emotional, and it leaves space to soak into soft, understated piano and subtle electronic rhythms. His voice catches you off-guard: modest, but powerful at the right moments. It's a striking contrast from his days uploading instrumental EPs, produced in his room at university, to Myspace.
This album has been coming up two years in the making…
Tropics: "Yeah, to get it out – I finished it last summer. It's better to wait 'til now to release, I think. I've always released stuff at the end of the year, in October, so it's really nice to be [releasing 'Rapture'] at the start of the year."
While you were stripping things back musically for 'Rapture', were you getting inspirations from other artists who are also very bare bones in their approach?
Tropics: "Yeah. I like a lot of stuff like Caribou, Toro y Moi – they're the kind of head honchos. I took a lot of inspiration from people who use their voice but are producers as well. So I thought: why not give it more of a push, vocally? Unintentionally, that unbalanced a bit, and the album became more weighted on the vocals – everything became a bit stripped back to make room for them. What I did on my first album [and doing the EPs] was I basically tried to put everything in – so there's no breaks, no silence, there's no anything. Here, I thought it would be better to put the voice at the front and let it take centre stage."
Was it a challenge for you to strip it back?
Tropics: "Nah, it happened quite naturally. I just haven't touched samples for a while. Between the last album and now, I did two EPs that were just kind of voice, chords, and a drumbeat – quite back to basics. That kind of paved the way for this a little bit. I'd spent the last couple of years playing around with music and moving away from sampling – although there are still a few little samples on there that are used quite subtly in the background for texture. I think I'll definitely go back to that – I'm more of a producer at heart than anything, and most producers love to sample stuff."
What were the other influences while making this album?
Tropics: "I was listening to Daughter for a while, and liked what she did with her voice and how delicate it was. Also Rhye, when 'Woman' came out. I worked with Robin Hannibal, who produced that album – I went to LA and worked with him a little bit.
"I do like jazz music and how they use drums, like on the Taylor McFerrin album, 'Early Riser'. I'm a massive Flying Lotus fan and the way that he samples drums is how I started sampling drums when I was making the album. I thought, 'Why don't I get in the studio and record this?' The studio came to my availblity with a drum kit in it – luckily, a friend of mine's a really good jazz drummer – and then for most of the album we thought, 'Let's just record this ourselves.' That's a new step that I've taken with this record: being able to record things properly on my own.
"There've been influences and obsessions over the last few years that have taken me in a new direction. Things that make me want to make things a bit more psychedelic and a bit more lo-fi again. At the moment, I really love Melody's Echo Chamber – I can't get enough of that band; makes me think, 'Fuck, I should be using lo-fi textures again, keeping things warm!' It's weird how it sculpts your direction."
"That's a new step that I've taken with this record: being able to record things properly on my own." – Tropics
For an album like this, did you focus on the themes and lyrics first? Or work on the sound then let the music dictate the emotion for each song?
Tropics: "It's quite different to what I've done before, because a lot of the time I'd start off with a piano and lyrics, just to make sure there's that structure there first, and then I'd build things under and around it. As I was building it, as the whole song was written and the vocals were recorded, I didn't want to go overboard on the textures so that that vocal and that kind of running theme would be lost, or maybe a bit too in the background, or a bit too gentle.
"You could call it [being a] multi-instrumentalist, but I just kind of dabble with stuff. I'm not the greatest pianist – with everything I'd started [in the past], I'd started with the laptop. I've learnt a lot more about how to play the piano, and I thought that'd be a better way to write lyric-based songs. That was my approach – vocals, piano, a bit of paper and a pen. Get that idea down, take it to the laptop and production software, and build everything under it."
How has your confidence grown from being a 'bedroom producer,' without including vocals on tracks initially, to bringing out a very vocal, very stripped back album?
Tropics: "I'm not really sure it built through a confidence – more through a frustration at not being able to do those things before. I didn't know how to sing, and I didn't know how to write songs – I just knew how to produce music in my bedroom. But I felt like that wasn't going to get me as far, or put me in the direction that I wanted.
"I'd never played live music! I never spent my teens going on stages and playing to friends in pubs or bars and stuff. I spent it in my room just producing tracks. But I was like 'Fuck, I'd like how to learn to do this', because I do like going to shows and I do like seeing full bands."
Taking it to the next level…
Tropics: "Yeah. I can never tell what's going to happen. I might get bored of doing that, then make an album that's just samples and guitar again! I like to introduce people who like a certain type of music to a new genre – maybe in the way that I've used the Rhodes piano or drums, something jazzy, or a hook that's a bit R&B. There's a track on the album called House of Leaves that I made most recently – but that's like what I was making two or three years ago. So it's introducing people to these really ambient textures – quite emotional but quite lonely and electronic-sounding."
"I'd never played live music! I never spent my teens going on stages and playing to friends in pubs or bars and stuff. I spent it in my room just producing tracks." – Tropics
All the music videos I've seen of yours have cinematography that reflects the flow and ambience of your tracks. What kind of creative control do you have for your videos?
Tropics: "That's one of my passions, being able to indulge in the visual side of it. I love films. I don't watch a whole lot of music videos, but I love movies, books, and stories in general. I make sure I get quite involved with the vision of what's going to go out as a music video."
Haven't you worked with Chris Toumazou a couple of times? He's a good friend of yours, right?
Tropics: "Yeah, we just did the Rapture video and Home & Consonance before that. He's really into gritty British realism; '90s-looking stuff. I was really taken by that at the time."
Is it true you recorded your first album in a walk-in closet at your house? Was that while you were living at your grandma's house in Southsea?
Tropics: "In the house I was living in when I recorded 'Parodia Flare', I had a small spare room next to my room. It wasn't a wardrobe or anything, just a room. I had two bedrooms basically, which was quite nice. Then I recorded the 'Home & Consonance' and 'Popup Cinema' EPs at my grandma's house. That's in Southsea. It had been empty for a few years and was in quite a shitty state – it was falling apart. Everyone in our family called it the Fight Club house. Then we finally got round to renovating it and it looked really nice! It was completely empty. It definitely felt isolating really when you're there. The kitchen was this empty room, but nicely refurbished. I set my studio up and recorded in there, too. It's a nice, peaceful area. I didn't have one friend I knew there at the time – but that was what I needed to get on with things and not be distracted."
I read in an interview somewhere that you find it very easy to visualize music, almost like synesthesia. Is this true?
Tropics: "I think that was just some bullshit spiel I wrote a dissertation on at uni when I was trying to work on my album! I had to study at the same time, but yeah, I remember reading about that stuff a while back. Some of it's quite cliché, but you see music in a lot of colours and stuff. I get inspired by that, too – I'll look at art and paintings, read something in a book, or go and be somewhere discovering weird new buildings and architecture. That can trigger a bit of a punch in the arm saying, 'You've got to do this kind of song now'."
Innovative Leisure released 'Rapture' on February 16th 2015 (buy).