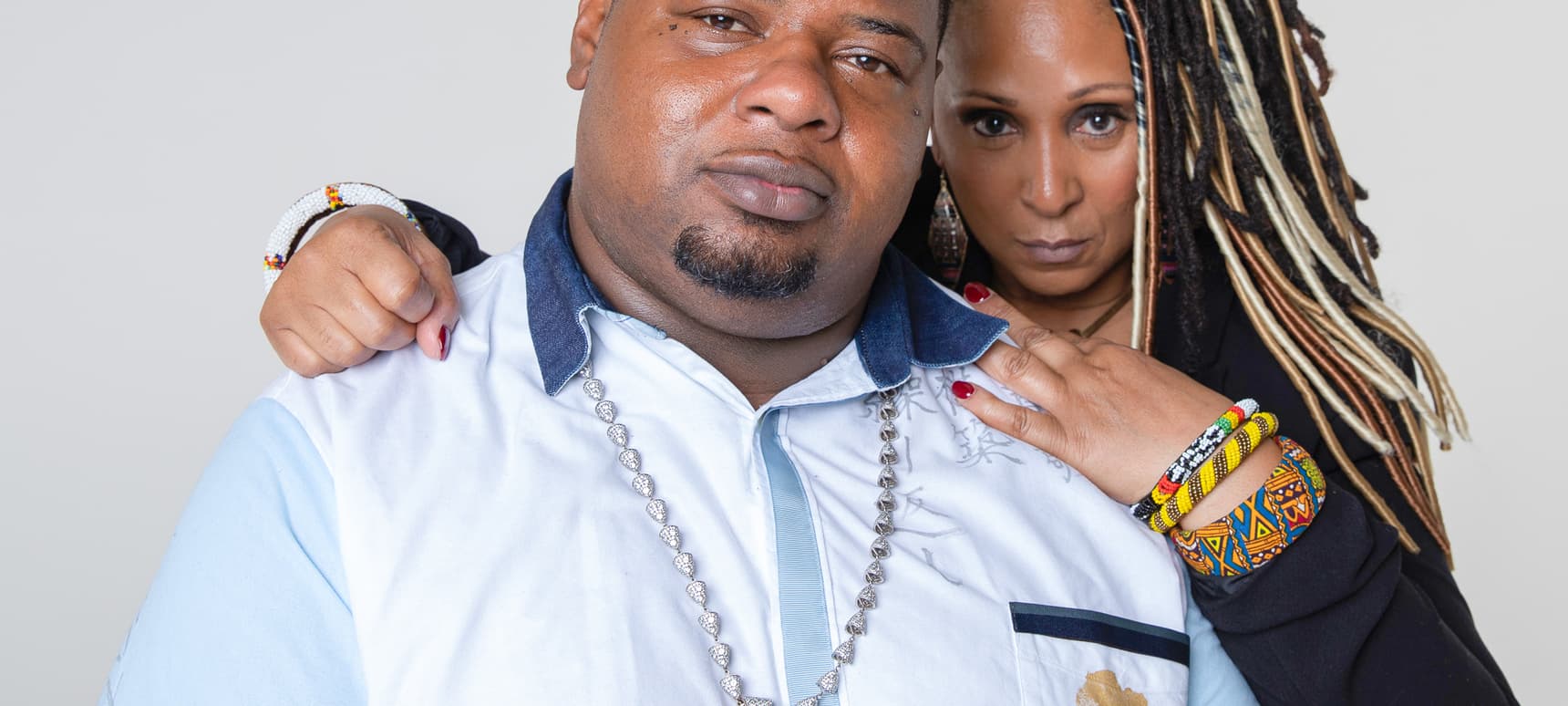 15.11.2021, Words by Maisie Goulsbra
"You'll need rubber gloves, shin pads, and anti-bacterial wipes": in conversation with Big Narstie
The British MC and TV Host discusses the return of The Big Narstie Show, Curry Wars, and collaborating with Snoop Dogg
MC, rapper, artist, comedian and television presenter – whatever Big Narstie turns his hand to, is comedy gold. Emerging as a grime MC and member of N Double A in the early 2000s, he's since become a national treasure, thanks in part to his popular talk show The Big Narstie Show that was first aired in 2018 on Channel 4.
He's collaborated on music with everyone from Craig David to Ed Sheeran, KURUPT FM, Donae'O and more recently, he released a version of British Reggae singer Kofi's 'Black Pride', which is the first instalment of an EP that's due for release in 2022 and will include a collaboration between Narstie and Snoop Dogg.
Well-known for his larger than life energy and witticism, Narstie is also a warm and approachable character for whom an interview is more of a listening experience made up of countless quote worthy remarks without much prompt – as was confirmed when Dummy caught up with him for a chat on the Friday afternoon of Guy Falkes, just before he headed off to pick up his son from nursery.
Tell us about your new single 'Black is My Colour (Black Pride)'?
Lovers rock is man's heritage. I refer to the Windrush Generation, my grandparents came from Jamaica to this country which gave me the opportunities for the life I've had. My age group and the age group before me were the ones who brought garage and dnb from house, oldskool, Jamaican Reggae revival and Lovers rock music.
The music industry is an international playground so I think it's very important to keep to your heritage and pay homage to your culture. For me to use a sample from a song from the sixties that my mum was listening to before I existed is a great nostalgic feeling. That's the best way to say it.
What music did you grow up on?
Shabba Ranks, Pinchers, Papa San. Merciliess, Garnett Silk, Sanchez, Beres Hammond. On a Saturday, family members coming back from Jamaica would bring a cassette with a Jamaican performance – Jamaican music is big into costumes so it was a lot like wrestling. If you liked where every person had a character had a costume or a character you would love bashment because ninja man might dress us as a full on ninja, next week he might dress up as a cowboy…
The performance aspect of Jamaican music has always been electrifying. That's why it fills so much in me. Growing up I always heard music at BBQ's that I would put down as timeless music, that was playing when I was ten and is still getting played now. These songs have managed to work their way through time and I've always wanted to have one of those underneath my belt.
Do you think 'Black is My Colour (Black Pride)' is timeless?
Yeah, 'cause it can stand side by side with the oldskool but it also has a new tone so it can be identified with our age group.
Do you remember hearing stories from your grandparents?
My grandma had fourteen children so it was very tough. England was a proper fascist country in them times, the Teddy Boys were really hardcore. Where I'm from in Brixton on Acre lane, there's a footbridge just off Ferdale Road and that used to separate the whites and Blacks. The part of Brixton now where Acre Lane is was where all the white people were in the fifties and sixties, and all the Black people were on the other side in Clapham North.
A lot has changed. We can't downplay time and history. We wake up this morning and are privileged to have 5G and extraordinary technology and information that wasn't available to the general masses then.
What can we expect from the rest of the EP that's coming out next year?
Me in music! If you like me, then you're gonna love the EP.
Let's talk about the Snoop collaboration…
Yeah I got a tune with Snoop, we're doing a video next year…
Did you meet in person?
No 'cause he couldn't get into the country and I couldn't get into America so we had to make a cyberlink on that one day.
I was going to ask if you got to reap the benefits of his personal zoot roller…?
I wouldn't be able to smoke it. I only smoke my own joints, it's a Rastafarian thing…
What was the inspiration behind the track?
It was before lockdown. It was just a buzzing day in the studio. Compliments to the ganj!
Why have you never been tempted to sign to a major label?
Freedom comes with a price. Over ten years ago, I started off as an artist on the label like Kevin Legend, Nathan Brown. Big them up, they changed my life. Ten years down the line, I held a third of the company, we owned the biggest Black entertainment company in Britain and all of that is just through the pure essence of being able to have freedom and back decisions I wanna back.
Music with longevity is music that carries an emotional feeling all the way through areas of life whether that be in 2062 or 2004 or 2021. The feeling from that music never changes and that's what I strive for. Sometimes it doesn't always get to a popular ear, sometimes you might have to go back to it to the archives on a spring cleaning day when you're cleaning your house and just be like 'rah I forgot this song, it fucking bangs'.
So you're more concerned with that the longevity of your music than popularity?
100%. I'm shocked that nine-year olds and ten-year olds have heard my song and like my music and know who I am.
It comes down to the oldskool words of evolve or be extinct… Music changed my life and gave me opportunities that I'd never have come by, ever. Music is not a quick sexual fling with a Wetherspoons. I will do it forever, I wanna roll my oxygen tank onto the last performance, proudly, and give it to 'em. Real talk. You have to have love for the craft of what you're doing.
Tell us about Curry Wars?
Curry Wars is coming very soon. We're just waiting for more contestants to represent their country in the war of the best curry.
In a nutshell, 10 countries, go into death games, and find out who has the best curry to get the trophy and get all that money. Curry money is strong money. Curry currency is a strong currency. A lot of people have put their kids through private schooling and all that through selling curry.
Which countries are involved so far?
You got Pakistan, Bangladesh, India, Sri Lanka, Jamaica, Trinidad. We want a Japanese curry, Thai curry, Chinese curry. Any nationality that's got curry that you think you want some of, let's fucking 'av' it.
Who is going to be the judge of it?
Me + 99 people, we're gonna have 100 at a sit down event, we sit down blindfolded 'cause a lot of people eat with their eyes. You'd be able to tell the difference between a Thai curry and a Chinese curry by eyesight, but you gotta use the most important senses and that's your palette of taste.
Have you got a favourite curry spot on London?
Boom. Straight up New Tings, Cool Breeze or Taste Di Spice. The curry goat is…!
Have you got a favourite collab?
Enter Shikari.
Because it's unexpected?
Yeah and outside of the box – out of my comfort zone.
Is there any collab that you wouldn't do or would like to do?
I'm quite open to working with musicians and people. It's not really the artist it's more about if we connect. I can't make music with people I don't like as a person. I don't like people in general, I prefer dogs! I believe the best music I've made and the best collaborations I've made is when there is a genuine vibe and when you connect with people. Doing songs over the internet becomes more of a competition of stealing fanbases than actually making a song like 'rah I like your version, or I like your verse – that oldskool stuff'. I'm a bit of a cave man like that.
Anything else you've been up to?
I've got a CBD recovery in Enfield called Muscle Base CBD Recovery Gym. People with bad injuries and stuff can use CBD, it's the first ever CBD steam room in the country.
Why did you decide to start this?
My Mum had a hip replacement, and it helps me a lot with my mixed martial arts training.
Series 4 of The Big Narstie show has already kicked off… what else can we expect?
It is going to be twisted, sick, and very cultured so you'll need rubber gloves, shin pads, and anti-bacterial wipes.
Watch the music video for 'Black is My Colour (Black Pride)' below or stream here.
Read next: "There is beauty in understanding our power": Lex Amor on the human condition and finding her purpose.