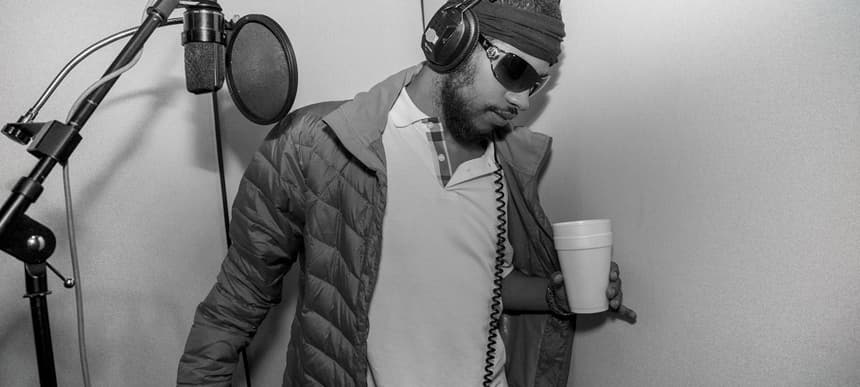 06.09.2013, Words by Aimee Cliff
Yung Gleesh interview: "Gotta do my own moves."
On a rainy Friday afternoon in Harlem, D.C. rapper Yung Gleesh meets me in a black Cadillac SUV driven by a large, intimidating chauffeur named Angel. The 23-year-old rapper wears a yellow polo, red North Face down jacket and the rolled-up black ski mask you can spot in most of his music videos or basically any picture of him ever. We comb the block for Backwoods and converse whenever he isn't taking phone calls or barking directions at Angel based on the New York topography he's memorized via Grand Theft Auto IV.
A genuinely unconcerned Gleesh appears in the recent visuals for Chief Keef's Citgo. While the rest of Keef's entourage stunts for the camera, Gleesh hangs back, scrolling through his mobile phone, unwittingly placing the spotlight on himself in doing so. This air of disregard sums up the rapper's modus operandi. Apart from retweeting any mention of the word "Gleesh," there's no real marketing ploy; he stumbled, rather, into critical acclaim when blog buzz surrounding last year's hookless phenomenon Skrong catapulted him to the national stage. He's just beginning to recognise the allure of his nonchalant charisma, and is perplexed when he learns of an internet rumour that he speaks some German. "I think I got a little bit of Ich Liebe Dich," he murmurs. "My father was in the army, and I was always with him. For a whole year I was out in Germany. I've been to France—I done ran down the Eiffel Tower. Been to Switzerland, Holland, Africa, Mexico." He says traveling at a young age gave him a keen ability to read different types of people. "A lot of niggas from where I grew up didn't get that advantage," he remarks. Like Fat Trel and his Slutty Boy gang, Yung Gleesh hails from the Northeast side of D.C., specifically 18th and Monroe.
"When I ain't got nothing and ain't nobody doing nothing for me, I'm shitbag shawty and I'm coming for your ass." – Yung Gleesh
By his late teens, Gleesh had already achieved local celebrity status playing percussion in the GoGo group TOB, which is commemorated by a tattoo on his right bicep. "Do you know how big that was? That was our Hollywood," he says. "If you was in the band, you was Jay-Z and them." In those days, Gleesh was known as Boogie, a more laid-back version of the self-described "shitbag" he later became. "With Boogie, I just smoked weed, minded my business, didn't say too much," he says. "After Boogie, I started hustling and making money. You would think Gleesh would be my most chill phase. No, that was my most ratchet, shitbag phase." He pulls down his ski mask so only his almond-shaped eyes are visible. "When I ain't got nothing and ain't nobody doing nothing for me, I'm shitbag shawty and I'm coming for your ass."
"Shitbag" is just one entry in the lexicon of Gleeshisms and D.C. slang that constitutes his zany, off-kilter verses. On "Skrong," from 2012's Cleansides Finest mixtape, he raps "Goodness Gleetchie, God damn it's geetchie" between anecdotes of selling crack, stealing your girl and (in true shitbag form) an audacious ad-lib about hijacking his instrumental. "Gleetchie is me, and geetchie is a state of being," he explains. "[If] we eating in a geetchie-ass restaurant that's not no KFC, we geetchie. Even if we eating at KFC cause we ain't had no money all week and we finally get to eat today, we geetchie. When I'm geetchie, I'm Gleetchie."
Last month, he released 'Ain't Shit Changed', a street album available on iTunes, and 1-8 Zone Shawty, an "all trap" mixtape of older material hosted by DJ Grady. "It's all the accumulated shit that I picked out; trap shit just so rugged, so hard, just old school Gleesh," he says of 1-8 Zone before playing a few tracks at a midtown studio. Same Size as a Book Bag is harsh yet goofy; replete with one-liners like "Scale so big it could weigh Fat Trel" and menacing, atonal piano chords. N Da Utt features his signature spit-gargling, mumble-mouthed flow atop sparse, skittering drums.
"[Gucci Mane] walked up to me and was like, Gleetchie! I thought he was saying Jeezy at first. I was like, I hope this man don't think I'm with Young Jeezy, [but] he already knew about me. I was like, 'damn, how does my favourite rapper know about me?'" – Yung Gleesh
'Ain't Shit Changed' showcases a different side of Gleesh toying with auto-tune and ditching the pen in favor of freestyling after studio sessions with Gucci Mane, Young Thug and PeeWee Longway in Atlanta at the top of 2013. The album's two lead singles place a fairly uncomfortable emphasis on his dick. Produced by Zaytoven, his charmingly slurry anti-turnup anthem Lazyness boasts giving a girl "lazy dick." On the spastic and screwy Hard, he croaks "The brick get hard, my dick get hard," rhyming "hard" with "hard" about a million more times. "I realised that the other day," he laughs. "I was like, 'you know what, why do I say dick in the hook?' It's the hook, too, so you gotta hear it the whole song." It seems to be yet another result of hanging with Gucci. "He's in the strip club every night stuntin' like he gettin' all the bitches," he says. "I'm in there, they ain't bitin'. That's probably when I made Hard. And Lazyness? I just gave her the lazy dick."
Gleesh cites Gucci's early work as the reason he started rapping, and was shocked to discover that the respect was mutual. "He came to my city and had a show," he remembers. "He walked up to me was like, Gleetchie, Gleetchie. I thought he was saying Jeezy at first. I was like, I hope this man don't think I'm with Young Jeezy, [but] he already knew about me. I was like, 'damn, how does my favourite rapper know about me?'"
In addition to Gucci, Gleesh's instinctive style and kooky verses have earned several comparisons to Lil B. Though he posted a turbulent Gleesh Mix of Like a Martian on YouTube in 2011, the rapper hesitates to draw a parallel. "People fuck with me, like sneaker-heads and the Based world fuck with me," he observes. "But I don't know anything about that man. He's in his own lane doing his own thing." This is, perhaps, precisely where the connection lies. Gleesh drifts easily between the Slutty Boyz and GBE, firmly aligning himself with no one in particular. His only allegiance is to an unflinching, often humorous representation of a shitbag lifestyle. "Gotta do my own moves," he says. "Everything Gleesh."