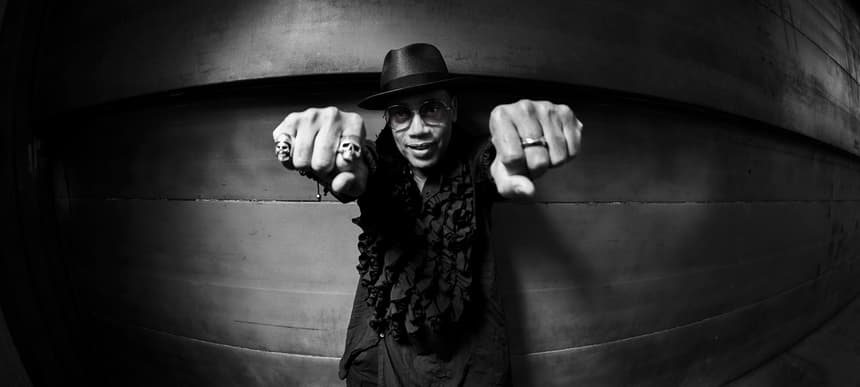 17.07.2023, Words by Billy Ward
DMY Mix 007 | Carl Craig
"The mix features my new C2 2023 mix of 'From Beyond,' originally composed in 1989..."
The term "legend" is thrown around a lot these days - but it's exactly how Carl Craig should be described. A second generation Detroit techno icon largely responsible for exporting the genre around the globe and connecting it to the worlds of high-art and culture, Craig has been at the forefront of music and culture for three decades and counting. 
Out now via his storied Planet E Communications label, Carl has revisited a timeless track from his early 90s Psyche alias, 'From Beyond', which offers a window into the simplistic production that helped define the early Afro-futuristic visions of Detroit techno. A seminal track in every sense of the word, it's rumoured that Craig created the track on the exact same Alesis controlled midi-808 used by Marvin Gaye on 'Sexual Healing'.  
To celebrate the 2023 edition of 'From Beyond' (available to stream here), Carl has teamed up with Ernie Guerra of Planet E to helm the latest DMY mix. 
"This mix was prepared by Erno (Ernie Guerra from Planet E), he chose a bunch of tracks he has heard me play throughout the years of traveling with me and a few others from his collection," says Carl. "The mix features my new C2 2023 mix of 'From Beyond,' originally composed in 1989. It was daunting to revisit 'From Beyond' because I wanted to make a mix that was better than the original. When I wrote 'From Beyond,' I was 20 years old and it was my first time in Europe, so I was excited. It was also a time when I used to compose many pieces per day, which now in all my wisdom and maturity, I take more time to compose with perfection in mind." 
He adds: "My new mix is a remix in the traditional sense, compared to what I do when I'm hired to remix. I'm happy to have revisited the original of 'From Beyond,' which gave me a chance to re-evaluate what I had done in 1989 versus how I do things now in 2023."
DJ Minx - Dance All Night (C2 Mix)
Clavelito (Original Mix)
tINI - The Authentic Blach (Mr G's Blue Moon Dub Remix)
tINI - Hat Baxx feat. Joe Le Groove (Original Mix)
Moodymann - J.A.N
Gene Farris - Along Came The Spider
Gary Beck - Say What (Adam Beyer Remix)
Psyche - From Beyond (C2 Mix)
Javonntte - Quantom
Terrence Parker - Your Love
Andres - New for U
Nicky Night Time, Dangerous Dan & Rhonda INTL. - A History (feat. Julian Mitchell)
Feel The Music (Original Mix)
Powerdance - Fantasy Light (House Version)
Mark Flash - Dark Symphony
Doomwork - Independence (Original Mix)
Patrick Topping - Watch What Ya Doing (Original Mix)
Concubine - Apocalypse Disco