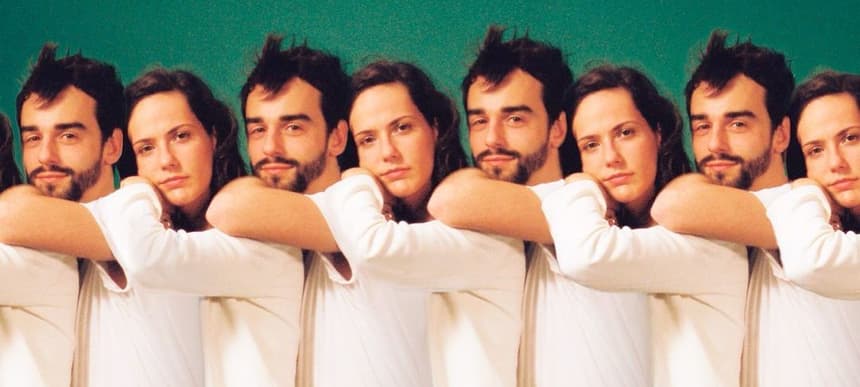 26.08.2021, Words by Maisie Goulsbra
Evergreen journey to a 'Lone Planet' inhabited by a sad robot
"It's about that feeling of utter loneliness that you keep hidden beneath the social mask."
French electronic pop duo Evergreen just released their new single, 'Lone Planet', from their forthcoming EP 'Sign In'. 'Lone Planet' is a languid tale of breakups, frustration, self-doubt and above all, loneliness; "It's about addictions, including social networks, platforms, and screens. We've been left with screens too long, sometimes it feels like we're closer to them than we are to the people we care about," explain Evergreen. The new EP will include some of their most vulnerable music to date.
With their new material, Evergreen have shed their native Paris, swapped their French for English lyrics and merged from three members to two. Third member William Serfass followed a different direction to pursue a solo project, leaving Michael Liot and Fabienne Débarre to man the decks. Michael and Fabienne met while studying literature in Paris and have refined their style ever since by crafting a uniqueness from folk, synth-pop, and indie.
The 'Sign In' EP began in Margate in 2019, developed in a series of emails, WhatsApp messages, Zoom meetings and WeTransfer files and even the occasional Eurostar trip. The EP was finally completed in a thrown together 'studio' beneath a bakery in Paris during interminable lockdowns of the past year.
'Lone Planet' is a track with bittersweet synths and a neat blend of hip-hop, 90s Parisian electronica, R&B and global funk – the product of Anglo-French pop and something they have coined a 'wallflower anthem'.
"We wrote this song with sad robots in mind, and somehow it ended up sounding like an 80s synthpop jam." Michael Liot explains, "It conjures up a party scene: as you try to blend into the background, you hear a voice coming from inside your chest. As you open it up, you find a tiny person on a tiny planet circling around inside you, asking you to join them. It's about that feeling of utter loneliness that you keep hidden beneath the social mask."
'Sign In' is out on the 15th October. 'Lone Planet' is out now on Moshi Moshi via DMY.
Listen below or via your preferred streaming service here.
For more of the best new music find Dummy on Spotify and follow Next Hype: The Best New Music.