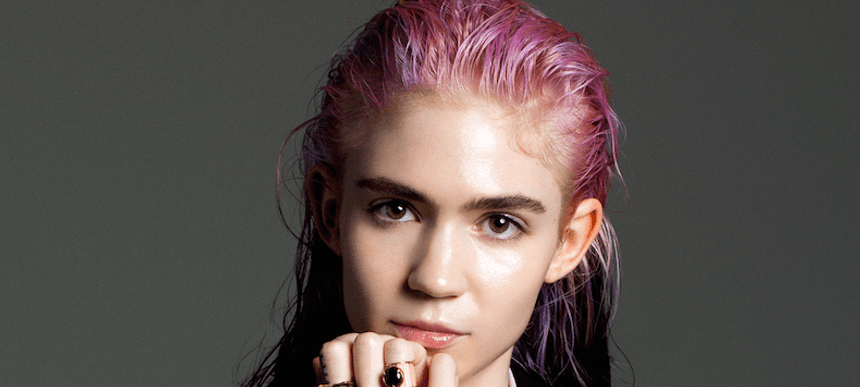 21.08.2010, Words by Ruth Saxelby
"So many worlds": Grimes interviewed
"Not knowing how to play music is my greatest asset"
'Geidi Primes', Claire Boucher's debut LP as Grimes (originally a limited release on Montreal label Arbutus, now available as a free download from her myspace), is eleven tracks of looping, ethereal sample-pop, and although it's so creaky in places that its press release is compelled to disclaim her "lack of musical training," it also has the uncanny hooks of the first albums of careers that blossom way out; enough of a glimpse at germination to know. We sat down by the railroad tracks in Outremont, Montreal and talked about her career. It was overcast and everything had a hazy glow.
Grimes grew out of a fairly typical late-noughties series of events – a progression from hearing Panda Bear's 'Person Pitch' to learning how to make loops on GarageBand. Although she acknowledges the lack of training as mostly accurate, it's worth noting that almost all of the samples are of her "trying to play" instruments – MIDI keyboard, violin, guitar, ukulele. Still, Boucher favours impressionism over technicality. "Not knowing how to play music is my greatest asset," she says. "I try to imitate things, and then I fail horribly, and then it's just… something different." Possibly as a result of this, our conversation tends toward the cloud of ideas and experiences surrounding her music.
Boucher recounts that, even with the GarageBand looping sessions underway, she needed a visceral impetus to kickstart the project: "It all started because one day my friend and I did lots of speed, and then we were making music together, and then I guess he stopped being on speed but I was still on speed like all night so then I just went into my room and I made the song number three on the album – I forget what it's called, and then I was like wow, this song's so much better than anything I've ever made, and then I think I made song number two that night too, and then I made all the [other] songs probably within a month and a half. It made me lose inhibitions about singing and being weird." This sort of reality-check-via-unreality makes a lot of sense in the context of her tracks, situated between heartbreaking reality and a very personalised dreamworld.
In this sensibility you can hear shades of Kate Bush and Cocteau Twins, music that has a lot to do with obscured vocals that only dip into intelligibility when there's some profound cryptic mantra to cling to. Although she singles out Joanna Newsom and Sean Nicholas Savage as appealing lyricists, Boucher is generally irked by the notion of writing her own words: "Usually when bands have lyrics, they're so much less than the music. I don't like music to feel too literal…I like music that I can't understand…mostly in other languages." She simply sings whatever comes into her head, loosely swelling with the rest of the song. "I like the idea that the story…you can think it up yourself," she says.
'Geidi Primes' is heavy with references to Frank Herbert's Dune, which, along with Lord of the Rings and The Legend of Zelda: Ocarina of Time, Boucher claims as a primary aesthetic influence. "I love escapism, and I feel like those books are ultimate examples of escapism," she explains. "Frank Herbert and J.R.R. Tolkein made whole religions and whole languages, and so many worlds… Dune is so complete." It's unsurprising, then, that her goals are similarly ambitious. "I want to make a tome – access every genre of music, and also create new genres with them. I want to have like thirty albums," she says. "I want to make something really important and intense."
On the heels of 'Geidi Primes', this kind of statement may seem a bit audacious. Boucher doesn't outright disown her debut, but she does claim she was "holding back…I was trying to be too… accessible or something…I had to do 'Geidi Primes' because I had to like, spew out what was obvious. It had to be done before I could actually start making and learning." With a hint of sarcasm, she rolls her eyes and adds, "I [had] just broke up with my boyfriend."
If her debut was founded on "juvenile" concerns, its sprawling follow-up 'Halfaxa' feels like the agoraphobia of the rest of life, a cavernous landscape of bassy 4AD surrealism and industrial pitchbent R&B with cosmic implications (listen to Weregild above). She mentions Salem, Burial, Al Green, medieval choral music and Mariah Carey as recent influences, with the latter providing inspiration for the pervasive vocality on 'Halfaxa': "I worked very hard to reach four octaves now… I practice so much. I listen to Heartbreaker and I'm like ahhh." We talk about her increasingly complex arrangements and then classical composers, and the conversation disintegrates into a lot of "that sounds good; I should check that out," before she pauses and recounts the following adventure:
"One of the most intense experiences of my life was when, do you know Arvo Pärt? I did acid and I put on his album and I climbed the mountain [Montreal's central Mount Royal] and it was in like, four feet of snow, and it was the most glorious life-changing experience of my life. I climbed straight up, and I hurt myself; I was covered in blood when I came down. I was soaking wet and covered in blood and people were just staring at me but it was like…cause I was climbing on the rocks, cause I just climbed straight up and I was falling and it was cold so I couldn't feel it, so I was like cutting myself on everything."
Again there's the mix of not finding the words and repeating "I was covered in blood" – that clash, half-escaped to someplace more pleasant but ultimately forever right here. As if the most free you can feel is numb to the shock of parkgoers on quaint winter strolls staring at your heart spilling out onto the snow. 'Halfaxa' is like the bold stare back: "where else would I be?"
Related: Read the 10 Least Suspecting Page-Turners, according to Grimes