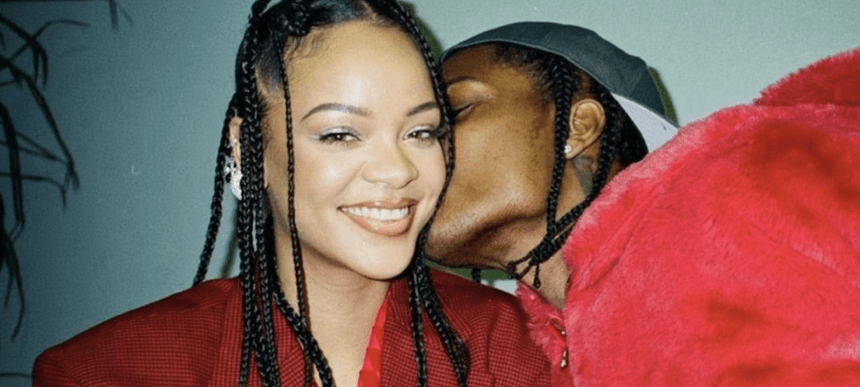 24.05.2023, Words by Billy Ward
A$AP Rocky defends Rihanna after crowd starts fight at night club
"Y'all act like gentlemen when y'all in her presence..."
A$AP Rocky has been filmed hitting out at club-goers after a crowd reportedly started fighting close to heavily pregnant Rihanna. 
The couple were at an undisclosed club where Rocky was previewing his upcoming album for fans. Soon after, the crowd is believed to have started getting rowdy, prompting the rapper to speak out for his partner's safety - who is currently carrying their second child. 
"Y'all n***** act like gentlemen right now, you heard?" A$AP can be heard saying into a microphone. "I got my lady in here."
He continued: "Y'all n***** calm that sh*t down, man. Don't be in the section doing all that sh*t. Calm that sh*t down, y'all act like gentlemen when y'all in her presence."

The incident comes shortly after the couple revealed the name of their first-born child, the year-old son RZA Athelston Mayers, inspired by Wu-Tang Clan rapper RZA.
Last month, Rihanna revealed she will star in the next Smurfs movie, voicing the role of Smurfette. On top of her voice actor roles, the 35-year-old will also write and record original songs for the film, and will be credited as a producer.
Speaking about the new live-action film on stage at the Caesar's Palace Hotel and Casino, she said: "Getting to do animation is a fun journey for me.
"In this, I got to play a part where I got to just imagine, I got to be, I got to show up in my pyjamas in my third trimester and play a little blue shit."
Read next: The 10 Best Rihanna Album Cuts, according to Ragz Originale