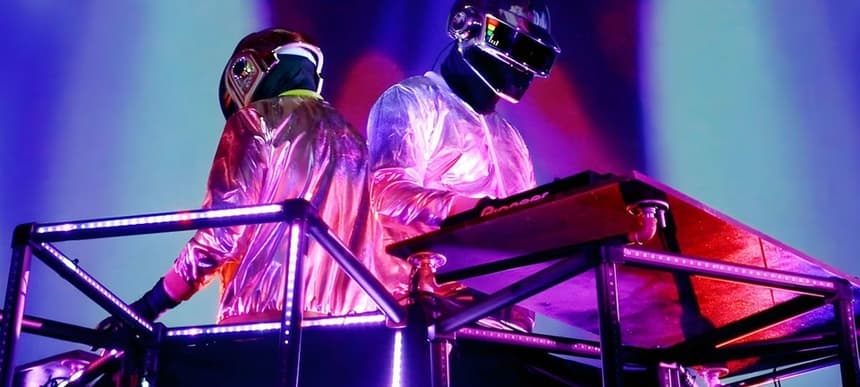 26.10.2023, Words by Billy Ward
Daft Punk turn down opportunity to reunite at Paris 2024 Olympics Opening Ceremony
It's reported the duo met with the ceremony's organising committee but decided not to participate...
Daft Punk have turned down a proposal to reunite for the 2024 Paris Olympics opening ceremony.
Speculation began to surface that the electronic duo could be making a comeback, after an interview with the director of the games' opening ceremony, Thomas Jolly, went out earlier this week. 

Speaking with French radio station France Inter, Jolly said: "Daft Punk would be very happy to be part of the ceremony", according to a report in sortiraparis.
He added: "You can't not think of Daft Punk when you think of a successful international showcase for a French group."
Le Parisien reported that both Daft Punk's Thomas Bangalter and Guy-Manuel de Homem-Christo had met with the ceremony's organising committee "several months ago" yet nothing was agreed upon.
Jolly told the publication: "Bringing Daft Punk together was obviously one of the first ideas I had. They are extremely talented and have a great international aura. But do they want to reform in the time of an epilogue to their career, when they very thoughtfully announced their separation?"
However, today, Jolly confirmed that the duo would in fact not be reuniting at the games. 
"My comments were confusing and generated a lot of expectations," he posted. "I must clarify: After discussing a possible presence at the ceremony, the group's decision is not to participate. I respect this decision and apologise for the ambiguity of my comments."
Daft Punk's Thomas Bangalter discussed the duo's decision to split as well as his future solo work in a BBC Radio 6 interview back in August.
Speaking to 6Music's Matt Everitt for 'The First Time' series, in which musicians look back on formative years and milestones, the French producer looked back fondly at the Daft Punk story in full. Bangalter explained he's "relieved and happy to look back and say: OK, we didn't mess this up too much" and that it "felt good" to put the project to rest.
Read next: Daft Punk release unseen footage of Pharrell hearing 'Get Lucky' for the first time