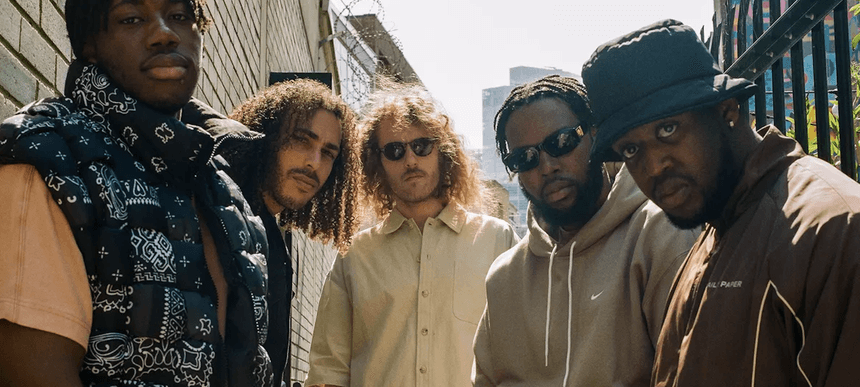 08.09.2023, Words by Billy Ward
Ezra Collective wins 2023 Mercury Prize with 'Where I'm Meant To Be'
"A landmark not only for jazz, but for contemporary music in general..."
The 2023 Mercury Prize has gone to Ezra Collective for their album 'Where I'm Meant To Be'. 
The London five-piece jazz outfit were declared overall winner of the prestigious award yesterday at the Eventim Apollo in Hammersmith.
Jamz Supernova announced the winner on behalf of the judging panel, inviting Ezra Collective up on stage to collect the winner's trophy and a cheque for £25,000. The band then performed a song from the winning album. 
Explaining why they rate Ezra Collective's latest album so highly, the judges broke down their decision: "Virtuosity, community, listening to each other to work out where to go next… who knew that such seemingly old-fashioned values would come to the fore on the winning album of the 2023 Mercury Prize with FREENOW? It wasn't easy to choose an overall winner from such an eclectic and exciting list, but ultimately the judges were unanimous.
"Ezra Collective, the London five-piece made up of Femi Koleoso on drums, TJ Koleoso on bass, Joe-Armon Jones on keys, James Mollison on saxophone and Ife Ogunjobi on trumpet are a living argument for putting the hours in, achieving musical brilliance, and tapping into a joyous spirit that ensures their album is as fun as it is impressive. 
"The British jazz renaissance of the past decade has been one of the most significant developments in modern music. Now, 'Where I'm Meant To Be', with its touches of reggae, soul, Latin and Afrobeats, its call and response riffs and rhythmic intensity, is a landmark not only for jazz, but for contemporary music in general."
In the run up to the award ceremony, DMY tipped Ezra Collective as the dark horse of the competition, writing: "Ezra Collective got the recognition they deserved after being included in the shortlist for this year's prize with their sophomore album 'Where I'm Meant To Be'. It would be massively unexpected if they managed to win the award on Thursday but defying the odds is what this UK jazz group are all about."
Earlier in the summer DMY spoke to Ezra Collective member Joe Armon-Jones and musical partner in crime Maxwell Owin about their latest record 'Archetype'. Read the full interview here. 
Read next: "Close The App, Make The Ting": Elijah's Yellow Squares are making a difference by cutting through the noise